News
Too Early For A Swan Song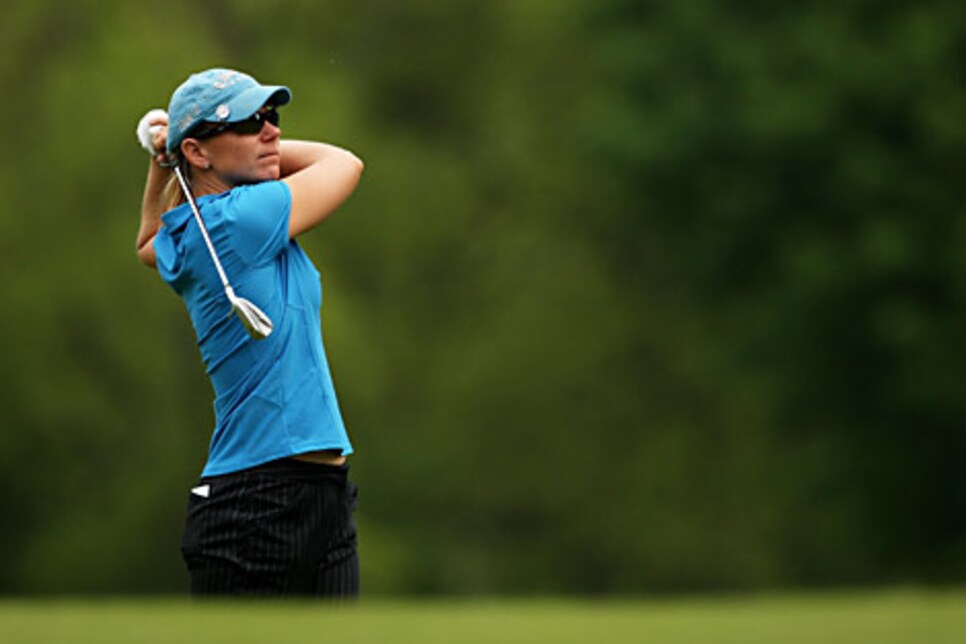 Bogey-free golf on Thursday has the soon-to-retire Annika is looking for her third victory of the year.
CLIFTON, N.J. (AP) -- The Annika Sorenstam goodbye tour got off to a great start.
Two days after announcing this would be her final season on the LPGA Tour, Sorenstam shot a 5-under 67 on Thursday for a share of the first-round lead in the Sybase Classic. Two-time defending champion Lorena Ochoa was a stroke back.
The 37-year-old Hall of Famer came into the $2 million tournament off a dominating seven-stroke victory in the Michelob Ultra Open last weekend, and she was just as good getting around the Upper Montclair Country Club course in the shadow of New York City. The Swede had five birdies in a bogey-free round.
"I'm just very happy the way I'm playing," said Sorenstam, who has three victories this year after failing to win in an injury-marred 2007 season. "I worked really hard this winter and it's all coming together. My swing fells really good and my putting feels really good. This is the way I enjoy the game. It's fairways and greens."
Song-Hee Kim, a second-year player from South Korea who has two top-10 finishes this year, also was at 67 along with Australia's Rachel Hetherington, who has missed three of eight cuts and finished no better than a tie for 24th this year.
The leaderboard was crowded after the first day of the 72-hole event. Ochoa, a five-time winner this year, was at 68 along with Pat Hurst, Catriona Matthew, Brittany Lang, Teresa Lu and Carolina Llano.
U.S. Women's Open champion Cristie Kerr was in another big group at 69.
But the day and, really the week, has belonged to Sorenstam, seeking her third straight victory. She won the Stanford International Pro-Am on April 27 in a playoff with Paula Creamer, then took a week off before winning last week at Kingsmill.
After posting her 72nd career win Sunday, she seemed to take the weight of a major decision off her shoulders Tuesday by announcing that this would be her final season. She then threw out the first ball at a New York Mets' game later that night and read the Top 10 list on David Letterman's show.
She got back to playing golf Thursday and had more fun playing in the group behind Ochoa, the Mexican superstar who replaced her as the No. 1 player in women's golf last year.
With a couple of fans urging her not to retire, Sorenstam had a near flawless round in making birdies from the tap-in range to 10 feet.
Ochoa, who always keeps an eye on the scoreboard, noticed.
"Seeing Annika's name, we're all used to that," Ochoa said. "She's there every week."
Sorenstam would like to walk away from the tour with the No. 1 ranking, but that will be hard to do. She probably would need to win two of the three remaining majors this year and have Ochoa finish out of the top 10, which has happened only once in eight events this year.
"It took me many years to get there, and now that I'm at the top, first I will try to enjoy it as much as I can, but I like to be there," Ochoa said. "I like to win and I like the competition. I want to make sure I keep working hard to stay there."
Ochoa had as many birdies as Sorenstam, but her round was marred by tough luck on the par-4 12th hole. The pin on the dogleg hole was back right and guarded by a pond. Ochoa's second shot from the fairway 196 yards away landed on the right edge and bounced into the pond. A foot the other way and she would have been putting for a birdie instead of bogey.
"You have to accept it's just a bad break," Ochoa said. "I mean it's only the first day, so hopefully I'll get good breaks."
Kim, who had a career-best two-place finish at the Corona Championship in Mexico in April, also had five birdies and no bogeys.
Hetherington, who like Kim played in the afternoon, had a bogey and six birdies, highlighted by three straight to finish the front nine.
Hetherington has eight career wins, including a 3-1 record against Sorenstam in playoffs. She beat her in the 1998 First Union Betsy King Classic, the 2002 PING Banner Health and 2003 Giant Eagle LPGA Classic. She lost to her in the 2000 Jamie Farr Kroger Classic.