News
Sirak Says: You're Going To Like This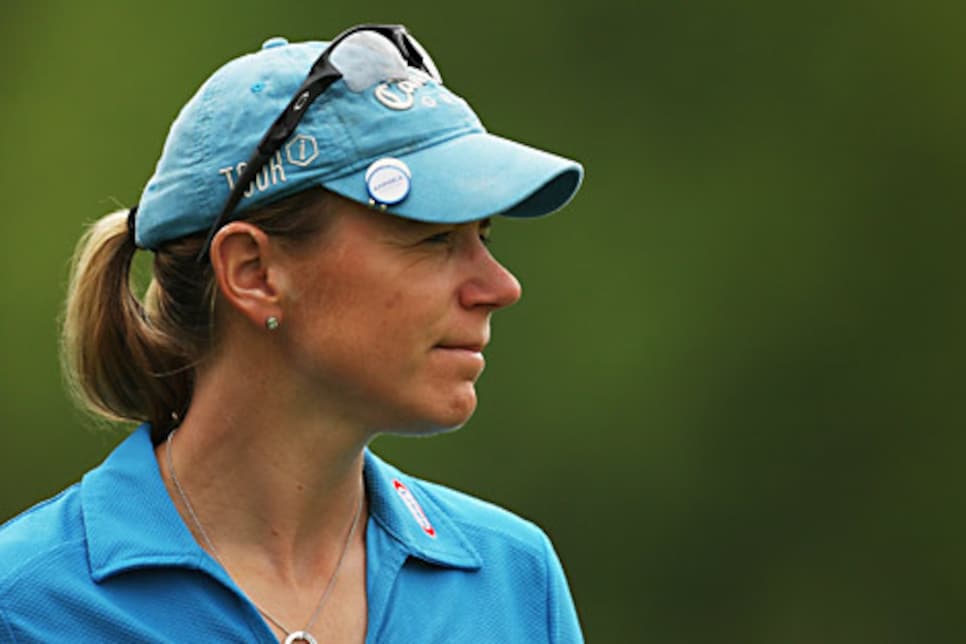 Annika announcement has set up the season for what may prove to be the most exciting golf anywhere.
CLIFTON, N.J. -- Let's discuss cups that are half empty and those half full. On the one hand, it is a shame the Lorena Ochoa-Annika Sorenstam rivalry is ending just as it was starting. One the other hand, just think what golf fans have in store for them the rest of the year as Sorenstam sprints toward retirement determined to play her best golf and Ochoa defends the No. 1 spot in the Rolex Rankings she has earned with 19 victories in a little more than two years. Suddenly, a subplot to this LPGA season has emerged that promises to be highly entertaining.
The attention has been non-stop for Sorenstam since her Tuesday announcement that this would be her last year of competitive golf. There was tossing out the first pitch at the New York Mets game Tuesday night ("I'm better than that," she said of her low-and-away offering), followed by delivering the Top-10 list on Late Night with David letterman Wednesday. And then there is the matter of about a billion media interviews, give or take a million.
But all those outside-the-ropes demands have had no visible negative impact on her inside-the-rope performance. In fact, every indication is that by going public with the decision to call it quits at year's end, a weight has been lifted from her shoulders. The bogey-free 67 she posted Thursday at the Sybase Classic in which she hit 13 of 14 fairways at Upper Montclair CC and 15 greens was so effortless it was almost disappointing in that it could have been much lower.
The fun thing for those who care about golf is that Ochoa, who was taken to school by Sorenstam in their match-up in the first three rounds at the Michelob Ultra Open last week, where Sorenstam won by seven strokes and Ochoa finished T-12, relishes the challenge. It was going to be interesting to see how Ochoa responded to the Sorenslamming. Short answer: No scars were evidenced in a 68 that set up the hope Lorena and Annika might be headed for a weekend head-to-head showdown.
When asked for the umpteenth time if she thinks she can catch Ochoa in the Rolex Rankings Sorenstam just smiled and explained for the umpteenth that her focus is on playing great golf, not catching anyone. One of the key tenets of the Vision 54 philosophy she follows is to stay focused on the process (total commitment to each shot) and not on the result (beating anyone else).
"Hey, the swing is loose, enjoy it and take it from there," she said when asked her mindset for the week. "I'm playing as well as I have ever played. That's what matters. That's why you play. That's what I strive for. And when I am through playing I will direct that energy, focus and effort at the incredibly competitive world of business. I want to be one of the few women to build a brand in golf."
There are so many ironies this week at the Sybase you can get hurt tripping over them. Ochoa is the defending champion. Next week is the five-year anniversary of when Sorenstam played in the Bank of America Colonial on the PGA Tour, which may well be remembered as her greatest contribution to the women's game. Ochoa won four in a row earlier this year, and Sorenstam is going for three in a row this week. The new queen is looking very comfortable in her throne but the departing monarch is going to make sure she earns it in battle with the best.
Can Sorenstam catch Ochoa in the Rolex Rankings? Well, the math is better for her than it is for Hillary Clinton, but still difficult. If Sorenstam could win a couple of majors and maybe the Evian Masters while Ochoa finishes out of the top 10 in at least two of those events, it could get very interesting.
But the point is that none of that is in Sorenstam's head, nor likely in Ochoa's either. All they are trying to do is beat each other this week. And, in taking a tip from the way Ochoa and Sorenstam attack a golf course, the fans need to learn it is misdirected emotion to lament the loss of a budding rivalry when really it is time to enjoy the clashes they will have over the next six months.
If in announcing her retirement well in advance of the end of the season Sorenstam is setting up a victory lap, then clearly the emphasis is on the word "victory." There is nothing ceremonial about Sorenstam's last swing through the LPGA. As always, she is here for one reason: To win.
But this is also clear: Ochoa is not willing to be a spectator to Annika's swan song. The golf course is not the place for sentiment. What we have right now are two great players, two proven champions, who are playing really, really well. Let's not focus on what we are losing through Sorenstam's retirement but rather on what we have gained: Probably about a dozen head-to-head battles between Ochoa and Sorenstam the rest of the year. Don't worry about next year, enjoy this one. That's the way Sorenstam is attacking, and that's the way Ochoa is responding.