News
Tiger's MIA, Phil Is The Man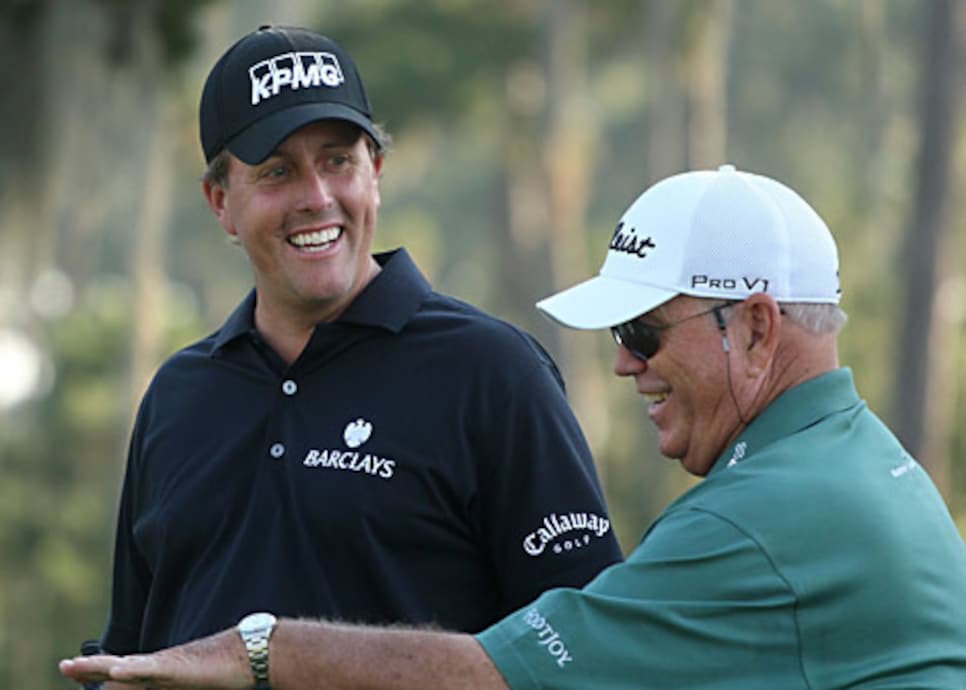 Phil was looking relaxed and ready as he prepped with coach Butch Harmon.
PONTE VEDRA BEACH, Fla. -- Phil Mickelson is the man this week. With Tiger Woods rehabbing, Mickelson arrived at The Players Championship as defending champion, highest-ranked player in the field and with his image on every ticket, billboard and piece of advertising promoting the event. "It's awkward to see your mug on tickets, but it's cool," Mickelson said in his news conference Tuesday.
Cool perhaps, but that doesn't mean Phil doesn't miss Tiger. As he said last week in Charlotte, the tour is better off when Tiger plays. "Am I wrong in that?" he said. "Is there any possible way I could be wrong with that? I've been wrong about a lot of stuff, but I do believe that the tour is better off with Tiger."
There was laughter in the interview room because this statement was unequivocally true, but the last three weeks have provided entertaining Sundays, with Boo Weekley, Adam Scott and Anthony Kim producing victories and stories of their own to carry the tour while Tiger gets his knee better. Mickelson would like to join the line.
His sleeves seem to be getting shorter, the bigger the arms get. The time spent with strength coach Sean Cochran has paid off visually--the guy who was ridiculed for talking about subcutaneous fat is now saying he gained an inch in height thanks to better posture, stretching and martial arts training.
"It has helped the elongation through motion," Mickelson said in a statement that will raise eyebrows when read in the locker room. "It's like a pitcher when he throws. He can't get his arms into certain positions statically when he throws a baseball. It's the same thing using motion to stretch his length."
Mickelson certainly looks taller now that he's leaner, but the victories haven't exactly rolled in since making the commitment to looking like an athlete. The lack of productivity--he only has one victory this season, the Northern Trust Open at Riviera--didn't seem to bother him as he breezed through the TPC-Sawgrass for a practice session, accompanied by swing coach Butch Harmon and short-game guru Dave Pelz. Today he will practice off-site, maybe show up back at the Stadium course for some work on his putting late in the day, and arrive Thursday for his 8:33 tee time, ready to do what no defending champion has done at The Players. And that is, repeat.
"Now that I won it is a major, absolutely," he said, with that Mickelson smile.
It was a major shock to see Mickelson prevail here in 2007. Pete Dye's trap doors seemed ill-fit for Phil's style, and having officially worked with Butch for only a month, there was no way Mickelson could keep the ball out of trouble long enough to prevail on such a test. But Phil fooled everybody and was expected to keep rolling.
That was before he hurt his wrist practicing in the rough at Oakmont, which took the momentum out of last year--and before Mickelson's putter went cold, which has been the story of 2008. With that one win, a playoff loss to J.B. Holmes at the FBR Open, and a non-factoring fifth at The Masters, this has been a quiet season by Lefty's standards and potential.
But the putts were more on-line last week at Quail Hollow, and that has him feeling juiced heading into the middle part of the season. By standing taller, he also added an inch to the shaft of his putter. The 12th-place finish at Wachovia would have been much higher had Phil not tried to play hero in the woods on Friday, or been so sloppy with a wedge from the middle of the 18th fairway. Those two double bogeys were just plain stupid, and Harmon was in his face about that in their strategy session.
Mickelson says he's hitting the ball much better now than a year ago; his short game has suffered while working on his long game, but his post-Masters attitude has impressed Harmon. They worked in Las Vegas as Phil made his way to Charlotte, and Harmon called Mickelson "energized." Could it be because Woods is out at least until the U.S. Open, or simply a matter of The Open coming to Torrey Pines?
The answer: Probably a combination of both.