News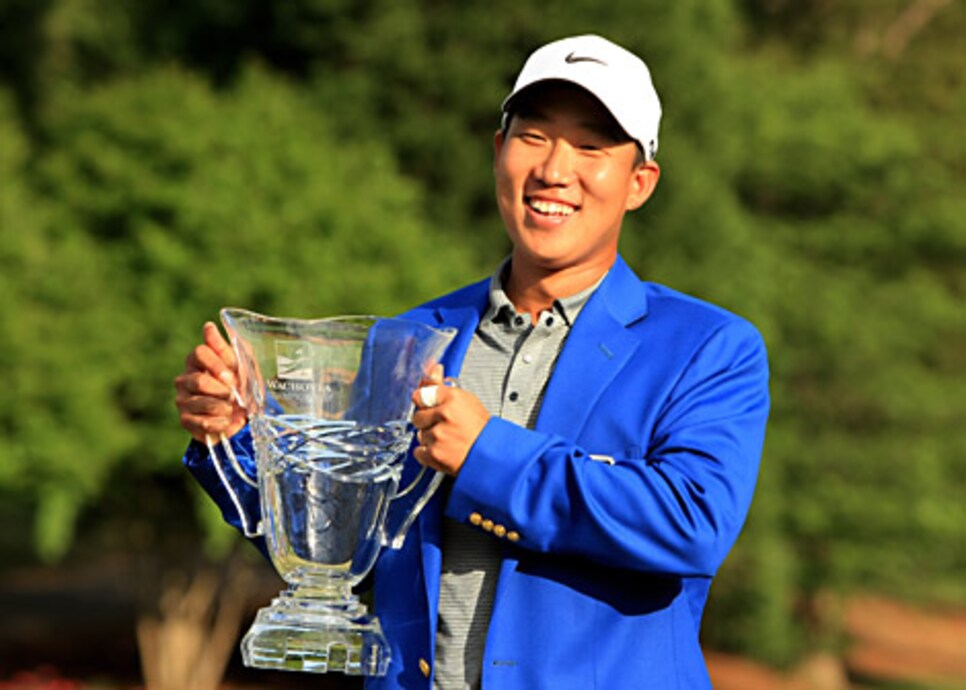 With his victory 22-year-old Anthony Kim became the youngest PGA Tour winner in the last six years
CHARLOTTE, N.C. (AP) -- Knee surgery prevented Tiger Woods from attempting to defend his Wachovia Championship title. Anthony Kim didn't disappoint fans at Quail Hollow Club looking for Tiger-like brilliance.
In a near flawless performance Sunday, the 22-year-old Kim became the youngest winner on the PGA Tour in six years. Following monster drives with flagstick-hitting approach shots and steady putting, Kim shot a 3-under 69 to cruise to five-shot win over Ben Curtis.
The former NCAA freshman of the year at Oklahoma won't turn 23 until next month. But he dominated a star-studded field by finishing with a 16-under 272 total, three shots better than the previous tournament record held by Woods.
"I'm a little bit numb right now, but that walk up 18 was the best feeling of my entire life," Kim said. "I'll never forget that feeling. I had chills going up and down my spine. I want to recreate that as many times as possible now, so I'm really going to work hard."
Kim earned $1,134,000 and became the youngest winner since Sergio Garcia won his third PGA Tour title in the 2002 Mercedes Championship.
Kim brought memories of Garcia, but for a different reason, when he strolled to the first tee Sunday with a four-shot lead and no PGA Tour wins. Garcia blew a six-shot lead at Quail Hollow in 2005 and lost in a playoff to Vijay Singh.
"I was actually pretty comfortable. I thought I'd have a couple more butterflies in my stomach at the first tee," Kim said. "I felt pretty calm and confident about my game."
It showed. Kim birdied the first and fifth holes to pull away from playing partner Heath Slocum, who shot a 73 and finished at 8 under.
"Anthony played great," Slocum said. "From the get-go he put his foot on the gas and never let off. That was very, very impressive."
Kim made 25- and 20-foot putts for birdies on the seventh and eighth holes to reach 17 under for a seven-shot lead as his giant belt buckle reading "AK" sparkled in the bright sunshine.
Kim's first miscue was on the par-4 ninth, when his drive landed in a fairway bunker, forcing him to lay up. He then hit the flagstick with his third shot and saved par.
Kim's bogey on No. 13 was erased with birdies on the next two holes. He finished bogey-bogey-par, pumping his fist as his last putt dropped, as he lapped a field that included 18 of the world's top 25 players.
"I knew my life was changing on the 18th green when I was lining that putt up," Kim said. "It was just so special. I'll never forget that feeling. All these emotions were starting to run through and I realized what I had done and all the hard work had paid off."
Curtis' 65 was the best round of the day and the best final round in the tournament's six years. The 36-hole leader, Jason Bohn, shot a 71 to finish third at 10 under.
But Bohn felt helpless when he finally checked the leaderboard at No. 17.
"I looked over and said, 'He's 18-under par? Holy cow!'" Bohn said.
None of the big names lurking near the top of the leaderboard Sunday made a charge.
Jim Furyk (7 under) and Phil Mickelson (5 under) shot 72s. Singh was out of it before he hit two tee shots in the water on No. 17 and chipped in for triple bogey. His 74 left him at 4 under.
Robert Allenby's 66 put him at 9 under and alone in fourth place. But there was no match for Kim, who became the eighth 20-something player to win this year.
"I kind of sensed that he was going for a bit of a trip," Allenby said of Kim. "I had a look on 17 just to see where he was. I knew he was going pretty good. I was playing for second."
After leaving Oklahoma following his junior year, Kim tied for second in his PGA Tour debut at the 2006 Texas Open. He earned his tour card that winter and was the youngest rookie in 2007 when he had four top-10s finishes.
But Kim didn't come close to winning and struggled with his temper and his decision-making. He decided he had to practice more and not take as many unnecessary gambles on the course.
"I think if I had won last year my practicing would have gone down even less — and there wasn't much to go down," Kim joked. "I might have been playing on the Hooters Tour. It might have been the best thing for me, just to get slapped in the face and realize that I can't win out here without practicing, giving it my all on every golf shot, every practice round."
After three missed cuts earlier in the year, Kim played in the final group at the Verizon Heritage two weeks ago, but never threatened for the win. Things changed at Quail Hollow, where Kim finished tied for seventh behind Woods last year.
Kim is the fifth first-time winner in 2008, joining Brian Gay, Greg Kraft, Andres Romero and Johnson Wagner.
"I was an immature kid last year," Kim said as he wore the winner's blue jacket. "I feel like I've grown up quite a bit and I think that helped me so much this week, so much this year and hopefully in the future."