News
This One Didn't Slip Away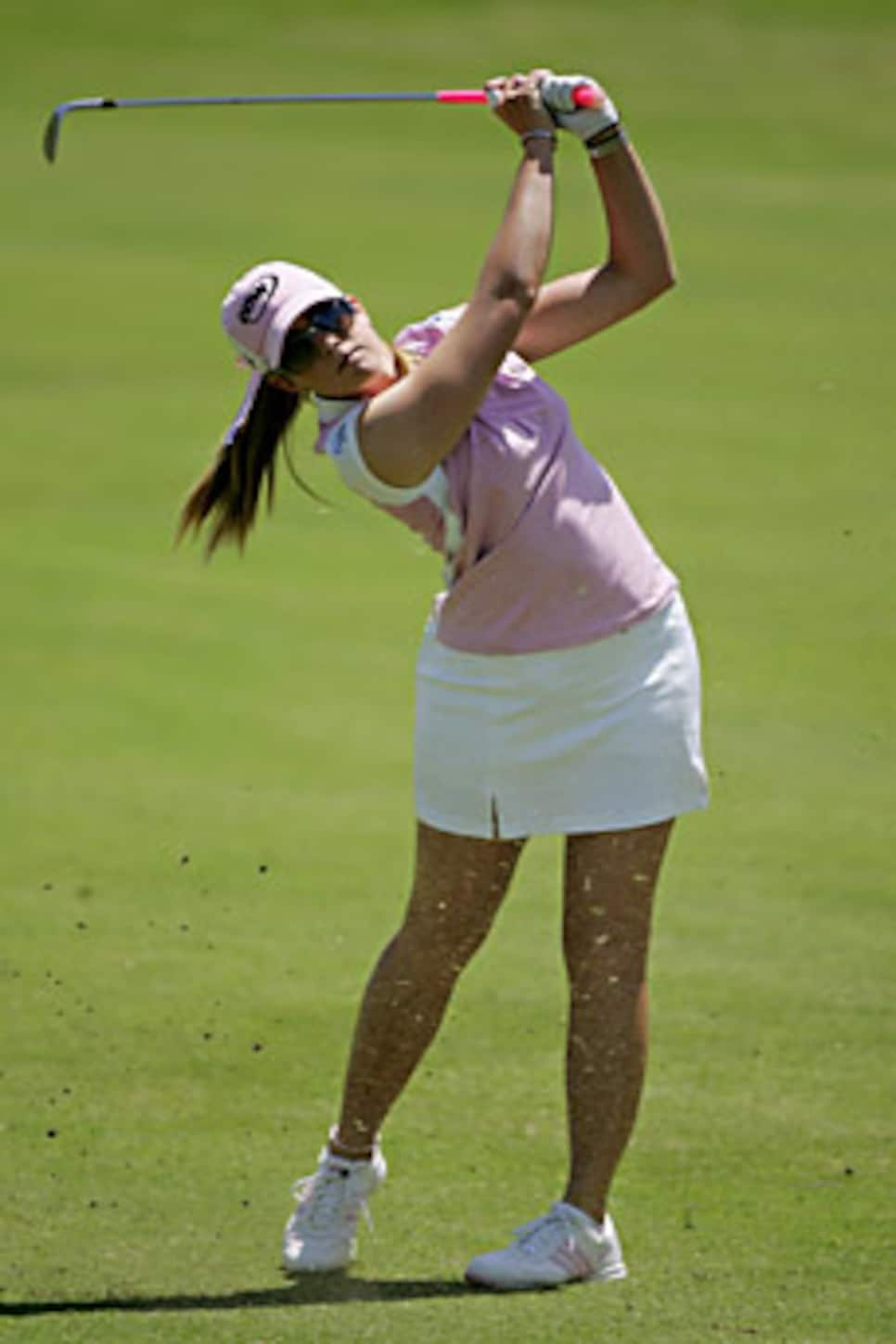 Paula slipped into a playoff, but didn't let the win fall through her fingers.
BROKEN ARROW, Okla. (AP) -- Paula Creamer blew another lead late in the final round and found herself in another playoff.
Instead of getting nervous, she got mad at herself.
After losing a two-shot lead on the final hole, Creamer held off a spirited bid from Juli Inkster by making an 8-foot birdie putt on the second playoff hole Sunday to win the SemGroup Championship. It was her second win of the year and put a stop to Lorena Ochoa's bid for a record-tying fifth straight LPGA Tour victory.
"I was not going to lose this week," Creamer said. "I was going to win. This was my turn this time."
She just didn't expect to work so hard for it.
Creamer had a two-shot lead and was in the 18th fairway at Cedar Ridge when it all turned around. She hit 5-iron over the green and under the TV tower, chipping to 10 feet and missing the par putt. Inkster, a 47-year-old trying for the second time in Tulsa to become the LPGA Tour's oldest champion, stuffed her 8-iron into 18 feet and watched it fall for birdie on the final turn.
Inkster also lost in a playoff at Cedar Ridge last year, but playoff memories lingered far more vividly for Creamer.
A week ago in south Florida, she had a one-shot lead over another Hall of Famer -- Annika Sorenstam -- until Creamer made a careless bogey on the 16th hole. She lost on the first playoff hole at the Stanford International Pro-Am by leaving a 6-foot par putt short. Creamer later said she felt her hands shaking in the playoff.
On Sunday, it was a wonder steam wasn't coming out of her ears.
"I think it made me upset," she said. "I had so much to overcome from last week. There was no reason to be in a playoff."
Creamer closed with a 1-over 72, the first time in her six career victories she won with a final round over par. She finished at 2-under 282 and earned $270,000.
Inkster lost in a playoff at the SemGroup Championship last year to Mi Hyun Kim, but this was one particularly tough to swallow.
She missed five putts inside 10 feet, and one of those came on the 10th hole from about the same spot where Creamer sank her winning putt in the playoff.
"I just knew it was a matter of time before she made one," said Inkster, who closed with a 70. "I had the exact same putt for birdie on the 10th hole, and I just knew she would roll that in. It's disappointing, because I definitely played good enough to win."
But the seven-time major champion did herself proud with one big putt on the 18th, splaying her arms and lifting her left leg when it fell, another celebration that won't earn her any style points.
"Unbelievable," Creamer said. "She wants everything so badly."
Lost in a terrific duel was the end of Lorena Ochoa's winning streak. Going for a record-tying fifth straight victory, Ochoa never got on track, even in a final round absent of much wind. She closed with a 2-under 69 to tie for fifth, five shots behind.
"It's done," Ochoa said. "I tried really hard and it didn't work. Hopefully, I'll start a new streak next week."
The 21-year-old Creamer won for the first time without her parents at the tournament, another small step in proving she can do it all by herself. She immediately called Nancy Lopez, her former Solheim Cup captain and mentor who was in Florida last week consoling Creamer.
This time, Creamer was beaming. She only smiled when asked if Lopez was crying.
Creamer was fuming after some of her mistakes, slamming the end of her putter into her bag after a three-putt on the 13th, then leaving the tee box during a delay to use the concrete crease in a cart path to check her alignment.
But this win was all about resiliency. Even before letting it go to a playoff, Creamer answered all three of her bogeys in regulation with a birdie, including a 25-footer down the slope on the third hole after a nervy shot from a fairway bunker.
The biggest birdie was in the playoff, and Creamer looked as relieved as she was excited.
"I'm done," she said. "I'm mentally done right now."
Ochoa's bid to join Lopez and Sorenstam with her fifth straight LPGA Tour victory never got off the ground. She broke par at Cedar Ridge for the first time all week, but starting eight shots behind, it wasn't even close. She had to settle for her eighth consecutive top 10.
"I don't know why, but this was a tough course for me, especially on the greens," Ochoa said. "It's the way it is. It's golf. But I'm happy. I look forward to the next week."
Despite a welcome respite from the whipping wind that made Cedar Ridge a little more forgiving, no one challenged the final pairing. Creamer and Inkster put on quite a show, right to the very end.
Creamer and Inkster both played the front nine in even par, but there were momentum shifts at every turn, including two-shot swings on consecutive holes that created a brief tie for the lead.
Inkster had a chance to tie for the lead on the fifth until missing a 4-foot birdie putt. One hole later, she fell two shots behind when she chipped weakly and missed a 6-foot par putt. Creamer gave it right back, however, when she three-putted the seventh after Inkster hit her approach into 3 feet.
But on the next hole, Inkster hooked her tee shot into the hazard and had to get up-and-down from 40 yards for bogey, while Creamer's 7-iron grazed the cup and settled 18 inches away.
They settled down with pars after that until Creamer showed some resiliency. After a three-putt bogey on the 13th, she hit a sand wedge to 3 feet for birdie on the 14th, restoring her lead to two shots until the 18th.