News
Pink Panther (in blue) Leads The Pack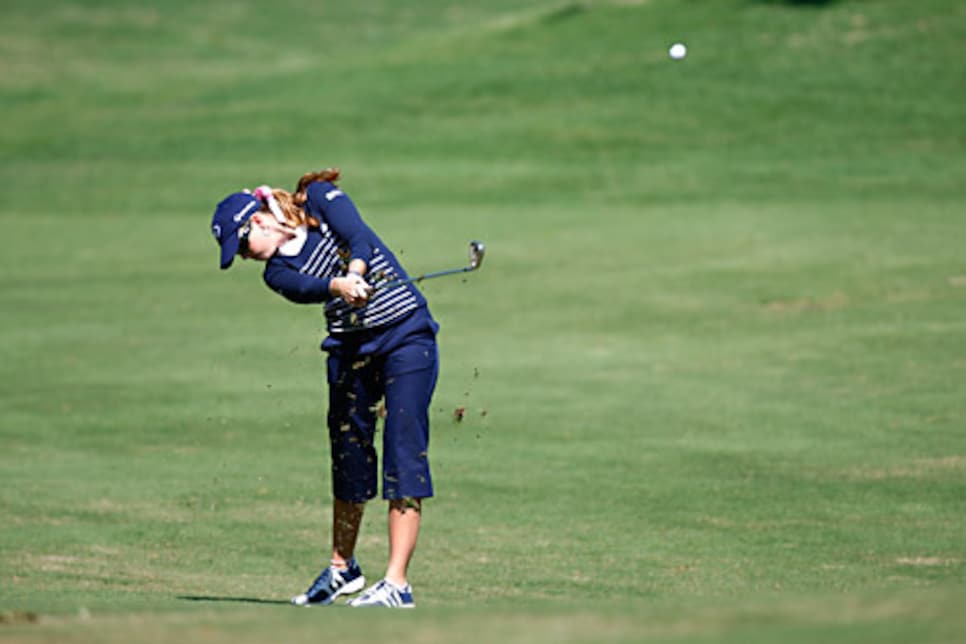 Paula Creamer is the only remaining player under par after round two.
BROKEN ARROW, Okla. (AP) _ Paula Creamer and Lorena Ochoa played together for the first 36 holes at the SemGroup Championship, battling a vicious wind that came from two directions and getting two very different results.
Creamer has made enough birdies that another sloppy finish Friday -- two bogeys on the final three holes -- still left her satisfied. She shot an even-par 71 and was the only player remaining under par at Cedar Ridge, giving her a one-shot lead over Ji Young Oh.
Ochoa was six shots behind after a 3-over 74, the first time since the 2006 Women's British Open that she has had two rounds over par in the same tournament. Even more troublesome was that Ochoa, going for her record-tying fifth consecutive LPGA Tour victory, finished the second round without a birdie.
It was the first time in more than two years Ochoa played a round without a birdie, and she has gone 26 holes without a birdie or an eagle at Cedar Ridge, surprising for a player who came into this tournament averaging 5.39 birdies a round.
"I don't know what happened," Ochoa said. "I don't feel bad. It's hard to hit the ball close to the hole. I have nobody to blame. I didn't give myself enough birdie chances."
Not surprisingly, both players had different reactions to a forecast for less wind on the weekend.
Ochoa's brown eyes came to life, followed by a smile. "That's good news," she said.
Creamer pursed her lips, clearly disappointed. She prefers tough conditions, when there is a premium on par, especially when she has a six-shot cushion over a player who has won six of her last seven tournaments. Told of Ochoa's reaction, Creamer laughed.
"Because she wants to go out and make as many birdies as she can," Creamer said.
They both arrived at one conclusion -- there's a lot of golf still to be played.
"It's not over," Ochoa said. "Tomorrow is every important."
Creamer was at 1-under 141 and will be in the final group with Oh, who shot a 72 in the afternoon as the wind began to subside enough to let standardbearers back on the course.
Another big contrast was the duo at 1-over 143 -- Brittany Lang (71), who hits it a mile, and Leta Lindley (72), who hits it an inch. Lindley lost track of the number of metal clubs she hit in wind so strong she could hear it inside her hotel room.
"Well, I carry six metals," she said. "So there's a good chance I'm going to hit one of them."
Ai Miyazato (73) was in the group at 144. Na On Min, who challenged at the LPGA Championship last year, had a tournament-best 68 to join the group at 3-over 145 that included Juli Inkster, who finished double bogey-bogey for a 73. Vicky Hurst, the 17-year-old who will graudate high school in two weeks, had a 75 and was in the group at 146. Hurst leads the field with nine birdies.
The cut was at 10-over 152, the highest on the LPGA Tour since 10 over made the cut in 2003 at the Kraft Nabisco Championship. It was so tough that Ashli Bunch failed to make a single birdie over two days and still made the cut.
If not for her shaky finishes, Creamer might really be in control.
The wind came out of the west, with morning temperatures so cool that defending champion Mi Hyun Kim covered her hands with the head covers from her metals. Creamer made three birdies, including a 5-iron from a bunker to 15 feet on the 11th hole, and a 30-foot putt after the wind knocked down her wedge to the par-5 14th.
For the second straight day, her most important shot might have been a bogey.
Creamer hit a 3-wood for her second shot on the 401-yard fourth hole, which plays uphill and into the wind, over the green and down a slope to a muddy patch of thin grass. She tried a flop shot that came out hot, catching a ridge and going back into the fairway. From just off the green, more than 100 feet away, she putted up to 8 feet and escaped with bogey.
"Those are bigger putts than birdies out here," Creamer said. "Then again, when you get those chances for birdies, you have to be able to capitalize on them, because there aren't that many."
Ochoa knows that all too well.
She had only three birdie putts inside 15 feet, and didn't make any of them. Her best opportunity was on the downwind, par-5 14th, when her 3-wood was just short of a bunker. She pitched too strong, and the ball rolled down a slight ridge to some 20 feet. Ochoa stooped over and clasped the back of her head, and when her birdie putt missed, she gave her thigh a hard, loud slap.
The bogeys came from a 7-iron she had to punch low under tree limbs and through the green on No. 3, a hybrid on the tough fourth hole that sailed 20 yards right of the green, and the 18th, when she hooked a tee shot into a bunker, hit a hybrid over the green and followed with a poor chip that didn't even reach the putting surface.
Ochoa was asked if she could attack Cedar Ridge in the wind, and she quickly shook her head.
"That's why it's frustrating," she said. "I know I need to make birdies to catch up, but at the same time, it's impossible. I'm going to be happy, not disappointed. I'm not too far from the leaders, and we have two days to go."
But with Creamer atop the leaderboard, Ochoa can't afford another poor round if she wants to join Nancy Lopez and Annika Sorenstam in the record books with her fifth straight victory. Of her five victories, Creamer has been a 36-hole leader four times.
"You can never count on Lorena," Lindley said. "That's not far enough back for me to feel comfortable."