News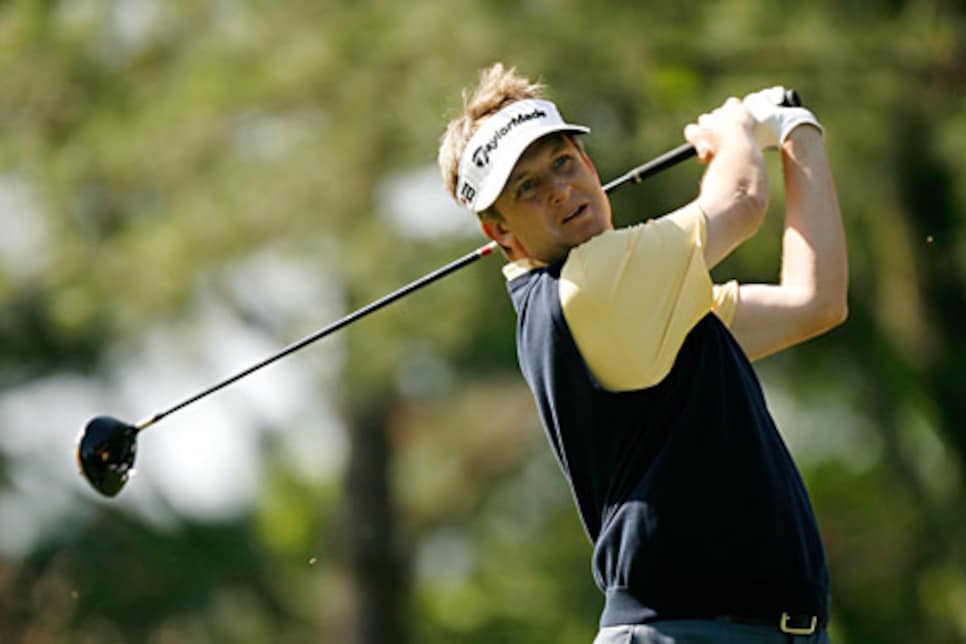 Two months after his back injury, Toms is recoverd and contending again.
CHARLOTTE, N.C. (AP) -- The picture of David Toms in his blue winner's jacket is just a few feet from Tiger Woods' smiling mug near the first tee at Quail Hollow Club.
The sun-drenched gallery at the Wachovia Championship knew Woods wasn't around Thursday to defend his title because of knee surgery. Many fans may have completely forgotten about the slumping 2003 champion -- until Toms broke out of his missed-cut, sore-back funk with a 5-under 67 to take the first-round lead.
It was Toms' best round in, well, he couldn't remember.
"Since a long time. I don't know. I can't even think," Toms said. "It makes me feel good about my game. It gives me a little bit of confidence. It wasn't a fluke round."
Playing in the morning when the greens were still soft from the drenching rain earlier in the week, Toms made eight birdies, including a near ace at the 13th hole, to take a one-shot lead over Phil Mickelson and Jason Bohn.
It was a welcome change for the 2001 PGA Championship winner, whose last victory was more than two years ago. Swinging too hard two months ago at the Match Play Championship caused a disk problem to flare up. He followed that withdrawal with two missed cuts while on pain medication, shot an 80 in the final round of the Masters, and tied for 61st at the Verizon Heritage.
Golf wasn't fun anymore for Toms as he pulled into his reserved parking spot for past champions here this week ranked 133rd on the money list and thinking about cutting back on his schedule.
"I've been out here long enough that the only time it's really fun for me is when I have a chance to win and contend in tournaments," said Toms, a 12-time tour winner. "Grinding to make the cut is too much like work. Playing well, I obviously enjoy that a lot more."
Toms was grinning Thursday when he stood apart from a stacked field that includes 18 of the world's top 25 players, even with Woods missing his first scheduled event since undergoing arthroscopic surgery on his left knee.
Mickelson, in his first tournament since the Masters, showed off his new, longer putter in shooting a 68. Mickelson hit 12 of 14 fairways and had only 26 putts with his 35-inch model. Mickelson switched from a 33½-inch putter because he said he's grown up to an inch after starting his fitness program that includes extensive stretching.
"I haven't had as much soreness after the round in my back," Mickelson said. "I haven't had any back problems, but just muscular, sore. I think not having to bend over as much might allow me to practice a little bit easier."
Bohn, like Toms and Mickelson, had an early tee time. He made six birdies in a satisfying round as he works his way back from stress fractures in his ribs suffered last year at the Memorial.
"I'm 100 percent healthy and I'm still trying to shake a little of the rust off my golf game," Bohn said.
Zach Johnson and Ben Curtis led a group of nine two shots back, while Vijay Singh and Rory Sabbatini were among 11 three off the lead at 70. No one was able to make a charge late in the day on Toms as the course dried out and the greens quickened.
It was another rough day for Masters champion Trevor Immelman. After missing the cut last week at the Byron Nelson Championship, Immelman shot 76 and was buried at the bottom of the leader board.
The overnight chill was still in the air when Toms holed a nearly 55-foot birdie putt on the 12th, the third hole of his round. He hit a 5-iron to about 3 inches on No. 13 for another birdie, and suddenly his confidence was soaring.
Toms recovered from a bogey on No. 7, when his ball landed in a sand-filled divot, with consecutive birdies to close his round, only his fifth round in the 60s in his last 36 tries.
While he was realistic about his chances to win, Toms was just happy he finally had something good to talk about.
"First of all, you show up at an event and you're not fired up to play because you're not getting the results," Toms said. "Then you go home and everybody has questions for you. It just never stops."
Toms has tried numerous remedies and has received countless tips on how to ease the pain in his back, but for now is putting off surgery.
"I guess if I was 25 and in perfect shape it wouldn't be that big of a deal. But I'm not either one of those," the 41-year-old Toms said. "It's just something I have to be smart about -- picking up luggage, kids, not sleeping in a bad position."
Toms will enter Friday's round at one of his favorite courses in an unfamiliar spot. Having not won since the 2006 Sony Open, three more solid days here could change his attitude about the game.
"I'll either get back to a high level or I'm not sure you'll see me as much," Toms said. "I don't enjoy not playing great golf. I'm secure enough at home with my family and financially to where if I'm not having fun and I feel like it's a struggle physically I won't continue to do it."