News
Putting Struggle For Annika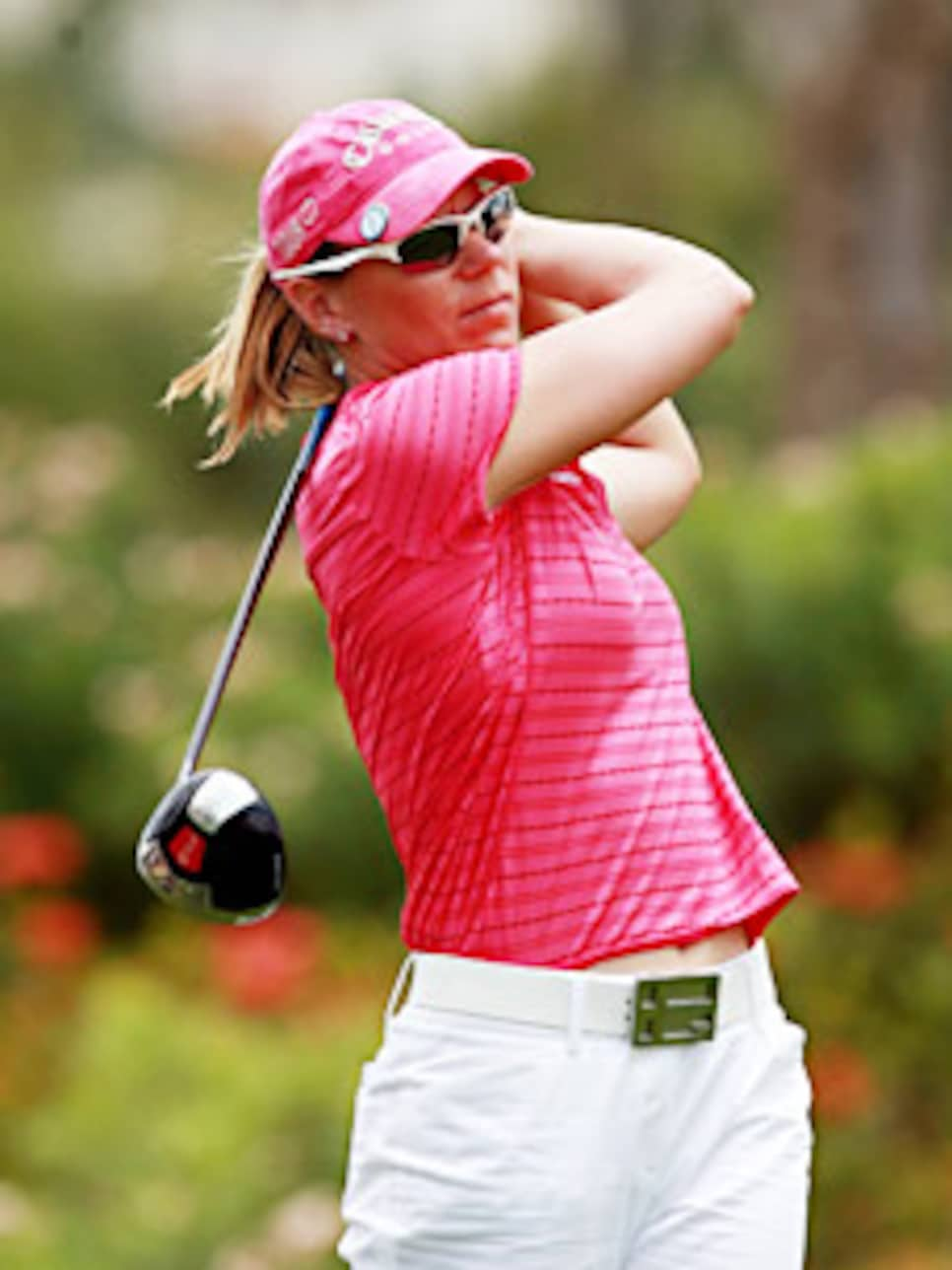 Annika managed only one birdie Saturday, but it was enough to grab the lead.
AVENTURA, Fla. (AP) -- Annika Sorenstam got no help from her putter. Still, she topped the leaderboard entering the final round of the Stanford International Pro-Am.
Sorenstam shot a 1-under 70 on Saturday in the third round at Turnberry Isle, ending the day at 7 under and with a one-shot lead over Paula Creamer. The world's No. 2 player only made one birdie with her putter during the testy day (she chipped in for another), but kept the outright lead by making a tricky par-saving putt at the finishing hole.
And now, one of the best front-runners in golf history will have to be caught -- a most daunting proposition.
Sorenstam, seeking her 71st LPGA Tour victory, has won five straight events when she's taken a one-shot lead into the final round. Overall, she's 47-for-70 when in the lead with 18 holes remaining.
"I feel great," Sorenstam said. "I thought I played very well, a lot of good shots, very steady shots, fairways and greens."
She chipped in for birdie on the second hole, then made 12 consecutive pars before a bogey at the par-3 15th. Her putter finally cooperated at 17, however, knocking down a birdie at the short par-3. And on the par-5 18th, after missing the island green to the left, Sorenstam squeezed a testy par putt in to hang on to the outright lead, pumping her fist as the final ball fell.
"It's always nice to finish with a nice putt," Sorenstam said. "Like I said, I really thought I played well today. I had a lot of chances and hit a lot of edges."
Still, if momentum carries over from one day to the next, though, Creamer would have a big edge.
Creamer -- who hasn't finished higher than a tie for 21st in her previous three events -- had a flawless, four-birdie, no-bogey round of 67, capped by a birdie at the finishing hole.
"It was a really good day out there," Creamer said.
Creamer came to South Florida battling a strained hip, something that pained her so much that she was hobbling about on crutches two days before the tournament began.
"Seems like whenever something's wrong with me, I always seem to play a little better," Creamer said. "We'll take it."
Like Sorenstam, Creamer already has a victory this year, and they certainly looked like the two most poised to wind up holding the $300,000 winner's check on Sunday afternoon.
"I feel very, very confident," Creamer said. "I think that's the biggest thing. I have confidence in my irons and my putting. Standing over the ball I feel like I'm going to hit a great shot. That's incredibly important on this golf course."
Second-round leader Young Kim (73) and Momeko Ueda (67) were two strokes back.
Kim's day went awry with two bogeys in a three-hole stretch midway through the back nine, and she missed maybe the best birdie chance of the day, hitting her third into the bunker protecting the front green at the 18th.
Cristie Kerr -- a South Florida native and past winner on this course, albeit 15 years ago in a junior event and long before it was redesigned by Raymond Floyd -- was three shots off the lead after a 67, her day highlighted by a 118-yard wedge that dropped for eagle on the par-4 14th.
"It was just a laser," Kerr said. "It never left the pin. It went up there, hung on the lip for a second and went in."
Kerr started the day seven shots behind Kim. She opened with a birdie, had another at the par-4 fifth and got to 4 under with the eagle. She bogeyed the par-4 16th, but closed with a birdie at the par-5 18th, after her approach stopped inside 3 feet.
"I've been in contention twice this year already and haven't been able to close the deal," said Kerr, the reigning U.S. Women's Open champion and a winner of nine other LPGA Tour events. "But I know how to win."
Dorothy Delasin (68) was alone in sixth at 2 under.
The Pro-Am event ended Saturday, with Beth Bader -- who didn't make the individual cut after Friday's play -- teaming with leukemia survivor Aaron Theobald to finish 25 under, three shots ahead of teams anchored by Sorenstam and Maria Hjorth in the best-ball handicap event.
Notes:@ Angela Park, Ji Young Oh and Seon Hwa Lee were tied for seventh, six shots off Sorenstam's lead. Karrie Webb is in a group seven shots back, and was asked after her round if a Sunday score of 66 might be enough to contend. "You'll need a lot more than that," she said, somewhat resigned. ... Christina Kim, who was the first-round leader until closing that day with a triple bogey, shot an 80 to drop 16 shots off the lead.