News
Three Degrees Of Separation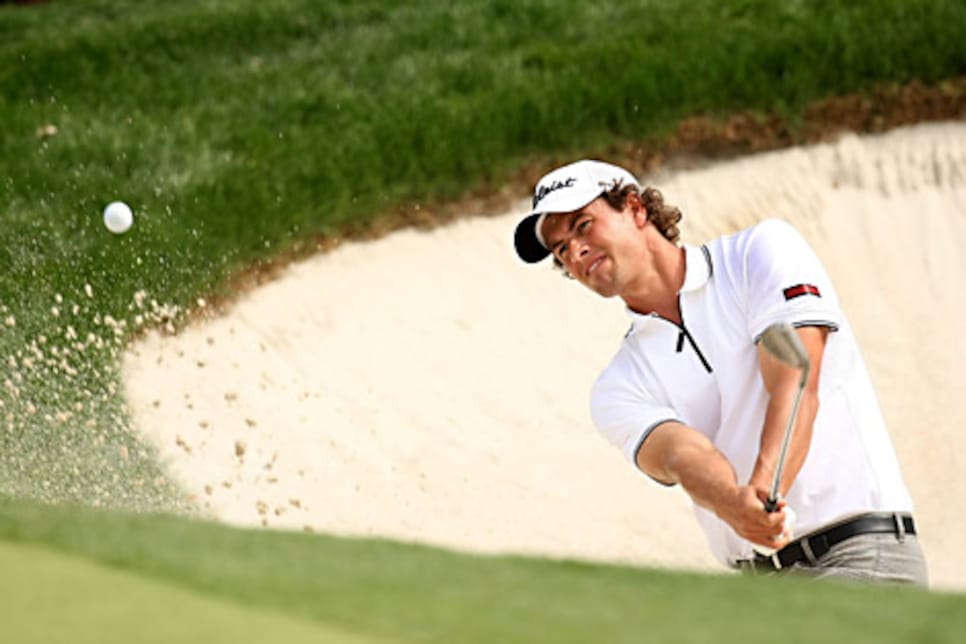 Taking a week off after the Masters seems to have done the trick, getting Scott into position to close out the field on Sunday.
IRVING, Texas (AP) -- Adam Scott figured there was no point wasting his good play to take money from his mates in Australia. So he cut short his trip home to get back on the PGA Tour.
"I came here to get in contention and win a golf tournament," said Scott, who stayed home only a week after the Masters. "I feel like I've been playing well this year and haven't quite done it. So I'm kind of pushing myself a little bit to do that."
He only needs one more good round to win the EDS Byron Nelson Championship.
Scott took a three-stroke lead into the final round after a 3-under 67 Saturday got him to 8-under 202. He birdied two of the last three holes, including a 3½-footer at the 429-yard 18th.
"It all depends on Adam," said Bart Bryant, among the quartet of players three strokes behind. "Obviously, he's a world-class player. He has the potential to go out and kind of run away with it."
Scott, at No. 10 in the world the highest-ranked player in the field, again topped the leaderboard after his solid finish Saturday, and Kevin Sutherland's bad one.
Sutherland, whose only PGA Tour victory came six years ago, was at 7 under with a one-stroke lead over Scott until bogeys on the final two holes.
After missing a 7-foot par putt on the 198-yard 17th hole, Sutherland pushed his final tee shot way right into heavy rough -- and was still in the rough after his punch shot. He finally got to the front edge of the green and two-putted from 70 feet.
"I have to remember what I did before that," Sutherland said. "I had a good rhythm going, a good feeling and tried to keep doing that. ... I kind of got away from that maybe at the end."
Sutherland (67), Bryant (67), Charley Hoffman (68) and Ryan Moore (68) made up the closest group chasing Scott. Sergio Garcia, after a season-best 65, was four strokes back along with Dudley Hart (66) and Jesper Parnevik (68).
While Sutherland was getting spectators moved out of the way for his first shot out of the rough at 18, Scott missed a chance for a bigger margin when his 9-foot birdie attempt at the 504-yard 15th hole drifted left only inches away from the hole. But Scott didn't wait long for another birdie chance.
Scott missed the fairway on the par-5 16th, layed up into the fairway and put his approach shot inside 6 feet to set up a birdie. After his aggressive birdie attempt at 17 rolled 6 feet past the hole, Scott's approach at 18 was right on the pin.
In his only other Nelson appearance two years ago, Scott shared the lead at the end of each of the first three rounds. A closing 71 left him in third place behind Brett Wetterich and Trevor Immelman, who missed the Nelson cut this year in his first tournament since winning the Masters.
"I've got something to prove," Scott said, recalling 2006. "I'd like to play how I have the last couple of days, just in a nice rhythm."
Scott's third round began with his opening tee shot landing in a fairway bunker, though he saved par with a two-putt from 17 feet before missing a 6-foot-par chance at the 221-yard second hole. There were consecutive birdies before Scott missed the fairway at the 451-yard eighth for a bogey, his last of the day.
"It was a bit of a slow start for me. I never really got going on the front and let everybody catch up," Scott said. "I knew a solid nine holes would do me good. ... No. 16 and 18 were key. I finished the day with a couple of nice wedge shots, and that makes it a little buffer going into (Sunday)."
Until the end, things were going well for Sutherland.
After his 4-foot birdie at the 174-yard 5th hole, he reached the 542-yard 7th in two shots and had to make only an 8-footer for eagle. He added birdies at Nos. 11 and 13 before the unwanted ending.
"I hit the ball terrific. The first 14 holes, I really didn't miss a shot," Sutherland said. "It would be a little different if I bogeyed the first two holes and birdied the last two holes obviously. ... Right now, you kind of stew a little bit on it. But (Sunday), I can't remember it."
The redone TPC Four Seasons course could play much differently for the final round because of an overnight forecast for inclement weather and more than an inch of rain. Tournament officials will use threesomes Sunday, teeing off from Nos. 1 and 10.
Garcia, the 2004 Nelson champion, had three birdies his first seven holes, starting with an approach to 7 feet on the opening hole. His only bogey came at No. 8, when he had his only three-putt -- from 72 feet. He added three more birdies after that.
His best scoring round of the season came despite hitting only two of 14 fairways. Garcia baled himself out of trouble with his short game and his putter, an 8-year-old one he recently pulled out of his old bags. He needed only 27 putts.
"I loved it as soon as I put it down. It just gave me a good vibe," Garcia said. "It's just that old feeling from years back when you did well and you holed putts and stuff."
Notes:@ Garcia was the last 54-hole leader to win the Nelson. ... Hoffman needed only 22 putts Saturday. He entered the week ranked 137th on the PGA Tour in putting average. ... Steve Marino holed a birdie from 66 feet and a greenside bunker at the second hole. Not to be outdone, playing partner Eric Axley chipped in a 61-footer from the fairway after missing the green short. ... Justin Leonard had two triple bogeys in a round of 74. ... Defending champion Scott Verplank had all five of his bogeys in his first 10 holes on way to a 73. He was 12 strokes off the lead.