News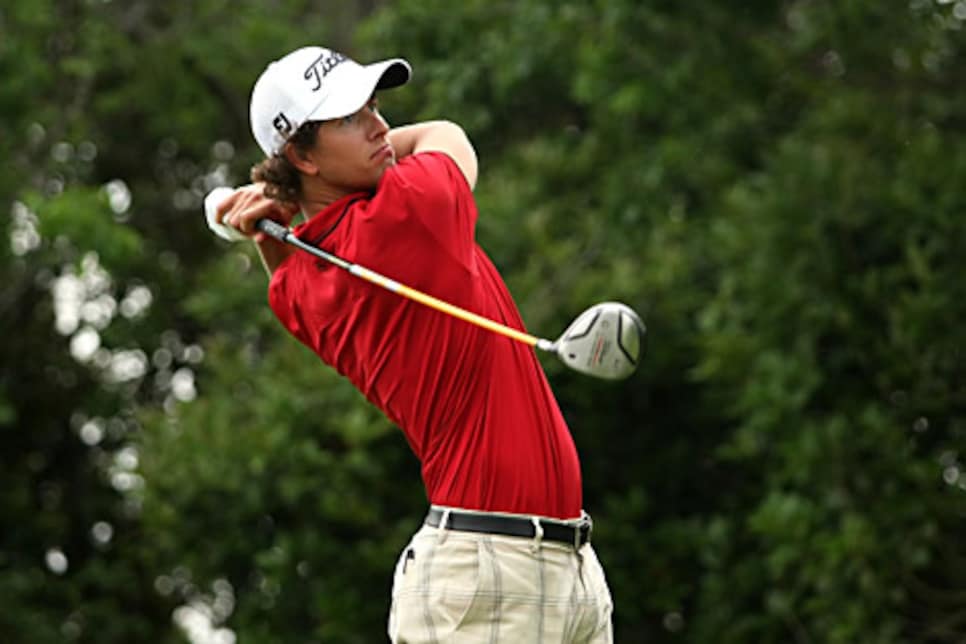 Four straight birdies to start on Friday propelled Scott into the lead.
IRVING, Texas (AP) -- Adam Scott returned to Australia after the Masters. It was a short visit.
"I felt like I was still playing good and I shouldn't waste that at home," Scott said.
So instead of staying home for a second week, Scott was a deadline entrant into the EDS Byron Nelson Championship, where Friday he shot a second-round 67 to take the lead at 5-under 135.
That was good for a one-stroke lead over fellow Aussies Mark Hensby (67) and Mathew Goggin (69), and Scott McCarron (66), who missed all of last season recovering from right elbow surgery.
Scott began his round with four straight birdies. Though he managed only one more to go with two bogeys, that was enough to give the only one of the world's top 10 players at the Nelson sole possession of the lead.
"It would have been nice to get a couple more after my start," said Scott, 10th in the latest rankings. "But I'm pretty happy."
McCarron, who for seven months before his surgery in August 2006 played with a muscle torn away from the bone in his elbow, had a bogey-free round with a pair of birdies on each side. More encouraging was playing healthy.
"There was a long time there where I did not know if that was going to happen," McCarron said. "I'm just happy to be playing without pain. I'm taking baby steps to get where I can play and compete again. This is a big step obviously."
Hensby had his only two bogeys in his first three holes, during the same stretch of Scott's birdie string. But Hensby made an 8-foot birdie at the 180-yard 13th hole and played bogey-free the rest of the round, including a 4-under 31 on the front nine.
The fairways at the redesigned TPC Four Seasons course firmed up, but wind still gusting more than 25 mph made scoring conditions tough again. The cut of 3-over 143 was the highest at the Nelson since 2000. The last time a second-round leader had a higher score was 1984.
Trevor Immelman followed his opening 78 with a 75 and became the first Masters champion since Jose Maria Olazabal in 1994 to miss the cut in his next tournament.
Ryan Moore (70), who shared the first-round lead with Goggin and Eric Axley, had five birdies and five bogeys. He dropped two strokes off the pace into a tie for fifth with Justin Leonard (bogey-free 66), Parker McLachlin (69), Charley Hoffman (68) and Roland Thatcher (68). Axley shot a 74.
Thatcher, a 2007 Nationwide Tour grad who played in one of the last groups of the day, matched Scott for the lead with birdies at Nos. 14 and 16. But Thatcher finished with consecutive bogeys, hitting over the green at the 198-yard 17th before putting his final tee shot into a lake.
After his 25th-place finish at the Masters, Scott played a couple of rounds at home, then decided he "should be back on tour rather than wasting it at Sanctuary Cove."
The opening string of birdies on Nos. 10-13 in the morning at the redone TPC pushed Scott into the lead. He matched Moore after chipping to 7 inches at the 323-yard 11th, then added two more birdies, an 8-footer at No. 12 followed by a 19-footer.
"I just managed to hit a few good shots in a row," Scott said. "There weren't too many after that. It was just a matter of hanging in there. ... It was a bit of a battle, a fair bit of scrambling going on. The conditions were tricky."
Scott hit only five of 14 fairways. He missed the green on his approach from the rough for a bogey at the 406-yard 14th, but played even the rest of day.
Two years ago in his only other Nelson appearance, Scott shared the lead in each of the first three rounds. A closing 71 left him in third place behind Brett Wetterich and Immelman.
The Masters was the lowest finish for Scott in the five PGA Tour events he's entered this season. He opened defense of his Shell Houston Open title with a 63 before later withdrawing because of illness.
"I've really played pretty good all year," Scott said. "It's been a matter of trying to put four days together. So, yeah, it's kind of a continuation, and that's why I came back."
Hensby has struggled all season. He made the cut for only the third time in 10 starts.
After securing his Tour card with a runner-up finish in his final event last year, Hensby started this season by missing six straight cuts, then withdrew from his seventh tournament after an opening 79.
"Yeah, I actually thought I'd play well this year," Hensby said.
It's been four years since Hensby got his only tour victory, in the same season that he finished 15th on the money list. But he's never been able to recapture that form.
"I'd say I really didn't know what I was doing that year, to be honest," Hensby said. "I played well, but I never really had an idea of what I was really doing with my golf swing."
All three of Hensby's cuts have been in the last month, which coincides with the time since he started working with a coach.
Notes:@ Defending champion Scott Verplank was 1 over after a 69. ... The only one of the last 20 Masters champions to win their next tournament was Tiger Woods, in 1997 at the Nelson. ... Frank Lickliter II had the low round of the day: a 65 that included eight birdies and three bogeys. He was tied for 10th at 138. ... Goggin had a double bogey at No. 9, but got those strokes back with consecutive birdies.