News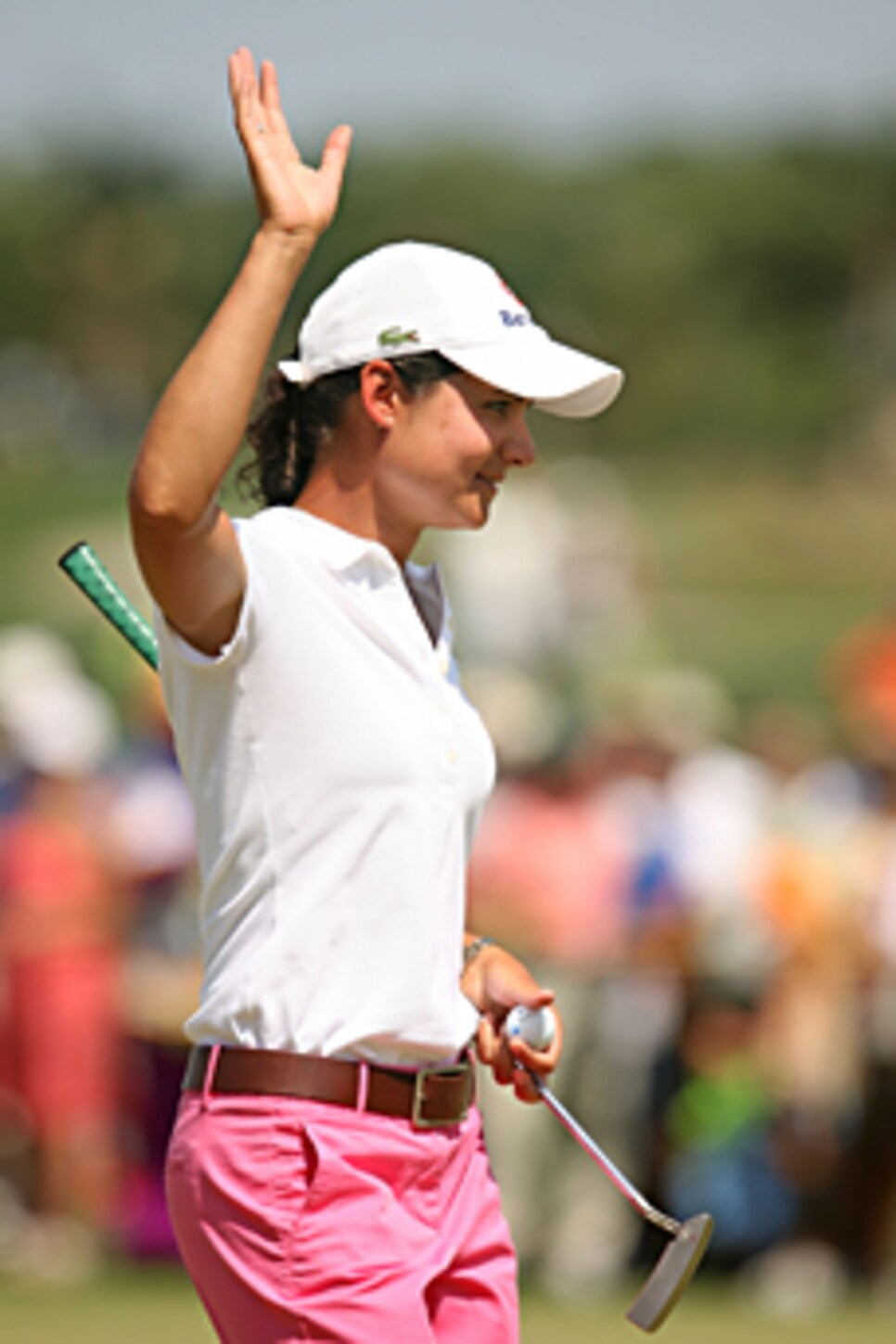 Lorena fell behind early, but got three consecutive birdies, starting with the eight hole, to put it away.
REUNION, Fla. (AP) -- Lorena Ochoa hustled around the corner, hoping to jump in a car and catch a flight home to Mexico.
There were about 100 people waiting for her in the resort lobby, some seeking pictures and autographs, others hoisting glasses of champagne.
Ochoa wanted to sprint away, but she paused for another few minutes. After all, this was deserving of one more celebration.
The 26-year-old Ochoa became the first LPGA Tour player in 45 years to win four tournaments in consecutive weeks. The world's No. 1 player shot a 3-under 69 in the final round of the Ginn Open on Sunday and beat rookie Yani Tseng by three strokes for her fifth victory in six starts this year.
"I'm very grateful. It's been a blessing, you know," Ochoa said. "But I know that bad times will come. It's just the way life is. I'm just trying to enjoy my moment, and I would like to enjoy it for a long time. So even if it's going to be an up-and-down ride, hopefully I can stay there."
Ochoa trailed early in the final round, but went ahead for good with three straight birdies beginning at No. 8. She finished 19 under and became the second player to win four times in as many weeks.
Mickey Wright did it in 1962 and 1963. Kathy Whitworth (1969) and Annika Sorenstam (2001) also won four consecutive events, but both had a week off during their runs.
Sorenstam (2004-05) and Nancy Lopez (1978) hold the tour record with five straight victories in events entered, but neither of those came in consecutive weeks.
Ochoa will give her colleagues a chance to take the spotlight next week in South Florida. She will sit out the Stanford Invitation Pro-Am, and then try to make it five straight in two weeks in Tulsa, Okla.
"She's proven that she's our top player," fellow golfer Paula Creamer said. "She's set that mark pretty high."
Ochoa talked all week about how tiring it was to play four straight events, especially since last week's victory came in her native country and was filled with visits from friends and family members, plus countless media and sponsorship requests.
But even with a little less energy, she was better than everyone else at the Ginn.
"She's really No. 1," said Tseng, who finished 16 under and five shots ahead of third-place Teresa Lu and Suzann Pettersen.
Ochoa was up a stroke to begin the final round, but Tseng pulled ahead with a birdie-birdie start. Ochoa had several chances to move back in front, but she just missed birdie putts on Nos. 5, 6 and 7. She finally grabbed the lead with a 12-foot birdie putt on No. 8, then followed with two more on the next two holes.
The 19-year-old Tseng couldn't keep pace on the back nine, bogeying three of the final six holes and allowing Ochoa to cruise to her latest win. Tseng, who now has two second-place finishes and six top-25 showings in as many starts this year, said she got distracted by thoughts of winning.
"A little bit," she said. "Maybe not just a little bit, more than that."
Ochoa tapped in for par on No. 18, then raised both arms in celebration. She congratulated Tseng and told her they were going to see each other on many Sundays.
Ochoa won a car and $390,000, raising her 2008 earnings to $1,440,500. She also took home another trophy. She grabbed the giant, shell-shaped glass bowl with one hand and held up four fingers with the other.
"The biggest thing is her confidence," Creamer said. "She goes out there and knows she can do it and knows how to win."
It was Ochoa's 10th win in her last 15 tournaments, dating to last year. She won eight times in 2007 and has been even better to start '08.
She opened with an 11-stroke victory in Singapore, defended her Safeway International title with a seven-stroke romp, won the season's first major by five shots and then went wire-to-wire last week in Mexico and won by 11.
Although she worked all offseason on her short game -- she got up-and-down from every bunker at the Ginn and finished 12 under on the par 5s -- she credits her recent success on her mental toughness.
"Even if you don't have your best swing or your best rhythm or you're not feeling the best in your life, you have to be able to manage the score and put yourself in a good position," she said.
She's in position to make it five in a row.
But first, she's ready for a break.
After that final toast in the lobby, Ochoa flew home and had a big lunch planned for Monday with mom, her brothers, her sister and some in-laws.
She's not sure what's on the menu, but given she just made the record book, she has an idea.
"My mom knows which one is my favorite plate, so hopefully we'll have that," Ochoa said.