News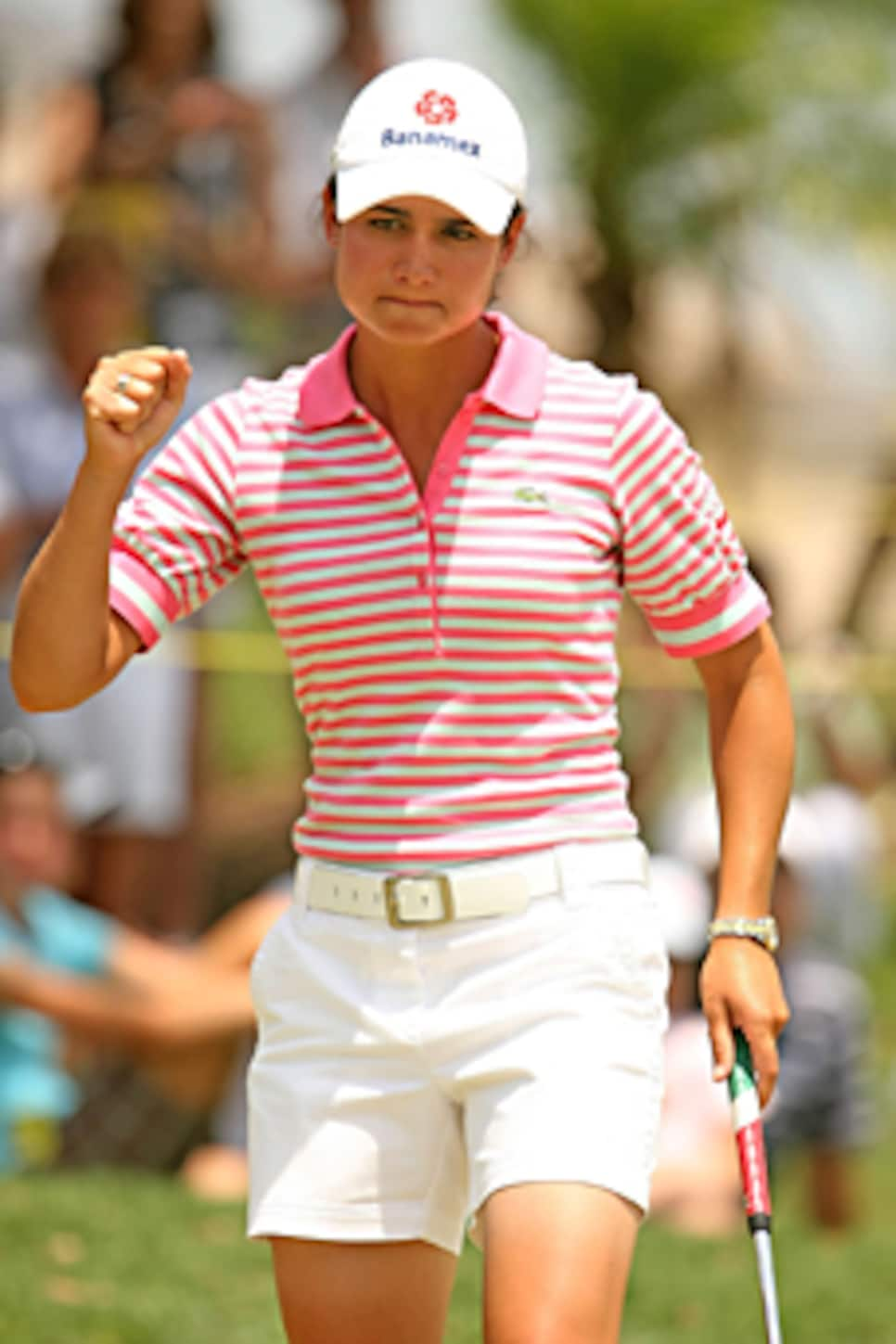 Lorena seems to be as unstoppable as Tiger was during his recent streak.
REUNION, Fla. (AP) -- Lorena Ochoa left her fellow golfers in an all-too-familiar position Saturday: trying to make up ground on the Mexican star.
Ochoa shot a 7-under 65 in the third round of the Ginn Open, moved to 16 under and took a one-shot lead over rookie Yani Tseng.
Ochoa also edged closer to her fourth consecutive victory.
"I just like the way I feel right now," Ochoa said. "I trust that my game is at a good level and I should be ready for anything."
Given the way she's played this year -- Ochoa has won four of her five starts by a combined 34 shots -- the final 18 holes seem like a mere formality.
Carin Koch, who kept pace with Ochoa most of the day before a bogey-double bogey finish dropped her six shots back, said she would be surprised if anyone caught Ochoa.
"She'd have to have a really bad day, which is hard to imagine the way she's playing," Koch said.
All of Ochoa's victories in 2008 came after she led at the end of the third round, and she's won 15 of 22 times when having at least a share of the top spot heading into the final day.
Then again, Ochoa squandered a lead at the Ginn last year. She started the final round tied for first, then endured a stunning collapse in blustery conditions. .Ochoa was 6 over on the final six holes, missed a 10-foot bogey putt on No. 18 that would have forced a playoff and ended up with a 77.
She doesn't expect it to happen again.
"You always learn the hard way," Ochoa said. "Hopefully, we write a different story (Sunday). It hurt a lot and it was tough at the time, but then you look back and you always see that it's always worth it. Everything happens for a reason. I'm a much better player now."
She showed that Saturday.
Ochoa started three shots behind Tseng and was four back after a bogey on No. 2. But the world's No. 1 player made three consecutive birdies beginning with the par-5 ninth and took the lead for good with a near-perfect approach shot on No. 11.
She gave Tseng and a few others a chance to keep it close by just missing birdie putts on the next three holes. But she closed with birdies on 15 and 18, pumping her right fist after each one hit the bottom of the cup.
"I think what I did today, I'm really pleased," said Ochoa, who matched her low round of the year. "It was a great day, especially starting with bogey. I was able to make eight birdies and just finish in the lead. I like my position."
Tseng birdied two of her final three holes for a 69. Teresa Lu (69) was 11 under, one stroke ahead of Koch (70) and Suzann Pettersen (72).
They're all chasing Ochoa -- again.
Tseng and Lu, good friends from Taiwan, will be in the final group alongside Ochoa.
Tseng, who has five top-25 finishes in five starts this year, had hoped to play with Ochoa in the third round. Instead, she was a group behind and watched Ochoa climb the leaderboard and eventually pass her.
"I don't want to put too much pressure (on myself)," Tseng said. "I want to learn something from her."
Tseng said she played "pretty safe" in the early part of the round, then got more aggressive after Ochoa took the lead on the 11th.
Her strong finish kept the Ginn from being another runaway for Ochoa, who opened the year with an 11-stroke victory in Singapore, defended her Safeway International title with a seven-stroke romp, won the season's first major by five shots and then went wire-to-wire last week in Mexico in another 11-stroke victory.
Ochoa said some of her colleagues have jokingly asked her to start taking it easy on them.
"I'm going to take a week off next week," Ochoa said.