News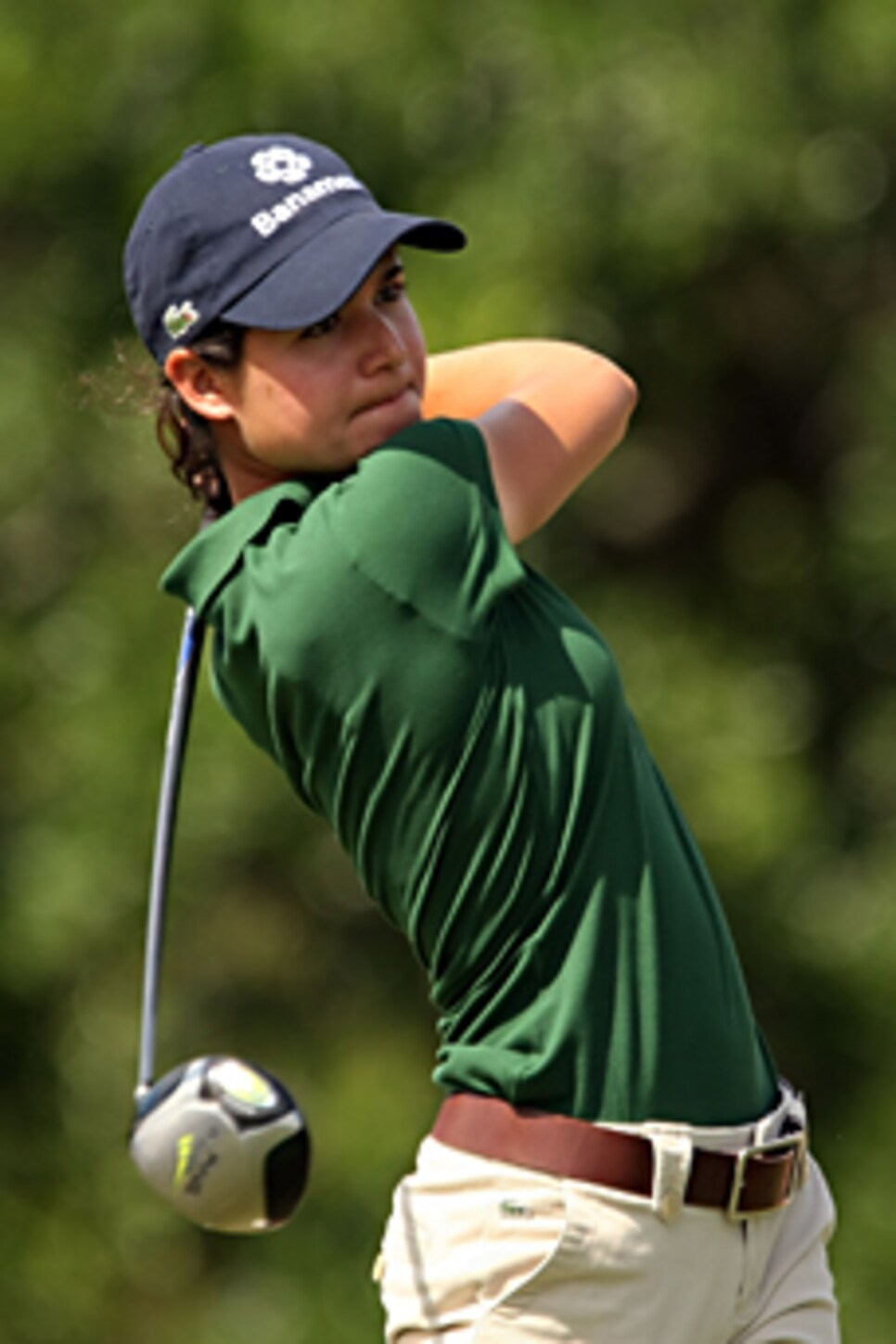 Lorena is one-stroke back of Carin Koch and Teresa Lu.
REUNION, Fla. (AP) -- Lorena Ochoa got off to a solid start Thursday in a bid for her fourth consecutive victory and fifth in six starts this year.
Playing for the fourth straight week, Ochoa shot a 4-under 68 in the first round of the Ginn Open to finish a stroke behind leaders Carin Koch and Teresa Lu.
Ochoa had plenty of company there, too.
Karrie Webb, Suzann Pettersen, Charlotte Mayorkas, Mhairi McKay, Allison Fouch and Yani Tseng also were a stroke back.
But for the first time in a while, the field wasn't chasing the world's No. 1 player. Ochoa led start to finish in her native Mexico last week in an 11-stroke victory at the Corona Championship.
"Of course, I like my position right now," Ochoa said. "I'm not usually a player that comes from behind. It's impossible, I guess, to be winning a tournament by seven shots the first day. You have to move your way out there. That's why I feel very happy with my round."
She also enjoyed a seven-stroke win at the Safeway International three weeks ago, then followed with a five-shot victory in the first major of the year, the Kraft Nabisco Championship.
She has won four of five events this year and is looking to become the first player since Annika Sorenstam in 2001 to win four consecutive starts.
She probably would have been out front Thursday had she not missed short birdie putts on Nos. 1, 2 and 3 to start her back nine. It got worse when she three-putted the par-4 eighth and made her only bogey of the round. But she rebounded with a birdie on the par-5 ninth.
Ochoa said she played a little cautiously on a windy day with dry fairways and fast greens. But with a morning tee time Friday, Ochoa expected to be much more aggressive.
"I in position and I'm going to make sure I give myself a good chance to win the tournament," she said.
The 26-year-old star had the largest gallery of the field following her around the Ginn Reunion Resort, a crowd that helped keep her from feeling completely worn-down after so many rounds without much of a break.
"I'm still a little bit tired," she said. "I wouldn't say it's all the energy that I ever felt, but I'm OK. I think I'm hanging in there. ... If I knew I had maybe two more tournaments coming, I would be crying right now."
Juli Inkster (69), Annika Sorenstam (70) and Morgan Pressel (72) weren't far behind, part of 65 players who shot par or better.
Koch may have been the most unlikely name on the leaderboard.
Sure, she shot a 66 in the final round in Mexico last week and tied for fifth. But that was her best showing since winning her second career event in 2005. She mostly struggled the last two years.
"I'm just really excited right now," she said. "I've had a couple of bad years and I'm finally starting to play solid golf again. I'm hitting a lot of fairways and a lot of greens, so that's what I'm going to focus on rather than what Lorena and Annika are doing.
"It's so much more fun for me to play again now."
Her putting was a big reason Thursday. She made seven putts from 12 feet or longer, including a 20-footer on No. 17 and a 30-footer on 18 for a birdie-birdie finish.
"I'm definitely rolling it good," Koch said. "It's not all luck. There's a lot of good putts. I'm definitely confident on the green right now."
Notes:@ Ochoa will get next week off and already has plans to have lunch with her family Monday. ... Leta Lindley had the shot of the day, a hole-in-one at No. 12. She holed an 8-iron from 135 yards. ... The par-3 16th was one of the toughest holes, yielding just six birdies and giving out 45 bogeys and five double-bogeys.