News
Sirak Says: Sometimes It's That Simple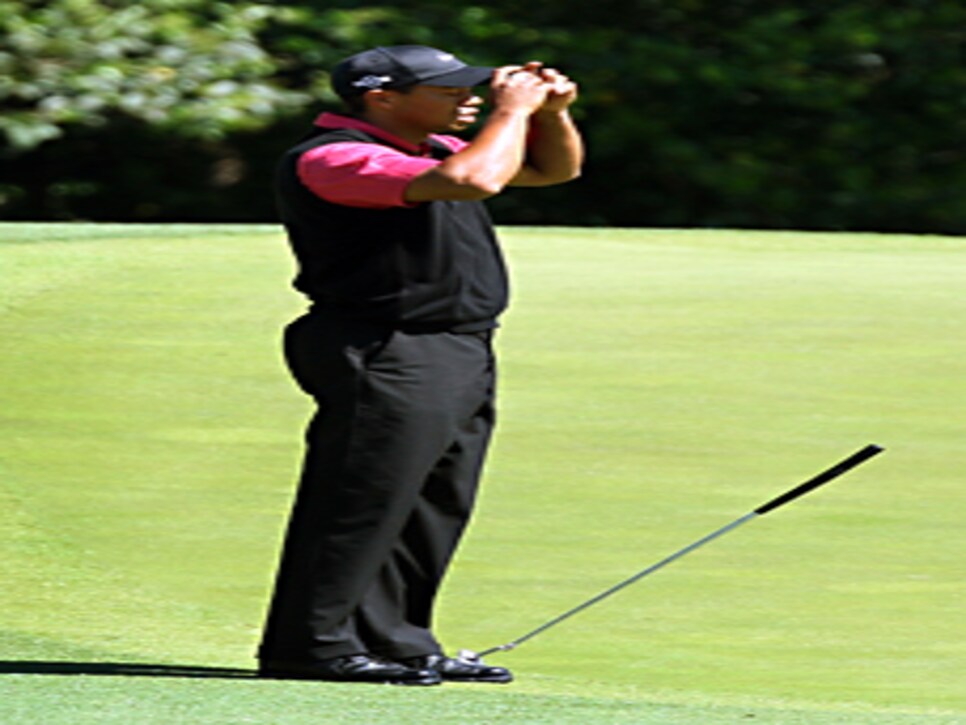 No one got it going on Sunday. None of the top 22 after 54 holes broke par.
AUGUSTA, Ga. -- Their faces told the story, and what was left unsaid by weary eyes and pained expressions was screamed by body language that articulated the frustration of the day. Trevor Immelman claimed the green jacket Sunday at the Masters, but only after a tussle with an Augusta National GC course that humbled even Tiger Woods in a windswept final round where birdies were mere rumors and par a welcomed safe haven.
To say that no one got it going Sunday would be an understatement akin to saying the iceberg got the better of the Titanic. None of the top 22 players on the leader board after 54 holes broke par in the final round and only four of the 45 in the field managed the feat on the day. The top 15 on the leader board after three rounds averaged 75.07 on Sunday, with only Woods, Stewart Cink and Phil Mickelson among that group matching par at 72.
The difficulty of the course -- and its new nature -- was demonstrated when Immelman took a six-stroke lead with three holes the play. The question was not if someone would make a run at him, but whether he would make the mistake that would give others hope. That is part of the new character of this course, and that character was given added teeth Sunday by swirling wind that topped 20 mph and tossed shots all over the finely manicured hills.
The 28-year-old South African made it closer than it needed to be, double bogeying No. 16 after hitting the water and needing to hole a four-foot par putt on No. 17 after he bunkered his approach. But the 75 Immelman posted Sunday to finish at eight-under-par 280, three strokes ahead of Woods (who finished second despite struggles with his putter), was more impressive than the score indicates. It was nice work relative to the car wrecks going on around him. The three players between Immelman and Woods at the start of play Sunday all had difficult days, with Brandt Snedeker shooting a 77, Steve Flesch a 78 and Paul Casey a 79.
Woods, whose closing 72 put him at five-under 283, never got anything going, making only two birdies in the final round. Uncharacteristically, Woods missed makeable birdie tries on Nos. 13, 15 and 16 and three-putted the 14th for bogey.
This was simply not Woods' week. When he made a birdie putt on the last hole he gave a shrug as if to say, "Yeah, now it goes in. Too late, dude." When Woods wins a major he usually sends out a signal of the impending triumph by Friday night. There was never that feeling this week. Only in the third round, when he passed a passel of people with a 68, did Woods resemble the dominant player who has won 64 PGA Tour events and 13 major championships.
"I just didn't make any putts all week," Woods said. "I hit the ball well enough to contend, I definitely hit the ball well enough to put pressure on Trevor, but I just didn't make any putts." Perhaps the ultimate frustration for Woods came as he packed up to leave Sunday night knowing he had needed only a 69 over the final 18 holes to be in a playoff with Immelman.
Immelman had his ups and downs over the closing 18 holes, but never surrendered to the pressure of the day. He knows all about not giving up. A year ago, he picked up a parasite and lost 25 pounds. And last winter, he had a non-malignant tumor the size of a golf ball removed from his lung.
He joined three-time Masters winner Gary Player as the only South Africans to take home the green jacket, accomplishing a feat his better-known countrymen Ernie Els and Retief Goosen have not managed.
"He just told me to keep my head still on my putts," Immelman said about the advice he got in a phone call from Player Saturday night. "I'm glad I did it for him today."
The back nine at Augusta National has always been the most exciting closing nine in championship golf. But it used to be birdies and eagles that sent massive roars cascading through the towering Georgia pines and established that reputation. The addition of more trees and more length and, on this day, more wind, has changed all that.
The days of a closing 30 to win the Masters -- as Immelman'sidol, Player, did in 1978 -- are gone. Whether that's a good thing or a bad thing is a matter of taste. Certainly, the closing moments Sunday were filled with high drama, albeit of a painful variety rather than the euphoric thrill of a birdie barrage or a late charge.
As Immelman walked onto the 18th tee with a seemingly unblowable three-stroke margin, four words came to mind: Jean van de Velde. But there was no burn and no fescue to mess with his mind -- just a rail-thin opening in the trees through which to thread his drive.
Immelman, whose pace of play can be timed with a sundial, stared at the ball on the tee then split the fairway and let out a deep sigh only to walk to his ball and find it laying in a deep divot. But demonstrating his skill as a ball striker one final time, he finessed it onto the green and two-putted for a par to appreciative roars, a popular champion as much for his humble manner as for his rock-solid swing.
The results left little question about whether Immelman is a deserving champion. He is, and it would not be surprising if more majors follow. There is, however, an interesting question about the Masters itself. Do we want this tournament won with a closing round of 75 by the 54-hole leader?
There is no certain answer, but it is a question sure to be raised after Sunday's play. This much is clear: Drama comes in many different forms. It's all a matter of where you are sitting that determines the entertainment value. Tragedy, someone once said, is when I get hit in the head. Comedy, he continued, is when you get hit in the head. Sunday at the Masters had a bit of both.