News
Sirak Says: Slip Sliding Away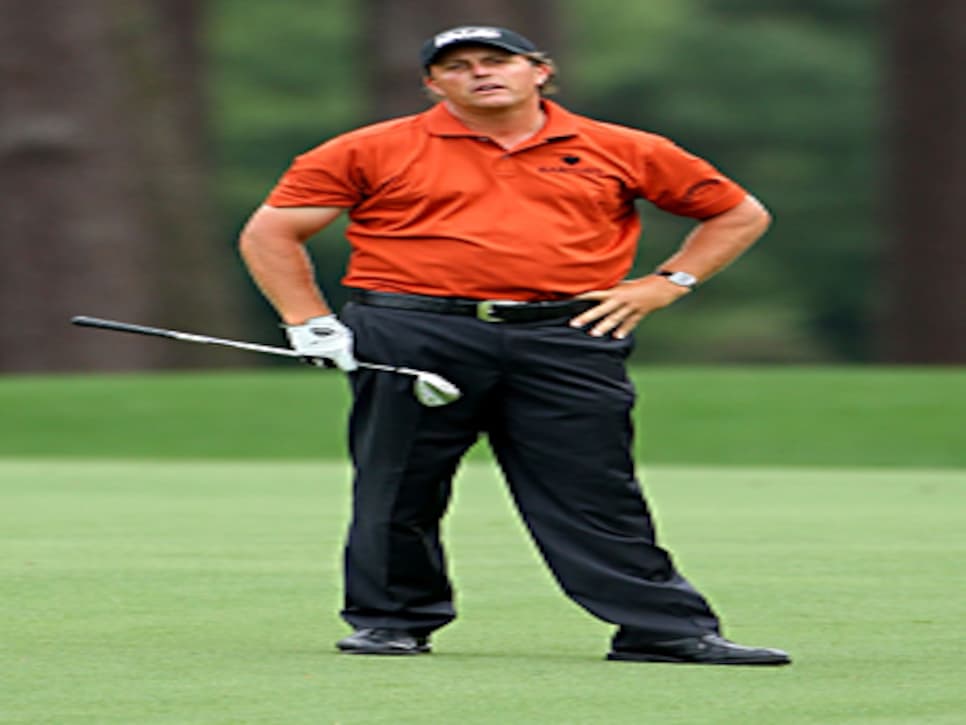 Phil didn't handle the bad breaks on Saturday.
AUGUSTA, Ga. -- Part of the test of major-championship golf is an examination of a player's patience. How well can he handle bad shots and, more importantly, bad breaks? Phil Mickelson faced such an inquisition Saturday at the Masters and couldn't find the right answers. He handled a bad break badly and played his way out of the tournament.
Mickelson, who got to six under par and two strokes off the lead with a birdie on the second hole, was at five under par and only three strokes back as he played the eighth hole at Augusta National Golf Club. Lefty appeared to lose his focus after his sand wedge approach from 55 yards hit the pin, lost its spin and rolled back 40 feet to the front of the green.
It was an enormously unlucky break. Without hitting the stick he likely would have had a very makable birdie putt. But it was exactly the kind of break a player has to handle. Winning majors is all about patience, it's all about keeping your mind in the now and focusing on the shot at hand -- not a shot two holes ago.
Instead of regrouping, Mickelson unraveled. Visibly frustrated, he rolled the 40-footer on No. 8 to four feet then played that putt as if his mind was back on the wedge shot, missing it badly to fall to four under par for the tournament. At the time, he was tied with Tiger Woods, who had played 14 holes. And at that time Mickelson was very much in the tournament.
One of the keys to winning, especially in majors, is to put the past in the past as rapidly as possible. While Mickelson made a few physical mistakes in the third round, they were very few. He was swinging the club beautifully, showing clear evidence of his recent work with instructor Butch Harmon. Lefty's mistakes on this day were mental, not mechanical.
As often happens in golf, bad shots compounded quickly. Mickelson missed from eight feet to bogey No. 10 and missed another four-footer on the par-3 12th hole and was suddenly at two under par, three strokes behind Woods, who had already finished.
But if there's one thing about Mickelson, it's that he has no quit in him. He is about as resilient as anyone who has ever played the game.
Finally getting his mind and his swing on the same page, Mickelson followed a two-putt birdie on the par-5 13th hole with a 14-footer on No. 14 that got him back to four under. And when he faced a five-footer on No. 15 for the turkey -- three birdies in a row -- he appeared to be playing himself back into contention.
But when he fanned that five-footer his focus once again seemed to go on vacation. He pulled his tee shot on the par-3 16th hole into the back right bunker and faced a touchy shot to a back-right pin. His blast caught the slope and rolled 40 feet down the hill, from where he left it seven feet short and missed for a double bogey.
The mystery that is Mickelson, and perhaps a perfect explanation of the magical connection he has with his fans, was in full display on the 18th hole. Despite a couple of wild shots, a great wedge shot ended up six feet from the hole and he saved par to finish off a 75 that left him in a nine-way tie for seventh place, nine strokes behind Immelman's pace-setting 11-under-par 205.
Mickelson went into Saturday's third round tied for third, three strokes behind Immelman. Perhaps of even greater importance, he was four strokes clear of Woods. But the 68 by Tiger moved him three strokes past Lefty.
To win majors you have to put yourself in position to have a chance on Sunday. That's exactly what Woods did Saturday at Augusta National. And that is exactly the opportunity Mickelson allowed to slip away.
It could be that when Mickelson looks back on this Masters the first thing that will come to mind is the bad break her got on No. 8, when his approach shot hit the pin. That would be misplacing the blame.
What he should really remember is not the shot, but how he reacted to the shot. We can't control what happens to us, but we can control how we react to what happens to us. And that is a huge part of the test of golf -- especially on a stage like Augusta National, which probes a person as completely as any course in the world.