News
Has Moving Day At The Masters Come Early?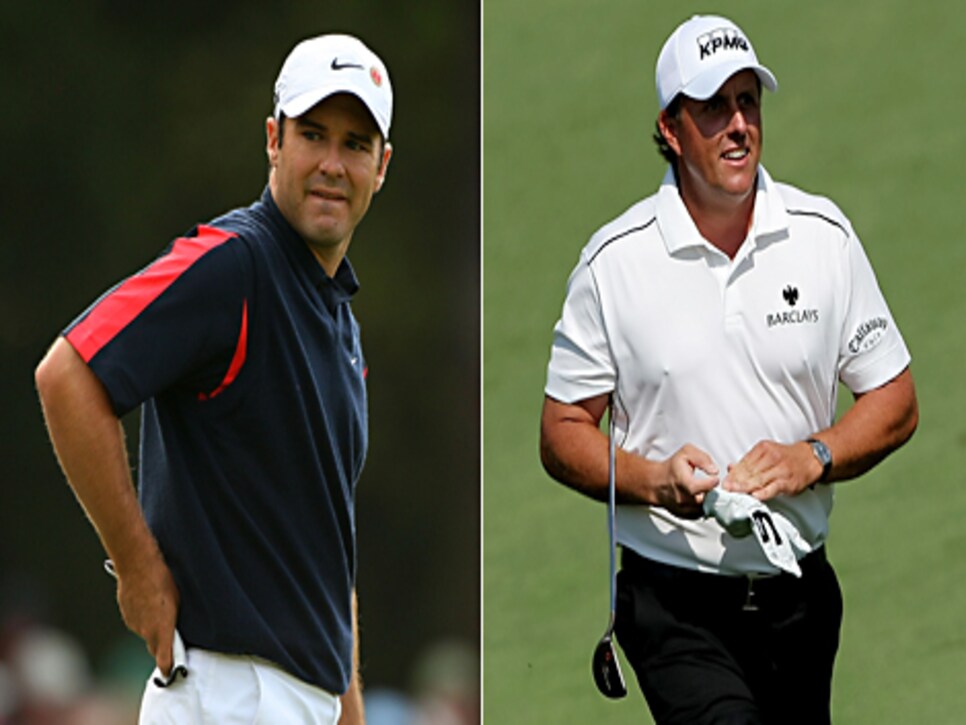 Immelman was hot on Friday, but he's not alone. Just ask Phil.
AUGUSTA, Ga. (AP) -- Trevor Immelman gave Tiger Woods an impressive number to shoot at.
Showing that 4-under 68 in the opening round was no fluke, Immelman put up the same score Friday with birdies on the final two holes to break a logjam atop the leaderboard at Augusta National.
The South African was at 8-under 136 heading to the weekend and two shots clear of the field when he talked off the 18th green, though Woods and Justin Rose had yet to tee off and several other top contenders were just getting started on the second round.
Immelman bounced back from his only mistake, a bogey at the par-3 sixth, and finished strong with birdies at Nos. 17 and 18. He rolled in a 15-footer on the final hole, appearing fully recovered from some strange health issues over the past year.
Immelman lost 20 pounds because of a stomach parasite after last year's Masters, and late in the year a benign tumor was removed from his diaphragm. Still on the mend, he missed the cut in half his events this season, and his best showing in a stroke-play event is a tie for 40th.
"This year's special," said Immelman, who shared the first-round lead with Rose. "To shoot 68 the first two days is probably beyond my expectations. So I'm pretty thrilled right now."
He took advantage of another warm, sunny day -- a striking contrast to the frigid temperatures and biting wind that plagued the tournament a year ago. With the threat of rain in the forecast, Immelman knew it was important to put up a low number.
"The course is going to show its teeth," he said. "You've got to make some good scores while you can."
The left-handers were playing well.
Steve Flesch shot a 67, the lowest round of the tournament thus far, and headed to the weekend three shots off the pace. That other lefty, Phil Mickelson, was right in contention, too. The two-time Masters champion birdied three holes on the front side and made the turn at 4 under. Heck, Immelman is an honorary member of the club -- a natural left-hander who plays golf right-handed.
Brandt Snedeker was 6 under with one hole to play, and Stephen Ames put himself in contention with a second straight 70.
Flesch had a bogey-free round and took advantage of the par 5s, leaving the 40-year-old in strong position heading to the weekend.
"I played great," said Flesch, a four-time winner on the PGA Tour but playing at the Masters for the first time since 2005. "The way I planned on playing this week was to attack the par 5s when I could."
The strategy worked to perfection. He was 5 under on the four longest holes, including an eagle at No. 13, and put up nothing but pars on everything else.
Flesch isn't the longest of hitters, but he got a chance to go for it after a strong drive at the 13th. He had 243 yards to the flag, with a slight breeze at his back, so he decided to go with a 3-iron. He caught it good -- so good, in fact, that he thought his ball had carried over the green.
Actually, it rolled to a stop a couple of feet from the hole, and he knocked it in for eagle.
Mickelson followed up an opening-round 71 by attacking the front side. He birdied both the par 5s and sank another putt at No. 3, a short par 4.
Snedeker, a former U.S. Public Links champion playing at Augusta National for the just the second time, collected birdies at Nos. 6 and 7. Immelman birdied No. 11, then made a nice save at the next hole in Amen Corner after hitting his tee shot over the green.
His chip came up about 12 feet short, but he sank the par putt and strolled up confidently to retrieve his ball.
Eight players started the day within two strokes of Rose and Immelman. Woods, who always takes a while to get warmed up at this place, shot a 72 in the opening round and was scheduled to join the chase at 1:52 p.m., facing a daunting eight-shot deficit.
Then again, we've been down this road before.
Woods spotted the leaders a three-shot head start back in 1997, but still captured the first of his four Masters in a 12-shot runaway. The first-round deficit was five strokes in 2001, three in '02, a daunting seven in '05, when the world's greatest player chased down Chris DiMarco, then finished him off in a playoff.
No wonder he didn't seem too concerned as he strolled off the course Thursday.
"I feel good about how I played all day," said Woods, who has never broken 70 in the opening round of the Masters. "I hit the ball really well. I hit a lot good putts that just didn't go in. I just have to stay patient out there, and hopefully it will turn."