News
Sirak Says: Just Two Questions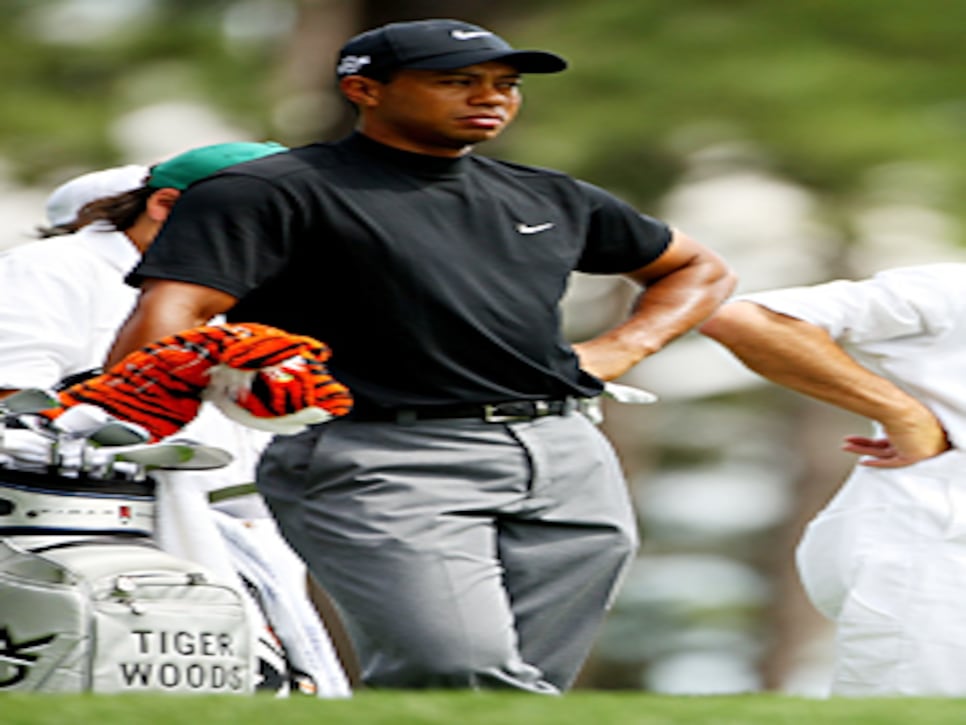 Tiger has a lot to think about... or does he?
AUGUSTA, Ga. -- The two most intriguing questions going into the weekend at the Masters are these: How far back is too far back for Tiger Woods to have a chance to take home his fifth green jacket? And who is Woods really chasing, Trevor Immelman or Phil Mickelson?
The answer to the first is that the greatest deficit anyone ever overcame after 36 holes was the eight strokes Jackie Burke Jr. erased in 1956 to chase down Ken Venturi, who made matters a little easier for Burke by closing with an 80 on Sunday. Woods is seven back of Immelman after a 71 Friday put him at one-under 143.
The answer to the second question is that, in all likelihood, when Woods looks at the leader board before hitting the sack Friday night, his eyes will not go to Immelman at 136, Brandt Snedeker at 137 or either Steve Flesch or Ian Poulter at 139. I'm guessing the only number that matters for Tiger is the other 139 on the board, the one that belongs to Mickelson.
So while the rest of the world views Woods as seven strokes behind Immelman going into the weekend, the more significant deficit might be the four strokes by which he trails Mickelson. There is one other rather significant number here: 11 players stand between Woods and Immelman, including major championship winners Retief Goosen, Mike Weir and Mickelson.
The chance one or more of those 11 players has a good weekend is high. Certainly, not everyone will give back strokes. Tiger is going to have to go low and make up ground. If the first number of Tiger's third-round score is not a "6" then it probably will be all over for him.
Woods did help himself enormously, however, with a heroic par on No. 18. He drove into the trees right of the fairway and had to play his second out to the 10th fairway. From about 80 yards, he knocked it to about seven feet and made the tricky downhill putt to save his par and trail 11 players instead of 18 going into the weekend.
"Seven back on this golf course, under these conditions?" said Woods. "I can make that up."
Woods is probably aware Mickelson is on an Arnold Palmer-like, alternate-year schedule, having won the Masters in 2004 and '06, which puts him on track for victory this year. Palmer, of course, won four green jackets in alternating years beginning in 1958 -- 50 years ago.
Oddly, at a course on which he has claimed four green jackets, Woods had not broken par since the final round of 2006 until Friday, and he has not shot in the 60s at Augusta National since a 65 in the third round in 2005. The good news, though, is that Woods has posted third-round scores of 68 or lower six times in his 11 Masters as a professional.
The importance of the third round for Woods rests in one of the real head-scratcher stats of Woods' remarkable career. Of his 13 professional major championships, he has had the lead or a share of the lead in all of them going into the final round. Never has Woods come from behind after 54 holes to win.
That seems to be almost inconceivable. How does someone that good not chase someone -- anyone -- down on a Sunday? It has to happen, even if by accident. But maybe that is what this Masters is all about. Maybe the storyline Woods is going to offer up is the first break-down-the-barricades and storm-from-behind victory of his major-championship career.
As Sunday comebacks go in Masters history, the best was by Burke, who remained eight strokes behind after 54 holes, fell nine back early in the final round and still won. Gary Player erased an eight-stroke deficit in the final round in 1978 and, of course, there was the six-shot lead Greg Norman gave up to Nick Faldo in 1996.
As for late-inning heroics, Art Wall Jr. was five behind with seven holes to play in 1959 and Fuzzy Zoeller (1979) and Faldo (1989) were both three down with three to play and won.
The Masters has been won by someone who trailed going into the final round 24 times, with only Sam Snead (1949 and '54) and Player (1974 and '78) doing it twice. Zach Johnson came from behind to win last year, having trailed Stuart Appleby by two going to Sunday and making birdies on three of the final six holes.
Before that, no one had trailed after 54 holes and come back to win since Mark O'Meara in 1998. Perhaps the most famous final-round comeback was by Gene Sarazen in 1935, when he holed a 3-wood shot for double eagle on No. 15. There was also the 65 Jack Nicklaus shot in 1986 at the age of 46 to win from behind.
Does Tiger have a Nicklaus-like comeback in store for us? Certainly, if there is one thing we have learned about Woods, it is that he has an uncanny ability to do what seems to be impossible.
The only blemish that remains on Woods' resume -- if it can even be called a blemish -- is to win a major coming from behind on Sunday. When a guy has won 13 professional majors, second only to the 18 by Nicklaus, it's pretty petty to nitpick about comebacks.
But Woods has positioned himself for some heroics. He needs a good round on Saturday, perhaps even a great round, to be able to make a run at the title on Sunday. Who's the favorite in this Masters? I still like Tiger Woods. He's done the impossible too many times, and this time, the challenge is merely difficult.