News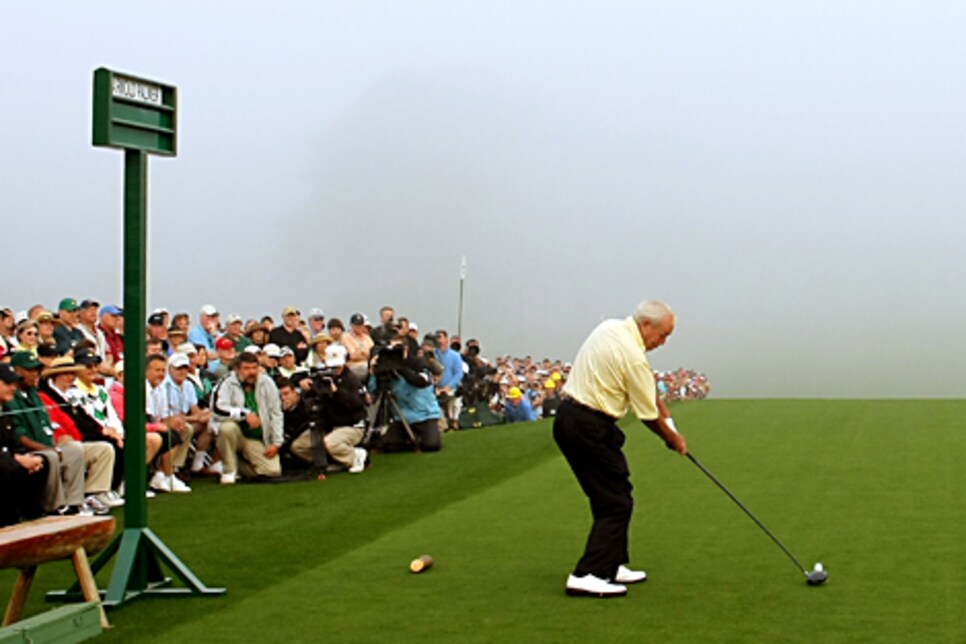 The King drove one down the middle through the fog to get the 2008 Masters started.
AUGUSTA, Ga. (AP) -- It's easy to get carried away with Tiger Woods at Augusta National, or any other place, for that matter. Will he win a fifth green jacket? Will he get started on a Grand Slam?
But let's not forget another guy who knows his way around Bobby Jones' layout.
Over the last four years, Phil Mickelson has more Masters wins (two) than Woods (one). Come Thursday, after Arnold Palmer strikes a ceremonial tee shot to launch the year's first major, Lefty probably has the best chance of anyone to stop Woods' seemingly inevitable march to a fifth title here.
Clear skies at dawn gave way to a soupy fog that allowed Palmer one small piece of satisfaction -- he can say that his tee shot traveled so far he never saw it land. The fog was so thick that visibility was only about 200 yards, leading to a delay of at least 30 minutes.
"As a matter of fact, it went out of sight," Palmer said with a smirk.
But even the King, who left for Latrobe, Pa., sensed an anticipation about this Masters.
"There's a lot of enthusiasm. You can see it and feel it," he said. "The golf course is going to be difficult early. Today is going to tell us a lot about the week."
Mickelson certainly feels at home at a course where he sank an 18-foot birdie putt on the 72nd hole to claim his first major championship in 2004, and followed it up with another green jacket two years ago.
"I love this tournament," he said, "and I love when I get here, how you don't have to be perfect. You don't have to hit everything well to be able to score well."
He's describing his own game, of course, a perplexing mix of brilliant shots and indefensible gaffes. This is the guy who will attempt swings in the heat of a tournament that no one else would even try on the practice range. This is also the guy who said this about himself, "I'm such an idiot," after throwing away the 2006 U.S. Open and losing a chance to go for a Grand Slam of his own.
Which brings us to Augusta, as pristine a spot as you'll find on the planet, but pocked with all sorts of idiosyncrasies that reward creativity as much as consistency. Back when he was still the best player never to win a major, Mickelson always felt this would be the tournament where he broke through.
"You have to be able to miss it on the proper sides of the greens, and you have to have a great short game," Mickelson said, describing himself to a T. "You have to get up and down from on and around the greens. Those have always been the areas of my game that I feel the most comfortable with, which is probably why I always believed before I had won a major that this would be my best opportunity to win one."
Of course, Woods is the total package. The world's No. 1 player sent expectations higher than a Georgia pine when he said earlier this year the Grand Slam -- winning all four majors in the same year -- was "easily within reason."
He has won eight out of his last 10 tournaments and is an even-money favorite to capture his fifth Masters, odds never before seen in golf. Essentially, it's Woods against the field, Mickelson included.
"You have to understand why I said that," Woods said. "I've done it before. I've won all four in a row. I think this is my 12th or 13th season out here, and nine of those years I've won five or more tournaments. So you've just got to win the right four. That's what it boils down to."
He's already pulled off the "Tiger Slam," winning the U.S. Open, British Open and PGA Championship in 2000 and the Masters the following spring to put all four trophies in his case at the same time. As impressive as that was, the purists carried the day with their contention it wasn't a true Grand Slam, a feat that has never been accomplished in the professional era.
Nothing seems out of reach to Woods, whose main opponent is history. He's already got 13 major titles, with Jack Nicklaus' 18 the only thing standing between him and being the sport's greatest champion. A Grand Slam this year would put him right on the Golden Bear's bumper.
"That's probably the most difficult feat in golf," Mickelson said. "It would be pretty cool to see it done. The last tournament or two, there would be some incredible pressure."
No one handles the mental grind better than Woods, who was toughened up at a young age by his late father, Earl. Even now, nearly two years after the elder Woods' death, Tiger still remembers the little tests his father, a veteran of the Green Berets, used to try to get inside his head.
"I asked my dad to do that to me, to make me a tougher golfer, to make a tougher person," Woods said. "He put me through the same stuff he had to go through in Special Forces, all the psychology part of it. ... It was frustrating for me at first because I didn't understand how to deal with it, but I just had to figure it out."
This week, Woods had an encounter with his past when he ran into Trip Kuehne on the putting green.
Fourteen years ago, they met for the U.S. Amateur championship, a pivotal match in both men's lives. Woods rallied from five down with 12 holes to play to capture the first of three straight Amateur titles, which of course propelled him to even greater heights. Kuehne was devastated by the loss and decided that professional golf wasn't for him, going into the investment business instead.
Now 35, Kuehne earned a spot in this year's Master by winning the U.S. Mid-Amateur championship. He marvels that the guy who used to stay at his house as a youngster, who beat him for that amateur title so many years ago, is still improving when he's already better than everyone else.
"He's the best physically, he's the best mentally and he works harder than everybody else," Kuehne said. "Just look at his body compared to everybody else. Separately, those would be some unbelievable qualities. But you combine it into one person, that makes it truly spectacular."