News
A Day For The Ages... All Ages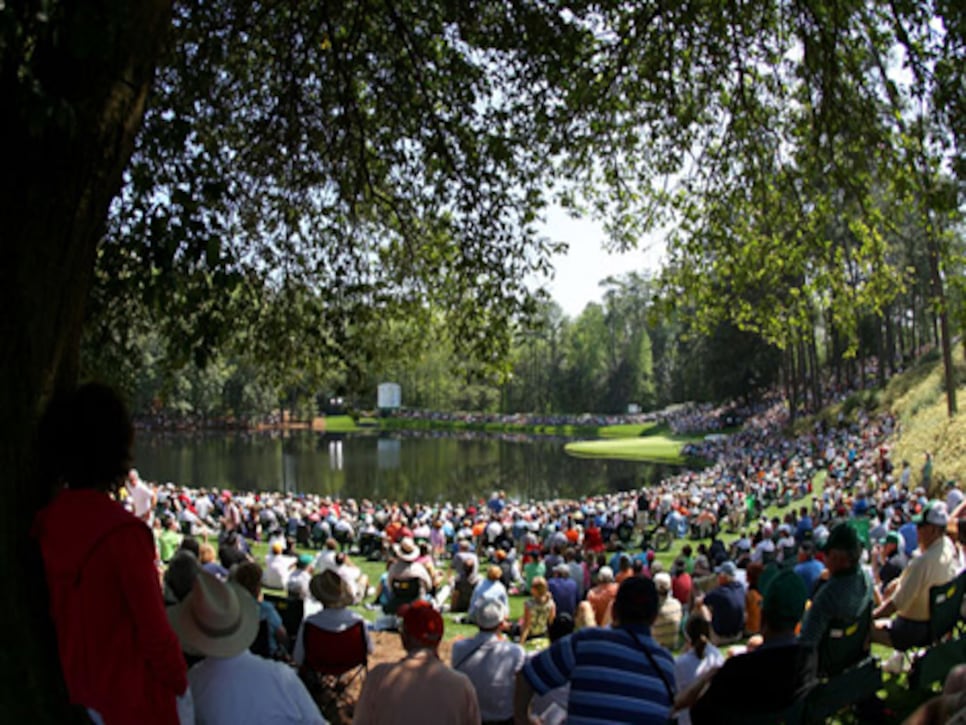 Rory Sabbatini took the Par-3 title with a five-under par 22.
AUGUSTA, Ga. (AP) -- Barefooted kids frolicked on pristine greens. Caddies stepped up to take putts for the real golfers.
Could this be staid ol' Augusta National?
The home of the Masters let down its guard Wednesday and finally allowed the rest of the country to get a glimpse of the rollicking good time known as the Par 3 Contest.
Jack, Arnie and Gary teamed up to provide a glorious threesome for those lucky enough to see it -- and thousands of golf fans were, crammed into every nook and cranny of the picturesque nine-hole course.
Televised live for the first time, the just-for-fun tournament before the real thing provided another side to a place known for its stoic traditions and zealous resistance to change. There's plenty of fudging on the rulebook, which is why it was OK to let your kid or caddie -- sometimes, they were one in the same -- take a putt or two or three.
Ian Poulter's 3-year-old son, Luke, isn't as tall as the clubs his dad uses, but that didn't stop him from lining up a birdie putt on No. 9.
Decked out in downsized white coveralls, just like the ones worn by the regular caddies, he broke out the mini-putter he lugged around the course just for this moment. The first attempt went rocketing past the cup. Luke scurried after it and took another whack. Strike two. Finally, with some help from his father, he tapped in for a three-putt bogey.
"He was awesome," the proud papa said after scooping his boy off the short grass.
Jack Nicklaus and Arnold Palmer, who no longer play the Masters, still tee it up for the Par 3 Contest, going wedge to wedge on the marvelous little 1,060-yard layout that was built on the northeast edge of the club in the late 1950s. It winds around DeSoto Springs Pond, Ike's Pond and the azaleas blooming in an explosion of white, pink and fuchsia.
Gary Player joined the dynamic duo, making it a threesome with 13 green jackets among them. They posed together on the first tee, arm in arm, a photo op for the ages.
"The most important thing is we've remained great friends," said the 72-year-old Player, who'll play in his record 51st Masters this year. "To have great friends in your life is something you can count on one hand, and these two men both go on my one hand."
Nicklaus' bag was carried by grandson Jackie, who knew he would be expected to putt at the final hole. As the Golden Bear stood over his tee shot, the teenager gave the winner of 18 major titles some sage advice.
"Please get it close to the hole," Jackie said, "so I don't have a long putt."
Nicklaus promptly stuck it 2 feet from the hole, and then turned it over to his grandson to complete the birdie.
"He plays a little bit of golf. Not a lot, but a little, like they all do," Nicklaus said. "It was fun having him with me today."
Any chance the 68-year-old Nicklaus might return to play in the Masters? No way. But he'll be back at the Par 3 Contest next year.
"I've got 21 grandkids," Nicklaus said. "I'll be playing here for a long time."
Two-time Masters champion Ben Crenshaw brought along 10-year-old daughter Anna Riley, who had already kicked off her shoes by the time they got to No. 9. Dad offered her a chance to take the 25-foot birdie attempt, but she shook him off. When he rolled in the putt, she leaped in the air to celebrate.
"He let me line it up," she said proudly.
Not that anyone was paying too much attention to the scoreboard, but Rory Sabbatini shot a 5-under 22 to claim the crystal trophy that goes to the Par 3 winner. He rolled in a 30-foot downhill putt at the final hole for the birdie, thrusting his fist in the air to show how much he cared.
Of course, he might have been better off missing the putt. No winner of the Par 3 Contest has ever gone on to win the Masters in the same year.
"I'm not a very superstitious person," Sabbatini said with a shrug. "I don't believe in jinxes or curses or anything like that. It's going to happen. It's inevitable that someone will win both. And you can't do both without starting the first part."
The Masters decided to televise the Par 3 tournament as part of club chairman Billy Payne's initiative to build on golf's popularity, provide another side to a game that can seem downright boring to a generation that's grown up playing crash-'em-up video games.
Maybe they'll even get Tiger Woods back. The overwhelming Masters favorite stopped playing the Par 3 Contest after 2004, believing the raucous atmosphere hurt his mental preparation for the first major, but Augusta National hopes he'll change his mind as his infant daughter, Sam, gets older.
"I will tell you," Payne quipped, "that I have instructed them to save for the future those little caddie uniforms in Sam's size."