News
Masters Wednesday: Par-3 Contest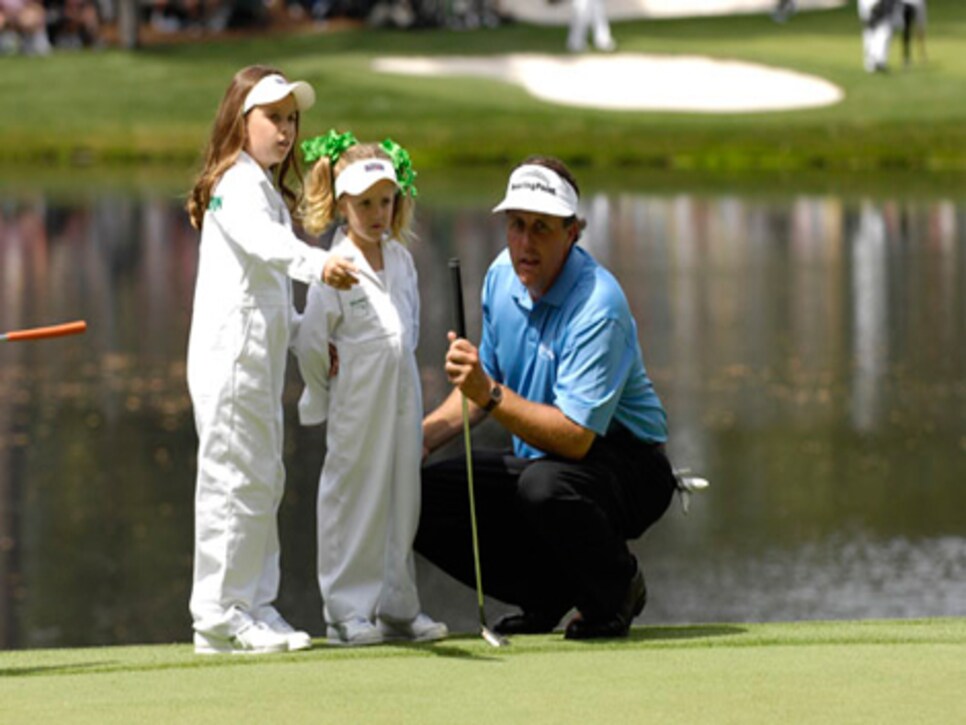 Phil Mickelson gets the line on a critical put from his "caddies".
AUGUSTA, Ga. -- Phil Mickelson loves to play the Par 3 Contest the day before the first round of The Masters. He feels the raucous event is a great way to relieve stress on the eve of the real tournament.
Tiger Woods? Not such a fan.
"It's changed over the years," Woods said. "It used to be, I thought it was a lot of fun to play. But now it is a little bit distracting to get ready and be ready for the tournament."
The Par 3 Contest, which began in 1960, is one of the Masters' quaint traditions, a fun little competition on Wednesday afternoon (ESPN, 3 p.m. ET) that allows players to show off their lighter sides. The younger players bring their kids -- nothing's cuter than seeing a 6-year-old in those white coveralls the caddies wear -- and fans love to see the best in the world trying to ace every hole.
The kids part is what makes it so appealing to Mickelson, who loves having his three young children tag along.
"It's a great way to relieve some of the stress or pressure you feel heading into a major," Mickelson said. "Guys really have fun on those nine holes and someone like myself, who has little children who caddie, we as parents look back on those pictures and those memories and sharing that time together."
Woods isn't scheduled to play this year.
Padraig Harrington feels the lighthearted romp actually helps his game heading into the year's first major.
"Even though there is a lot going on, you have to get into your focus over each shot, and it gives you a little bit of practice on your wedge play and the pace of the greens and holing out your 4-footers," he said. "I wouldn't want to miss it."
Of course, some believe there's a dark side to the fun. Since the Par 3 began in 1960, no one's ever won it and the Masters in the same year, and Vijay Singh is still the only player to get his green jacket after winning the Par 3, in 1994 -- he took the Masters in 2000.
No, Ben Crenshaw doesn't count. His win in the 1987 Par 3 was eight years before the 1995 Masters, but his 1984 Masters title trumps all.
Harrington is as superstitious as the next guy, though he does have a little different take.
"I'll be playing the Par 3 competition and trying to win it again, hoping that three times might be the charm," Harrington, who won the contest in 2003 and 2004. "I believe if you win it twice, you're bound to win the actual event."
Mickelson doesn't buy the Par 3 jinx.
"I'd love to be the first to win them both, but I have just never had a chance to win the Par 3," he said. "My caddie [daughter Sophia Isabel] gave me some terrible reads last year. Of course, she was only 5. But still."