News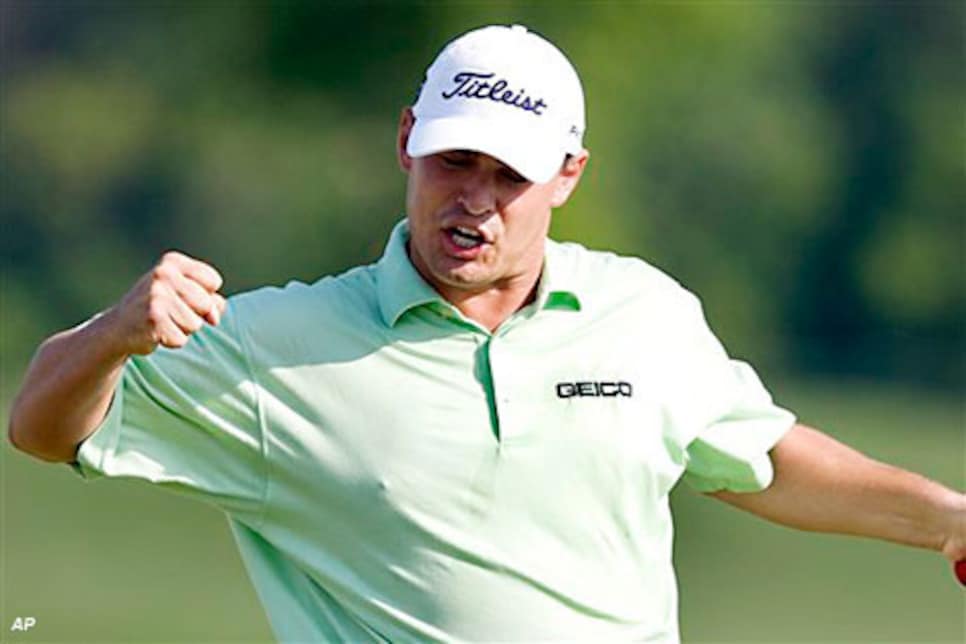 An emotional Wagner celebrates after standing up to the pressure and becoming a winner.
HUMBLE, Texas (AP) -- Johnson Wagner was watching highlights from the 2002 Masters late Saturday night, and his wife scolded him for it.
Now, he has the chance to create some Augusta moments of his own.
Wagner won the Houston Open on Sunday for his first PGA Tour victory and got the ultimate bonus prize that comes with it -- a spot next week in the Masters.
"Sounds funny, you know, even saying it," Wagner said. "I don't care if I shoot 90 both days and miss the cut. I'm so excited to be there and it's just a dream come true."
The 28-year-old Wagner shot a 1-under 71 to finish at 16 under, two shots ahead of Chad Campbell (72) and Geoff Ogilvy (68). Billy Mayfair and Fred Couples shot 66s and finished three shots back at 13 under. Bob Estes and Charley Hoffman, three behind Wagner at the start of the round, had 72s that left them four behind.
Wagner had missed six cuts in nine previous starts this year and was ranked 193rd on the money list when he arrived in Houston. He matched defending champion Adam Scott's course-record 63 in the first round, then held the 36- and 54-hole leads at an event for the first time in 44 career starts.
Wagner tried to relax on Saturday night by watching the Final Four. After the games, he flipped to the Masters highlights and started imagining what it would be like to actually play there.
His wife, Katie, returned from a walk and chastised him for even thinking about Augusta before Sunday's round.
"I thought to myself, that's a good point," Wagner said. "We hadn't talked about it all week and I'm so glad nobody brought it up to me that's close to me. Nobody said, 'Hey, if you win, can I get a ticket to the Masters?'
"It really helped me focus on not focusing on it."
But it was there, in the back of his mind, and his emotions showed all day. Sweat soaked through his green shirt and he nervously wiped his hands with a white towel before most of his shots.
Wagner said he sweats all the time when he plays, but conceded that his stomach were churning as he tried to close out the victory.
"I was freaked out all today and yesterday," Wagner said. "Warming up on the range (Sunday morning), I was very nervous but still tried to stay calm and breathe, just all day."
Wagner held it together, pumping his fist after sinking a 6-foot par putt on the 72nd hole as his parents, wife and several family members cheered from behind the green.
While Wagner will play in his first Masters, Davis Love III will miss a major for the first time since 1990. Love had to win to qualify for Augusta, but he finished at 5 under, ending the longest active streak of major appearances at 70.
Phil Mickelson now holds the longest run of major starts, with 55. Mickelson shot a second straight 71 on Sunday and finished at 6 under in his final tuneup before Augusta.
"It was a good week for me to identify what I need to work on and find out what areas don't feel great," Mickelson said. "My chipping and putting aren't where they need to be. Fortunately, I can spend extra time on it now, the next couple of days leading into the Masters."
This day belonged to Wagner, the 13th player to earn his first victory in Houston.
He started one ahead of Campbell, then opened a three-shot lead when he sank a 26-foot birdie on the second hole and Campbell three-putted. Wagner led by five after a birdie on the fourth. Campbell hit into the fairway bunker off the tee and bogeyed again.
Campbell drove into the fairway bunker on No. 8, then dumped his second shot into the water, leading to a crippling double bogey. Wagner birdied again to get to 17 under.
Ogilvy birdied Nos. 3, 5 and 8 to move into second place, but Wagner led by four at the turn.
Couples, the 2003 champion when the tournament was played at the members' course across the street, was one of several players who mounted charges on the back nine.
Wagner bogeyed the 10th and Couples and Mayfair both birdied 13 and 15, the last two par 5s, to move to 13 under, tying Ogilvy. Campbell bounced back with three straight birdies on 11, 12 and 13 to get to 14 under. Estes also birdied the 11th and 12th to reach 14 under.
But Wagner hung on, as the players chasing him stalled, one after another.
Wagner left a long birdie putt short on the par-4 17th, but he calmly sank the 11-footer to stay at 16 under. He drove his last tee shot into the fairway bunker, avoiding the ominous pond that runs down the left side of the 18th hole.
"It's not where I wanted to hit it," he said. "It was the safe alternative to the big lake on the left."
Wagner became the second wire-to-wire winner since the tournament moved to the Tournament Course at Redstone in 2006. Stuart Appleby led from the start when he won in 2006.
Divots:@ Appleby, last year's runner-up, shot a pair of 70s on the weekend and finished at 6 under. ... Pat Perez shot a 64, the low round of the day and his best round of the year, to finish at 10 under. ... Wagner, born in Amarillo, is the seventh Texan to win the Houston Open.