News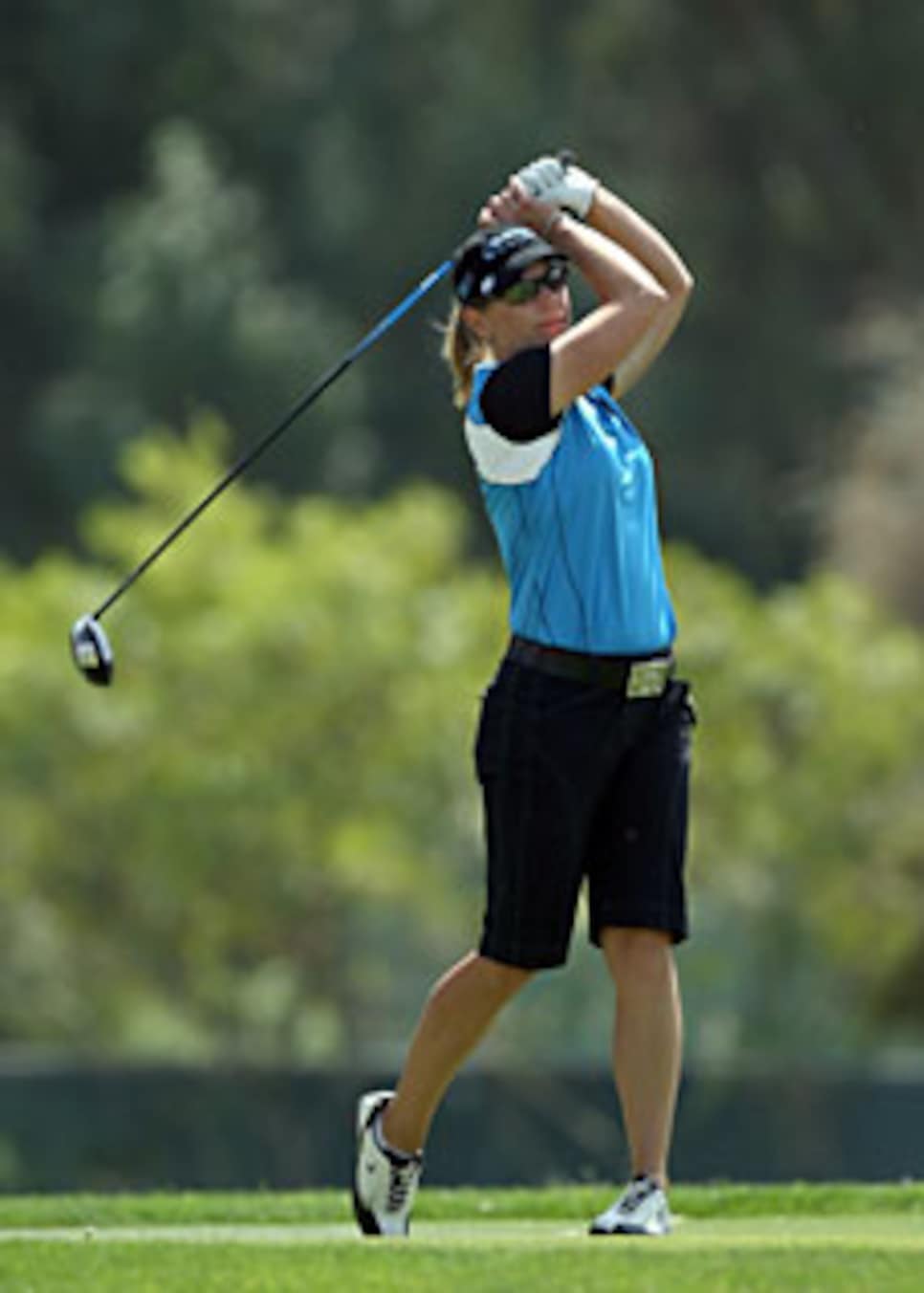 Dehydrated and empty, emotionally and nutritionally, Annika played like a true champion.
RANCHO MIRAGE, Calif. -- Thirty-five years and five days ago, on a spring night in March of 1973, Muhammad Ali climbed into the ring in San Diego to engage in fisticuffs with Ken Norton, a bull of a boxer not likely to win on finesse and strategy. In the second round, the thick-shouldered Norton caught Ali squarely with a right hand to the jaw, fracturing the bone. Somehow, Ali fought 10 more rounds before losing a close decision. That's what champions do. They don't quit.
Somehow, on Saturday at Mission Hills Country Club, Annika Sorenstam, dehydrated and running on nutritional and emotional empty after being unable to hold down food for more than a day, shot a 33 on the back nine to rescue a front-nine 40 and finish 54 holes of the Kraft Nabisco Championship at two-under-par 214, just four strokes behind leader Lorena Ochoa. Somehow, Sorenstam was still in a tournament she had almost quit because of illness. It was golf's equivalent of fighting 10 rounds with a broken jaw.
Saturday's round was the first in 2008 of the 17 she has played that Sorenstam did not break par. Still, it was easily the most impressive round she has played this year and, especially on the back nine, is on the short list of impressive rounds ever played in a major championship. Logic, and whatever ails the woman's stomach, simply says she should be nowhere near the top of the leader board instead of T-9 with Suzann Pettersen and within an early birdie barrage of putting heat on Ochoa.
That Sorenstam salvaged a 73 after bogeying four of the last six holes on a birdie-free front nine was rather remarkable. At least four times over the final nine holes it seems as if she would call for a cart to take her off the course.
It was as if the round was being played in slow motion. She and her caddie Terry McNamara would leave the tee box together but quickly she would be lagging 30 yards behind, stopping occasionally to bend over at the waist and rest her hands on her knees.
On the 11th hole, she lay flat out on the ground in the shade of a tree waiting to hit her second shot to the par-5 hole. When it was her time to hit, she had to be helped to her feet by McNamara. And, after playing to the fringe from 225 yards, she walked to the ropes on the left side of the fairway and told her finance Mike McGee, "I don't want to quit." McGee said: "You don't have anything to prove to anyone."
Sorenstam said: "Let's take a look at the birdie putt," to which McGee replied: "It's for eagle," eliciting a laugh from the weary Sorenstam. Having birdied No. 10 from 15 feet, Sorenstam made the two-putt birdied on No. 11 for two in a row. As she walked to the 12th green and yet another birdie putt, McGee bent over and grabbed his knees, then straightened to reveal a face streaked with tears, his chest heaving with sobs. "I have never been so proud of anyone," McGee said.
After pars on Nos. 12 and 13, Sorenstam rolled in an 8-footer on No. 14 for birdie and when she holed out from the bunker for birdie on No. 15 to get to three under par for the tournament and four under in six holes on the back nine the meager gallery following her -- most were with Ochoa two groups back -- sensed something magical was happening. "Three more, Annika," a lone voice yelled, triggering more applause.
But the tank, already running well below empty, didn't even have fumes left. She bogeyed No. 16 from the right rough and, while waiting for the green to clear on the par-3 17th holes, lay flat out on a bench, her forearm across her eyes, drawing deep breaths. McNamara gave her information on the pin position and the wind as she lay there. Sorenstam made par on No. 17 and on No. 18, missing a 5-foot birdie try on the last hole.
"Today, I just wanted to finish," she said after the round. "I did not have a score in mind."
Last year, Morgan Pressel, who finished well before the third-round leaders and then watched them not be able to match the number she had posted, won the Kraft Nabisco. Sorenstam will be in a similar position on Sunday. She tees off four groups in front of Ochoa, Hee-Won Han, who is at five under par, and Cristie Kerr, who is at four under.
"If I feel good, then I am going to charge [on Sunday]," Sorenstam said. If Sorenstam should happen to post a number early, and if that number should happen to hold up, this will truly be a golf tournament that was won not in the last round, but on Saturday -- on a day when few would have even finished the round.
Ultimately, champions are defined not so much by their athletic ability as by the intangibles they bring to the table. Greatness has as much to do with heart and pride as it does with base hits or birdies.
Lurking around a corner not yet identified is the end of the 37-year-old Sorenstam's competitive golf career. But judging by many things she has said, the transition from professional golfer to professional business woman is not all that far away. When the end does arrive, when the LPGA victory total that now stands at 70, and the major championship total that now stands at 10, is finalized, many of her triumphs will be recalled.
But even if it turns out Sorenstam does not win the Kraft Nabisco Championship on Sunday, the round she pieced together on Saturday at Mission Hills will be remembered by those who saw it as one of the most impressive of her career. Like Muhammad Ali, the body may break but never the heart. Champions don't quit. And what Sorenstam put on Saturday at Mission Hills was a major championship performance.