News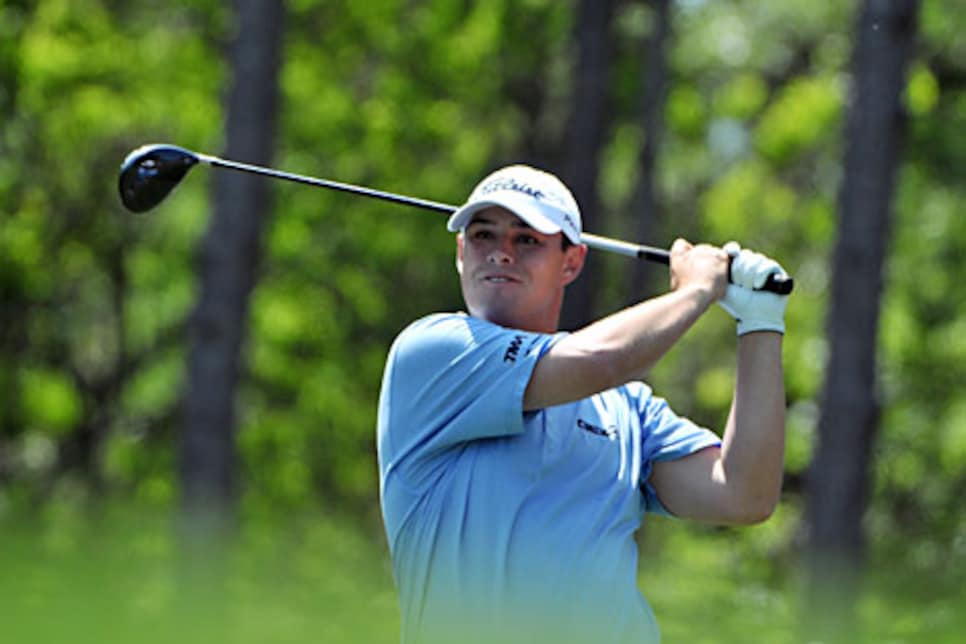 Winless in 43 career starts, Johnson hopes to change that on Sunday.
HUMBLE, Texas (AP) -- Johnson Wagner says he's struggled too much on the PGA Tour to apologize when things finally go his way.
Wagner got lucky bounces on two tee shots and shot a 3-under 69 on Saturday to take a one-shot lead over Chad Campbell after the third round of the Houston Open. The 28-year-old Wagner, winless in 43 career starts, had a 15-under 201 total.
Campbell, playing one group ahead of Wagner, birdied five of his first nine holes for a 65. Charley Hoffman and Bob Estes were three behind at 12 under. Estes shot a 64, the best round of the day. Hoffman had a 69. Geoff Ogilvy shot a 66 to reach 10 under, and Mathew Goggin was another shot back after a 72.
Wagner started the day three shots ahead of Hoffman and Goggin. Campbell was five back, but made up that deficit in eight holes.
Wagner saw it all, including Campbell's 62-foot putt down a slope on the sixth. Campbell also holed a wedge from 88 yards for an eagle on the par-5 eighth.
"I definitely didn't like starting with a three-shot lead and seeing it erased immediately," Wagner said.
Wagner, in his second year on tour, admitted Friday that he would have to battle his nerves to win for the first time and earn an invitation to next week's Masters. He played better after Campbell tied him, sinking a 16-foot birdie putt on the par-3 ninth to get going.
On the back nine, Wagner got away with two bad tee shots, hitting a spectator on the 13th and a tree on the 15th, but escaping with two pars.
"I've had enough bad breaks not to feel bad about the good ones," he said.
Campbell was tied with Wagner for the lead until hitting his tee shot into the rough on No. 17 and taking a bogey.
The 33-year-old Campbell was the runner-up to Shaun Micheel at the 2003 PGA Championship, then won the Tour Championship later that year at The Champions in Houston. He won at Bay Hill in 2004, but has only two victories since, admitting that the run of success made him complacent.
He has four top-20 finishes this year and felt good about his game coming to Houston, even after missing the cut in New Orleans last week.
"Golf is a weird game," he said. "Lot of times, you don't get results as quick as you want them. You tend to be a little impatient."
Hoffman shot 1-under 35 on his front nine, then jump-started his round with a wedge to 4 feet on the par-4 12th. He added birdies at 13 and 14 before a bogey at the 17th.
"I gave myself a lot of chances," Hoffman said. "I could always make a few more putts coming down the stretch."
Estes started fast, with five birdies on his first eight holes. He hit his approach to the par-4 11th within three feet, then added birdies at 12 and 13 to secure his best round of a so-far forgettable year.
He's missed five cuts in eight previous starts, but decided before the Mayakoba Classic to try an interlocking grip and a glove for the first time in his career. He missed the cut, went back to the 10-finger grip he's used since last year and tied for 33rd in New Orleans.
But the 42-year-old Estes knew he got away with some bad shots last week and returned to the interlock this week. He's starting to wonder how his career would've gone if he'd gone with the interlock sooner.
"Small things like that can make a big difference out here," Estes said. "If I haven't figured out how to hold onto the golf club until the age of 42, then you know why I've had to go through so much."
The second round was completed on Saturday morning after a storm delayed play for almost two hours on Friday.
Defending champion Adam Scott, who shared the first-round lead with Wagner, withdrew Saturday morning because of strep throat. Scott played 14 holes after the storm and shot a 76 in the second round.
Divots:@ Fred Couples, who played at the University of Houston, teed off on No. 10 and shot 29 on his back nine, tying the tournament's nine-hole record. Couples, the 2003 champion, was 7 under overall after a 67. ... Phil Mickelson, who came to Houston specifically to prepare for the Masters, was 10 strokes behind Wagner after a 71 on Saturday. ... Davis Love III shot a 69 and was nine back. Love needs a victory to qualify for the Masters and stretch the longest active streak of major appearances to 71. ... Former President George H.W. Bush and wife Barbara were in the gallery.