News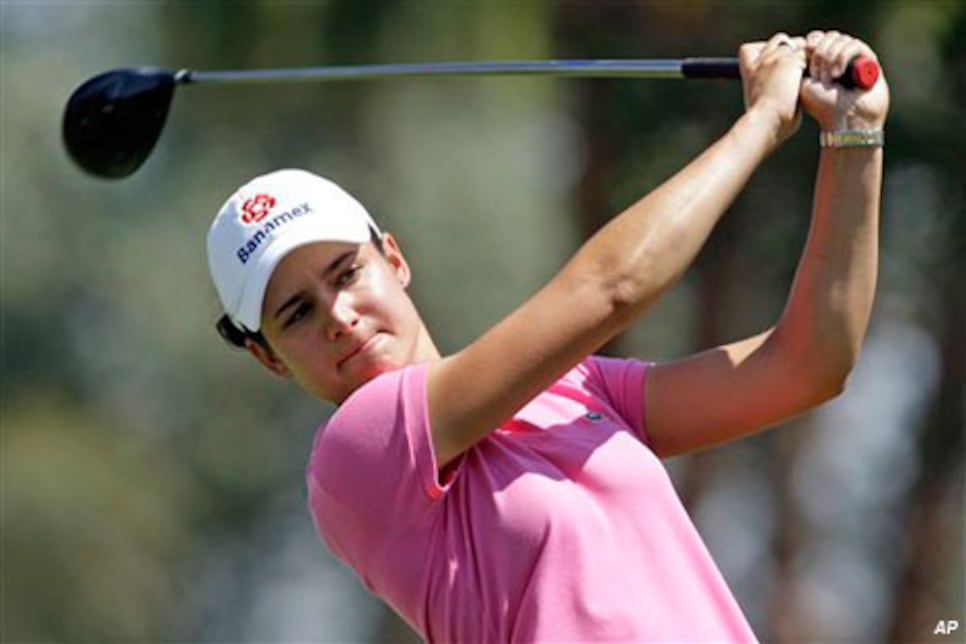 Four misses inside 10 feet: It was one of those days when the putts just didn't drop.
RANCHO MIRAGE, Calif. (AP) -- Lorena Ochoa's 8-foot birdie putt on the 18th hole caught the left lip and spun out of the cup, the story of her day. She still was tied for the lead Friday at the Kraft Nabisco Championship, the story of her year.
Ochoa missed four birdie putts inside 10 feet that kept her from building a big lead halfway through the first major of the season, settling for a 1-under 71 that left her tied with Heather Young going into the weekend at Mission Hills.
"I can't complain," Ochoa said. "I left a few putts out there that hurt, but that's the way it is. It's a major championship. You have a couple of days to go. I'm in a good position. It's where I like to be."
Ochoa and Young (70) were at 5-under 139, and they had plenty of company.
Mi Hyun Kim, a short hitter who was at an even greater disadvantage playing soft fairways and brick-hard greens, still managed a second straight round of 70 and joined Maria Hjorth (70) at 140.
Another shot back was Annika Sorenstam, a three-time Nabisco winner who posted her 16th consecutive round under par despite feeling so sick on the back nine that she doubled over in pain while speaking to reporters.
"This course is tough enough," Sorenstam said after a 70. "You don't need a stomach ache on top of it."
Ochoa had a chance to put a real hurt on everyone.
The No. 1 player needed only two holes to tie for the lead when she two-putted for birdie on the par-5 second. It looked as though she was getting ready to pull away from the field in a hurry, but the putter failed to cooperate.
She was tentative on a 7-foot birdie at the par-3 fifth. She winced when a 6-foot birdie slid by the cup on the next hole. She stayed patients, and the birdies eventually followed. Ochoa started the back nine with consecutive birdies, a 9-iron from the rough to 6 feet on No. 10 and a 5-wood from a downhill like to 35 feet for her second two-putt birdie of the round.
Suddenly, she was three shots clear. And as sure as sun shines in Palm Springs, it looked as though everyone would soon be in a hopeless pursuit of a Mexican star going for her second straight major.
But she only went backward the rest of the way.
Ochoa tried to fade a punch shot around a tree from the rough on the 12th hole, but it was a fluffy lie and the ball shot up in the air, caromed off the tree and across the fairway, leading to bogey. On the 15th, she caught herself leaning into a 7-iron, leaving it out to the right and into the bunker for another bogey.
Then came the 18th, where the tee was moved forward to make the hole play 485 yards. Ochoa easily cleared the lake in two, just over the green, and her chip stopped 8 feet short. The putt looked good all the way.
"On 18 it was like, 'OK, we deserve this one. Come on, let's make it.' And it was pretty much in the middle of the hole, and just at the end decided to go left and lipped out," Ochoa said. "I didn't have anymore emotions to show. I was done and ready to go home."
Sorenstam was ready to leave, and she meant it.
Nausea overwhelmed her as she began her back nine, but it sure didn't show. She birdied the first two holes and was only one shot behind Ochoa until the Swede took a three-putt bogey on the 12th, and settled for pars the rest of the way.
"I live in Florida. I should be used to this heat," Sorenstam said. "I just had a terrible stomach ache."
But she was well aware of her position, which was right in the thick of contention at a major, the first time Sorenstam has been so close to the lead at a major since she won the U.S. Women's Open at Newport two years ago.
Hee-Won Han shot a 69 and joined Sorenstam at 3-under 141. The group at 142 included Karen Stupples, who fell from the first-round lead with a 75, and Se Ri Pak (70), inducted into the World Golf Hall of Fame last year and now needing this major to become only the fifth woman to complete the career Grand Slam.
Young is looking for her first major, and didn't expect to have a chance this week. She has been in a self-described funk for the last year and showed up in the desert with hardly any expectations. And she certainly had no reason to believe she would be tied for the lead after a three-putt bogey on No. 11, followed by a double bogey from the rough and sand on No. 12.
"I got off to a rough start today, and I just tried to keep my mood up," she said. "And it served me well."
She birdied three of four holes around the turn, and made her fifth and final birdie with a 25-foot putt on No. 7. She didn't realize she was tied for the lead until walking off the ninth green and signing for a 70, and the only expectations she has are of Ochoa, whom she will play with in the final group.
"Loud. I expect it to be loud," Young said. "She's playing great. She's playing phenomenal golf. So I expect her to have a lot of fans. I expect her to play well. And I expect her to out-drive me on every hole."
Ochoa has far different expectations -- make more putts.
"Overall, it was a great round," she said. "I probably missed a lot of putts that I should have made, but I think I prefer making those on the weekend than today. And I'm feeling good. The important thing is that I feel strong and really confident with my game."