News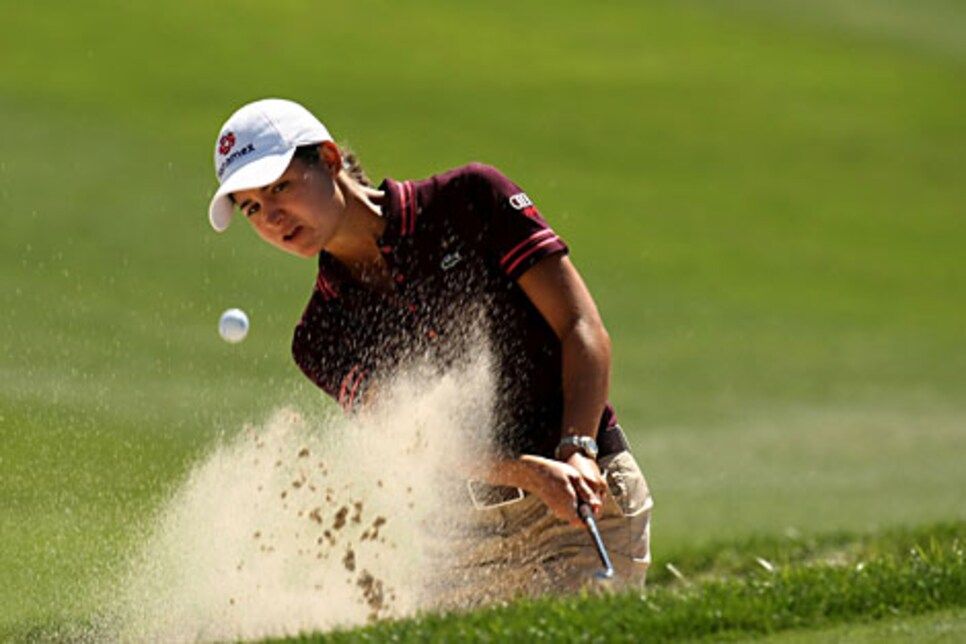 Ochoa's off-season work has paid off with big increases in her length.
RANCHO MIRAGE, Calif. (AP) -- Lorena Ochoa figured anything around par is good enough at a major. It took four straight birdies to get into the mix Thursday at the Kraft Nabisco Championship.
Starting with a sand wedge to 2 feet on the 18th hole that she called her best of the day, Ochoa zoomed up the leaderboard with a string of birdies around the turn and settled for an opening round of 4-under 68, leaving her one shot behind Karen Stupples.
"It was important to get a couple of birdies early in the round and get some momentum," Ochoa said.
Ochoa is trying to become the first woman since Annika Sorenstam in 2005 to win consecutive majors, having won her first last summer at St. Andrews in the Women's British Open. And while a three-putt bogey from the fringe and over severe humps on the par-3 eighth kept her from a share of the lead, Ochoa showed why she is such an overwhelming favorite.
Playing with defending champion Morgan Pressel, she powered one tee shot after another down the middle of the fairway, well past trouble and usually 40 yards by Pressel. It finally paid off with the four straight birdies, three from inside 6 feet.
Stupples, who won the Women's British Open in 2004 and is getting back into the swing after giving birth to her first child last year, was the first to play and made it around Mission Hills without a bogey for 67.
Ai Miyazato of Japan birdied her last hole for a 68 to join Ochoa. Natalie Gulbis was among those at 69, while UCLA freshman Maria Jose Uribe was the low amateur and in a group at 70 that included Liselotte Neumann.
Annika Sorenstam tried to stay with the leaders, but she failed to take advantage of the par 5s and had to settle for a 71. It was her 15th consecutive round under par this year, but left her trailing Ochoa, the game's most dynamic player.
"It's a long way to go," Sorenstam said. "You just have to go out and battle it day by day, stroke by stroke, and take it as it comes."
Laura Davies lost her battle on one hole.
Needing only this major to complete the career Grand Slam and qualify for the World Golf Hall of Fame, the big hitter from England took a 10 on the 18th hole as she was making the turn.
Davies hit her third shot into the water. After taking a penalty drop and hitting her fifth over the green, she chipped through the green and back into the water. Her eighth shot spun back off the green and nearly into the water, and she got up-and-down to spare herself an even higher number. Davies wound up with a 76.
"I walk off with a 10 and the tournament is over for me," she said. "It's sickening."
Under bright sunshine and a strong wind that was still manageable, Stupples found her confidence early by finding the fairways, and saving par the one time she strayed. She picked up easy birdies on two of the par 5s, then capped off her round with a 6-iron on the par-3 17th to within 6 feet.
It was a good sign that her strength is back nearly a year after her son, Logan, was born.
"Up until about a month ago, I hadn't really regained my full strength," she said. "All of a sudden, it came back almost overnight. And that was really good to see, that I was able to get through the ball."
No one is getting through the ball quite like Ochoa.
She worked hard on her putting during the offseason, but the biggest change appears to be her distance. Ochoa has tremendous speed, especially with her hips and wrists, and she powered her driver throughout the round. The trick was getting the big drives to pay off it birdies, and her burst began with a sand wedge from 70 yards.
"It was downwind, and I managed to control it, and it rolled back and I made birdie," Ochoa said. "And with the gallery, that always feels good."
Even more inspiring was a poster attached to the back of the grandstand on the first tee that said: "Mission Hills Golf Course Staff Supports Lorena."
It was signed by the maintenance crew at Mission Hills, nearly all of them Mexican. Ochoa saw it from the putting green, and it wasn't the first time. She visited the Mexican crew, as she often does as tournaments in California and Arizona, on Wednesday and they presented her with the poster.
Pressel's streak without a bogey at Mission Hills ended at 27 holes when she failed to save par from behind the 13th green, her fourth of the day. She did well to post a 71, but was equally frustrated at only hitting five greens in regulation.
"I know how to play — fairways and greens," Pressel said. "I just didn't hit the green today. But you look back at the end of the day, and it's still a major championship. And I'm right in there."
So was Sorenstam, only four out of the lead, and even Ochoa would concede that. She was asked if she stills looks to see where Sorenstam is on the leaderboard, even though Ochoa is the name most feared these days.
"All the time," Ochoa said. "She is a player to watch. She is so good and so consistent and she likes to win. That always keeps me alert and motivated and know where I stand."
Divots:@ University of Kentucky junior Mallory Blackwelder shot a 71. Her mother, Myra, recently became the Wildcats' women's golf coach. Her father, Worth, is the caddie for Juli Inkster. ... Dorothy Delasin was disqualified for taking an incorrect penalty drop on the 18th hole, which could not be rectified after she teed off on the next hole. ... Nicole Perot was not allowed to play for missing her pro-am on Wednesday. There are two pro-ams at the LPGA's first major.