News
Aquaman Sinks In New Orleans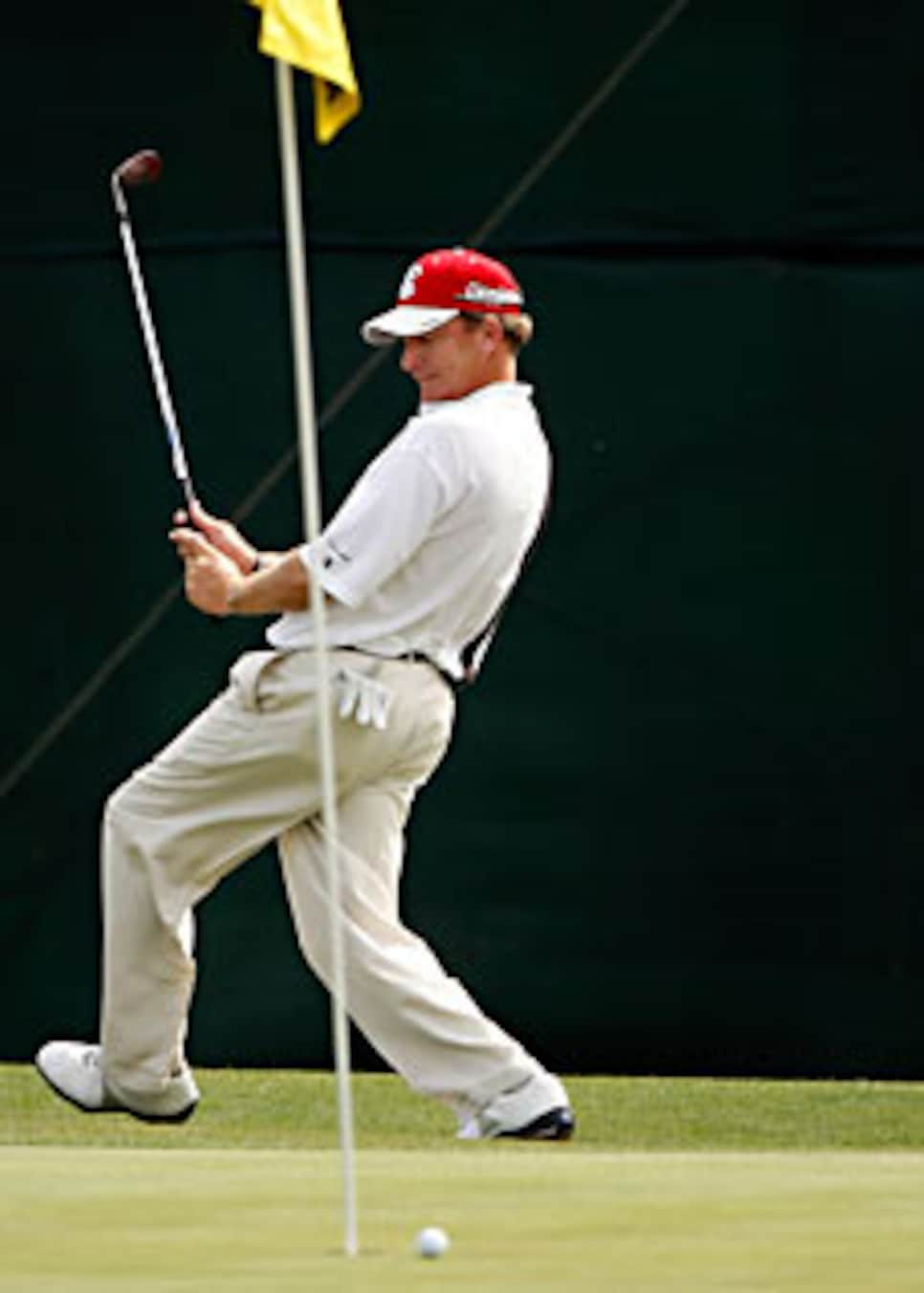 Woody went to war with his nerves... and lost.
A man who once busted a putter shaft over his hard head perpetually bears watching, and those who tuned in to the Zurich Classic of New Orleans Sunday afternoon were rewarded with a sudden-death payoff.
Woody Austin would have preferred a playoff, but playoffs are routine occurrences and nothing about Austin would be considered common, for which golf is blessed. Recall that at the President's Cup last year, he tumbled into a pond. Good or bad, there's usually a show involved.
So it was that Austin came to the par-5 18th at the TPC Louisiana hunting for a birdie that would have thrust him into a playoff with eventual winner Andres Romero. As many do with water guarding the entire right side of the hole, Austin bailed out left off the tee and caught a miserable lie in the rough.
He topped his second shot, the ball never leaving the ground or reaching the fairway. His third went into the water, leading to a double bogey and a post-hole analysis that was as frank as it was uncommon in a game where players don't readily admit to psychological failings.
"I choked my guts out," he said in an interview with NBC's Mark Rolfing. "That's all I can say. I flat out choked."
"Why would you describe it as a choke?" Rolfing asked.
"Because I played like a dog the last nine holes," said Austin. "When you're in the lead and play that poorly for nine holes you're choking. I'm not afraid to admit it. I always battle my nerves and some days I battle them better than others. All I did today was I probably putted the best I putted in my career, just to have a chance, because I was puking my guts out."
"Thanks for a very candid thought," Rolfing said.
"Sure, no problem," Austin replied, as though it were his pleasure.
It might not have been pleasurable, but it does seem to be necessary for the self-deprecating sort, a visit to the public confessional. Suffice it to say that Austin not only bears watching, but he bears listening to, as well.
The combination served to give a tournament deprived of its equilibrium by inclement weather some interest between the early conclusion of Romero's round and Peter Lonard's late run. In the interest of concluding the tournament on Sunday, PGA Tour officials declined to re-pair the players according to their standing, instead sending them out as they concluded their third rounds Sunday morning.
So Romero, the 26-year-old from Argentina, posted his winning score of 13 under par an hour or so before Austin came along with his losing-ugly routine, which preceded Lonard's charge by another hour or so.
It isn't how you would diagram a Sunday afternoon on the PGA Tour, but then again Woody Austin, thankfully, was not conceived on a drawing board.