News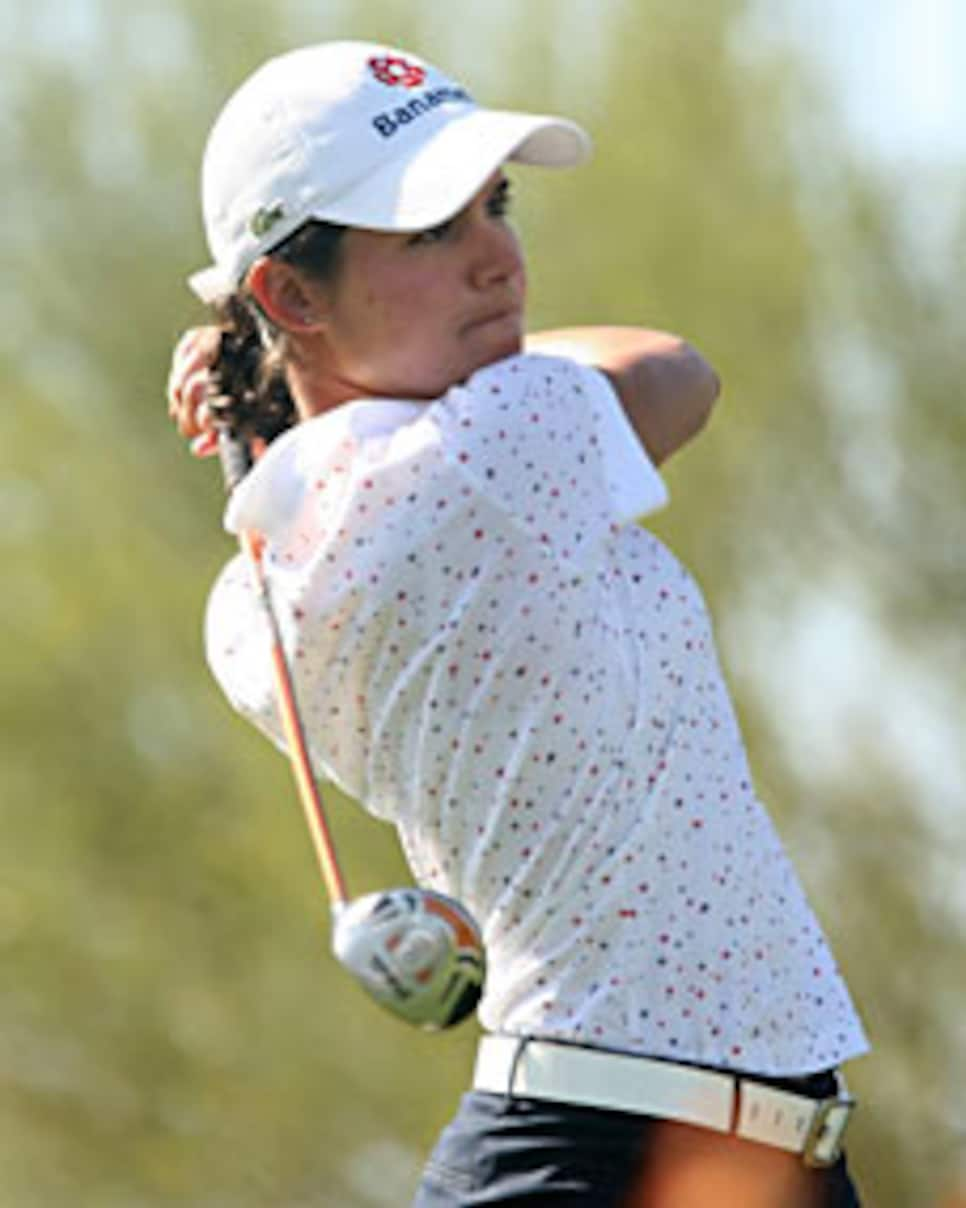 With 19 victories at the age of 26 is Lorena on her way to being the best ever?
SUPERSTITION MOUNTAIN, Ariz. -- The case can be made that this is where it all started to come together for Lorena Ochoa. The limb on which you would be climbing if you said it was here at Superstition Mountain in 2005 that the woman who dominated college golf at the nearby University of Arizona figured out how to handle the professional game would be solid indeed. It was in defeat here she learned how to fashion victories.
Ochoa was a 23-year-old with two career victories when stepped on the 16th tee of the Prospector Course in Sunday's final round with a four-stroke lead over Annika Sorenstam three years ago. Less than an hour later Ochoa watched helplessly as her tee ball on the first playoff hole sent gentle ripples through the pond guarding the left side of the fairway, all but handing the trophy to Sorenstam.
Through tears, Ochoa answered every question but it was a defeat made even more heartbreaking because she had told the mostly Mexican work crew at Superstition Mountain she would give them the trophy for the maintenance shed if she won. Later in 2005, Ochoa won the Wegmans Rochester LPGA, and her seven-stroke victory over Jee Young Lee Sunday at the Safeway International in a record-setting 22-under-par 266 was her 16th victory since April of 2006 -- less than two full seasons.
Suddenly, the snap hook under pressure is gone. Suddenly, the putter is more reliable under pressure. And, like so many overnight successes, her ascensions to the pinnacle of women's golf was neither sudden nor painless. The potion that spelled success for her was composed of equal parts of sweat and tears. Ochoa identified her weaknesses and addressed them.
Yes, there were flaws in her performance Sunday at the Safeway International. It was a 66 that could have been a 61 or a 60 -- her ball striking was that good. A few putts well within range failed to find the cup. But that is the nature of golf. It's a game of trying to control the uncontrollable. What Ochoa did was make the big shots when they were needed. She fell into a tie with Angela Stanford at one point but never relinquished the lead, taking control with a birdie on No. 9 that sent her to the back nine with a three-stroke lead.
Ochoa is a story you can't help rooting for. As great of a player as she has become -- 19 LPGA victories and on Thursday she will try to make the Kraft Nabisco Championship her second major title -- she is an even nicer person. Everyone says that. Everyone. The next person to say a bad word about Ochoa will be the first.
When she does things like visit the maintenance crew at Superstition Mountain, or sign autographs for 300 workers at the Ping equipment factory in Phoenix as she did last week it is a truly selfless act, done out of the glare of camera crews. She does good things simply because she is a good person.
What she did on the golf course at the Safeway International was beyond good and nearly past great. She demolished the tournament scoring record by four strokes and posted rounds of 65, 67, 68 and 66. No one else in the field of 144 had four rounds in the 60s. Ochoa had four rounds of 68 or better.
Here's something to ponder: Ochoa won six times in 2006 and eight times last year. With her second victory in three starts -- and second rout, winning the HSBC Women's Champions in Singapore by 11 strokes -- she has demonstrated that over the off season she has improved. The game his better and the confidence, once easily shaken, now appears to be rock solid.
The performance Ochoa put on at Superstition Mountain makes you wish the Kraft Nabisco could start tomorrow. The woman is on a roll and it is going to extremely interesting to see how this season plays out. We just came off the incredible standard set by Sorenstam, and now it seems as if the LPGA has another player of extraordinary ability ready to start an era of her own.
Consider this number: At the end of the 1996 season, the year in which Sorenstam turned 26, the Swede had six career LPGA victories, Ochoa, 26, has 19. Sorenstam won 11 times in the 2002 season, second only to the 13 Mickey Wright won in 1963. It's a record Ochoa is capable of challenging.
What she needs now is a little competition. Sorenstam finished T-9, 11 strokes behind Ochoa, but she has now broken par in all 14 of her rounds this year and appears to be nearing her pre-injury form. Part of the interest at the Kraft Nabisco will be to see who has what it takes to step up their game and challenge Ochoa.
There are certainly a slew of candidates, Paula Creamer, Cristie Kerr, Suzann Pettersen, Karrie Webb and Se Ri Pak among them. Stanford, who tied for fourth at the Safeway, seems to be finding her way. Jee Young Lee, the long-hitting Korean who was second to Ochoa, is enormously talented, and Minea Blomqvist of Finland who finished third could be a surprise.
But for now it is all Ochoa. She heads into the Kraft Nabisco having won the Safeway twice in a row and she goes to a Mission Hills course that has broken her heart a few times itself. It seems as if Ochoa is gracefully settling some old scores, and the Kraft Nabisco could be next on the list. And if she does destroy the field there as she did here, it will be with a smile -- and without no one saying a bad word about her -- and with a lot of really remarkable golf shots.