News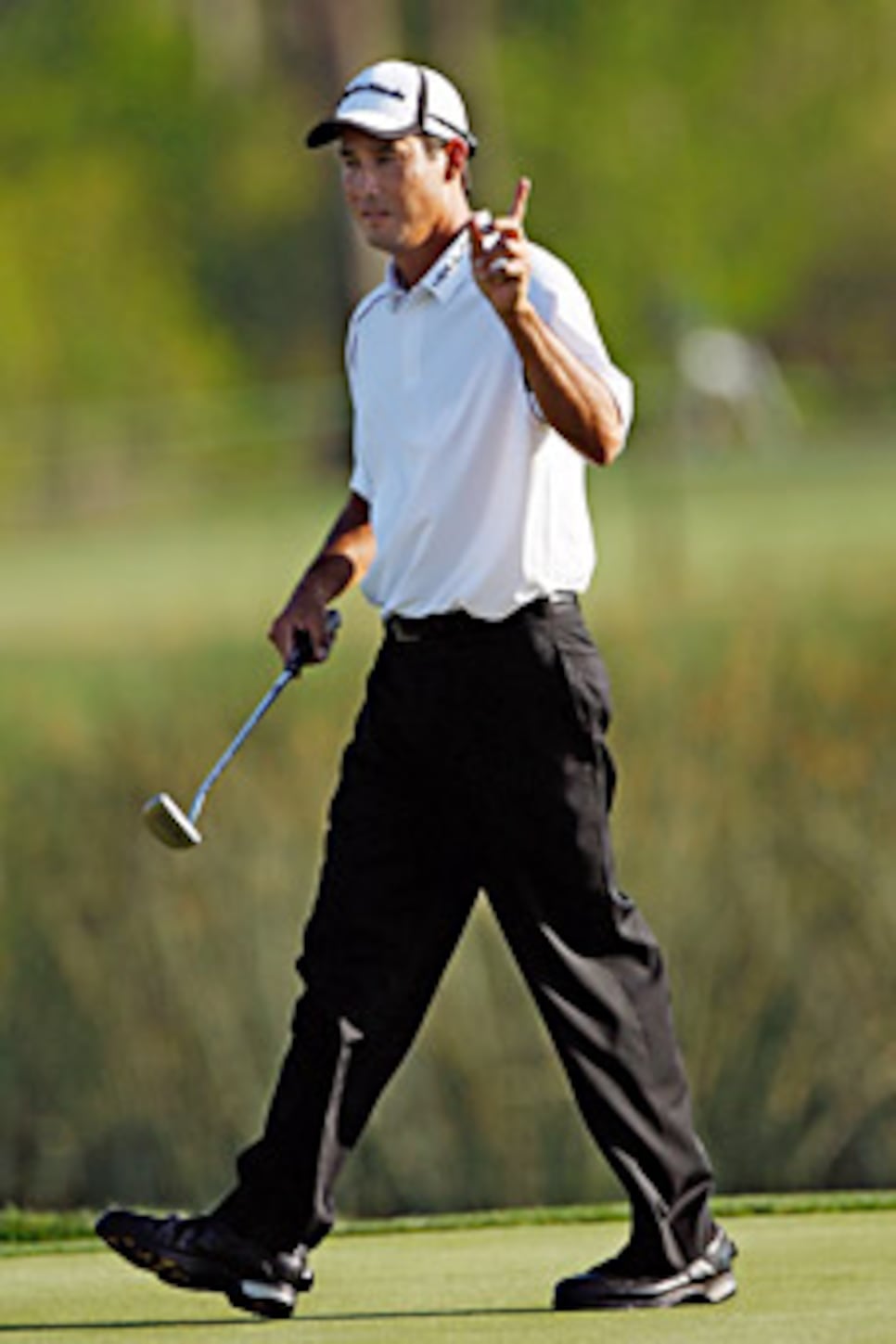 Wilson's had a tough start in '08 making only three of eight cuts.
AVONDALE, La. (AP) -- So far this year, Dean Wilson has made just three cuts in eight starts.
On Thursday, he got a good head start on No. 4 at the Zurich Classic. Wilson, whose only win on the PGA Tour came at the 2006 International, shot 6-under 66 for the first round lead.
He birdied four of his last six holes on the tough, Pete Dye-designed TPC Louisiana course.
"When I haven't shot many scores under par, to come out here and shoot 6-under on a course which I think is a real fair test and it some wind like this, I'm real happy with it," Wilson said.
Briny Baird, Peter Lonard and Chez Reavie opened with 67s.
Baird got 6 under with an eagle on the par-4 sixth and a birdie on the par-5 seventh, but finished with a bogey on No. 9 to drop back to 5-under.
On No. 6, he holed out from 208 yards with a 5-wood.
"To be honest with you, I hit it just a touch thin, but it was exactly what the shot called for," Baird said. "Being a little thin it stays under the wind a little bit better."
Steve Elkington, Vaughn Taylor, Jay Williamson, Cameron Beckman and John Mallinger opened with 68s, Woody Austin topped a group at 69 and defending champion Nick Watney had a 71.
For 116 of the players teeing it up there's a lot more on the line than the $1.116 million winner's check. This is a chance to make it into the Masters.
"I think most of the players out here look forward to playing in the Masters and think they can actually win this week," Williamson said. "That's one of the reasons that I'm here. I've never played there, and I'm not getting any younger, unfortunately."
He's come close. Last year, Williamson finished second at the Travelers Championship.
"I was about 11 feet last year, at the Travelers from getting in, and I couldn't make the putt," Williamson said. "That's definitely in the back of my mind and I think -- I would say the majority of the guys teeing it up here feel like they have a chance."
Twenty-five players in the field this week have qualified for the Masters, including defending Masters champion Zach Johnson (72) and defending British Open champion Padraig Harrington (71).
This is the third time the Zurich Classic has been played on the 7,341-yard TPC Louisiana course. Completed in time for the 2005 tournament, Hurricane Katrina flooded several holes and knocked down nearly 2,000 trees. It was closed for 10 months.
"I think this is the best conditioned course we've played on tour this year and the best set of greens I've seen in maybe four or five years on Tour," said Elkington, a consultant on the design, who describes it as a thinking man's course.
Elkington said Katrina actually helped the course.
"We had to keep about 80 acres of trees just by law, but 50 (acres) got knocked down, so there's much more air," he said. "I think that's why the course is flourishing."