News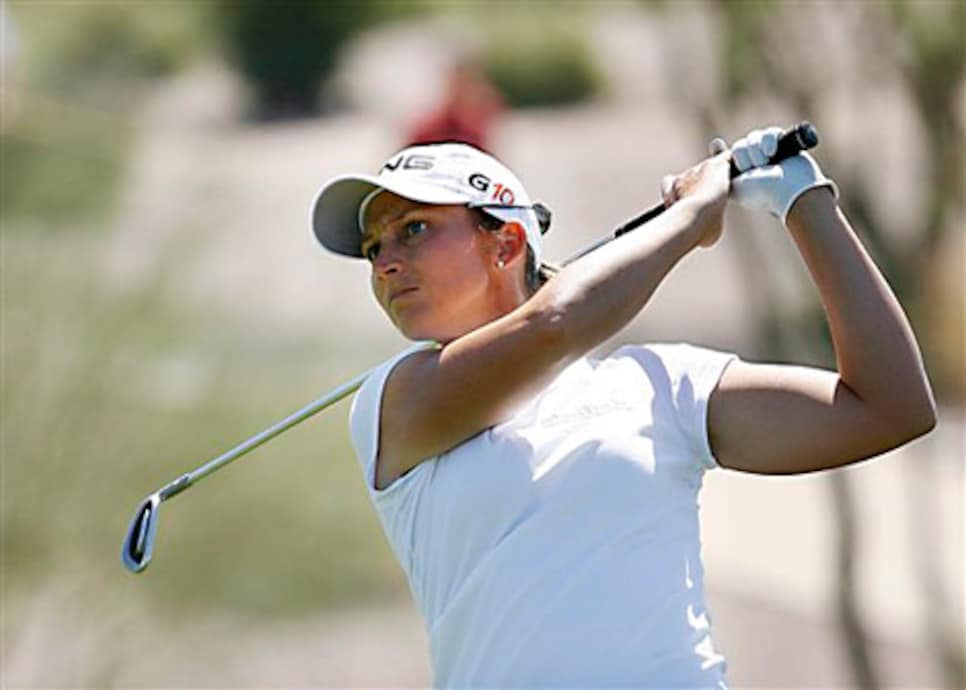 With a great start, Sanford is looking for her second career LPGA title.
SUPERSTITION MOUNTAIN, Ariz. -- What do you get when you take perfectly conditioned fairways, soft greens that putt as pure as possible, place the pins in come-hither positions, then remove all but the mildest breeze and trim the rough back to the length of Drew Carey's crew cut? More red ink on the Safeway International leader board than on the Bear Stearns books.
The Prospector Course at Superstition Mountain yielded pure gold for just about anyone who bothered to tee it up Thursday. And no one mined more ore in the first round than Angela Stanford. The Texan who plays out of Shady Oaks CC in Fort Worth fashioned a tidy little 62 that would have impressed even Ben Hogan, the demanding little man who used to hold court at Shady Oaks.
Stanford, whose lone LPGA victory was in the 2003 ShopRite Classic a week before she finished second in the U.S. Women's Open to Hilary Lunke in a playoff, flirted with bogey only once as she went out in 30. Perhaps the oddest thing about her round was that when she walked onto the 18th green with an eagle putt that could have given her a 61 there was not even a ripple of applause and no one would have begrudged her shouting out, "Hey, I'm tearing it up here."
If this is to keep from becoming a birdie barrage of record proportions one of four things need to happen. Either tournament officials have to figure out how to grow about four inches of rough overnight, some serious wind needs to come rushing out of the Arizona desert, the tournament committee needs to engage in a first-class game of hide-the-pin or it needs to stop watering the greens. But with a major in the offing next week at the Kraft Nabisco Championship, what's wrong with a little fun this week? And if this does turn out to be the swan song of this event -- Safeway is done as sponsor after this year -- then make it an aria that shatters every glass in the hospitality tent.
The Safeway International is a lot like what the Doral tournament used to be in the pre-World Golf Championship days of the PGA Tour. This is the place where the LPGA season starts to get serious. After playing two events in Hawaii and one each in Singapore and Mexico, this is the first gathering at which all the big names show up in the same place. All of the top 75 from last year's money list are here -- and they played like it.
Want to know what it takes to shoot a 10-under-par 62 -- besides exquisite ballstriking and a putter than can't miss? Something a little bit magical that could be best described as the organic confluence of events that unfolds when an athlete wanders into that most elusive of places: The Zone.
On the first hole, Stanford made an up-and-down from the left bunker to a short side pin she called "a Nick par." I beg your pardon? "That's for my friends back at Shady Oaks," she explained. "We got this guy named Nick who makes up-and-downs from trash cans." It was almost as if that par save whispered the omen of what was to come, and Stanford listened.
Flash-forward to the final hole of the day and the two-putt birdie that capped her round. What exactly was up with that 3-wood second shot? "That was a chunked, hooked, ducked miss with a lot of top spin," Stanford explained. "That shot didn't deserve to end up 35 feet from the pin." But in another way it ended up exactly where it was supposed to end up. Things like that happen when you are having what Stanford called "an out-of-body experience."
Besides Nick, and perhaps an upstairs assist from Ben, there was another Shady Oaks connection at work here. Stanford started working with Shady Oaks pro Mike Wright at the end of the 2005 season in an effort to find more consistency. That translated into a dozen top-10 finishes last year after a combined 13 in the five previous seasons. At the age of 30, the four-time All American from TCU could be flirting with fulfilling the enormous potential with which she entered the pro game in 2002. What she has is enough experience to know that the first round of a tournament is the first round of a tournament.
Is there any temptation to let her mind peek into the future and sneak a glimpse of victory No. 2? "I'd love to go there," she said, "but I know I can't." Then with a smile she added: "The No. 1 player in the world is on the leader board." Oh yeah, that 65 by Lorena Ochoa was part of the red sea in the Arizona desert. And it could have been a lot better.
"I made two really silly mistakes from 100 yards or I could have been nine under," Ochoa said about a couple of errant wedges that, added to a three-putt from 15 feet, were all that stood between her and a 62 of her own. Asked if she had a 62 in her, Ochoa said, "Yes," laughed and said "Yes" again. Then she was off to practice her wedges, three shots behind Stanford with a lot of holes to play.