News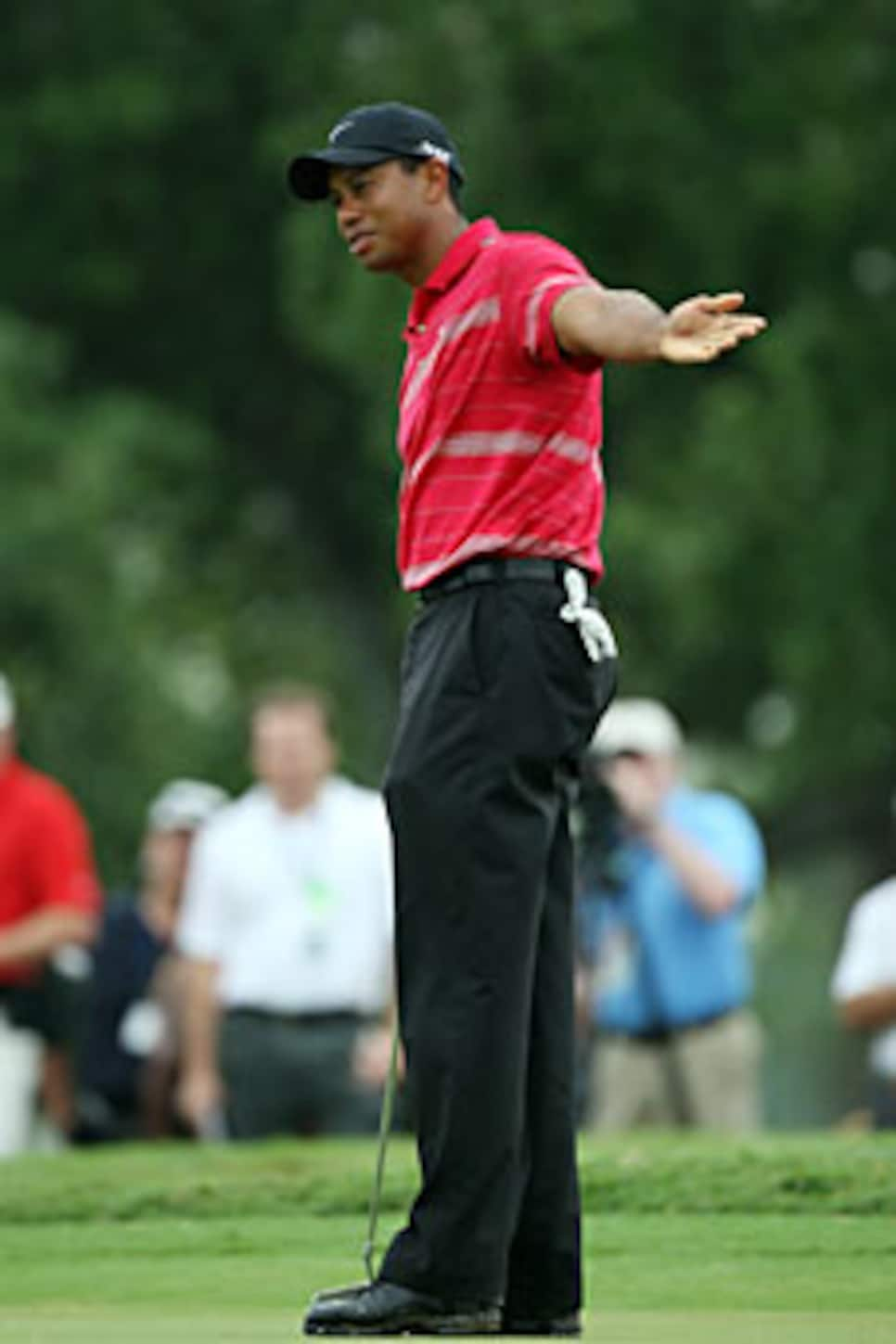 Big names with big games seem to be peaking at the right time.
MIAMI, Fla. -- The streak is dead. The results from the Doral Regional are in: Golf 1, Perfection 0. Reset the clock.
For the first time since Phil Mickelson beat Tiger Woods last September in Boston, He Who Is Without Peer failed to win a golf tournament he teed it up in. How the mighty have fallen. Woods, the mere mortal, came a woeful fifth, two shots behind Geoff Ogilvy and his winning score of 17-under 271. What is this, Tiger Slump III? Between them, Mickelson and Woods hit more lips at Doral than a dentist with crooked instruments. Just the sort of thing you can expect when the two best players in the world putt like Sergio Garcia.
Put whatever caveats you want on the last six and a half months -- Woods' seven victories straddled calendar years, included his own little invitational and a European Tour event in Dubai -- but whatever it was, he made you look. For Woods, this is what he does in the winter when he's not spear fishing. He won seven straight in his offseason. The real golf comes in a couple of weeks.
"I'm trying to get this one and make sure my game is right for Augusta," Woods said. "You want to peak four times a year and I want everything going positively that way. You can win every tournament for the entire year but if you go 0 for 4 in the major championships … you don't really get remembered for the number of wins in a career. It's the number of wins in major championships."
That doesn't mean the WGC-CA Championship didn't count, or that Tiger doesn't count them, either. Don't think for a second that, once Woods got to seven, he didn't want eight. This is a guy who gets motivated in the morning if he turns his cereal box upside down and only one corn flake falls out. "I don't see how you can live with yourself not trying and not giving your best," he said. "I don't see how you can go home and say I didn't give it my best. That to me is unacceptable. I've got four to five hours out there playing. I don't see how you can't go ahead and give it everything you have. I just don't see how you can think any other way or play any other way." Which pretty much explains why Tiger Woods is Tiger Woods.
In a game where, historically, so few have shown the ability to peak at the times when it means the most, the leader board at Doral augured well for Augusta, beginning with Ogilvy, who has always thought the National might be right down his Magnolia Lane. "Every time I go there, I walk away thinking, 'I can really do well here,' " he said. "It's a course that I really enjoy playing. How could it not inspire you to want to think better about the game and get better at the game? Every time I leave the place, I'm counting the days until we get back there next time. It just made me think I can really do well there one day."
Of course, right behind Ogilvy were his major Monday pursuers, Vijay Singh and Jim Furyk, who came back to Doral in the morning two shots off the pace. Furyk suddenly found himself after a mediocre start to his season, while Singh saved himself on the greens by returning to his belly putter -- though it must be pointed out that neither Singh, nor anyone else, has ever won a major championship with a long putter. Yet.
Right behind them were Retief Goosen and Graeme Storm, who you may remember got off to a fast opening round in the PGA Championship last summer at Southern Hills in Tulsa. In fact, of the final 15 players, only Storm wasn't already in the Masters. That's partially a product of the elite nature of the World Golf Championship events, but it also speaks volumes about how modern players have learned to hone their games for the weeks that mean the most.
In the second round, Woods tussled with the Aussie tag team duo of Adam "Facebook" Scott and Geoff "The Flying Quote" Ogilvy. Apparently throwing a sleeper hold on Woods is a clever strategy since the best player on the planet took 32 putts. The rain delay Saturday that pushed the conclusion of the third round into Easter Sunday accomplished one very good thing. It gave former Nationwide tour player Erik Compton time to hang out in the locker room. Compton, who, of course, already knew many of the players, had a heart transplant when he was 12. His health has deteriorated over the last year and he'll need another donor heart to save his life. It's a jump ball who was better served by the downtime, Compton or the players.
Ogilvy began the final round Sunday afternoon with a four-shot lead and lost half of it to Furyk and Singh by the time darkness halted play. When they came back out Monday morning everyone took a run at the Aussie. Woods made three birdies to reach minus 15 while Ogilvy seemed stuck on 17 under. Goosen and Furyk got to minus 16. Singh had the best chance to catch the Australian, reaching 16 under on the 10th hole before dropping shots at the 13th and 14th. He got them back coming in, but by then it was too late.
Ogilvy missed three birdie chances on his first three holes Monday morning but, as it turned out, pars were good enough, particularly the one he made on the 232-yard 13th. Ogilvy missed the green left with a 2-iron, took relief from some television cables, chipped short when he misread the lie, then rammed his third off the flagstick and into the hole for a par. Let's just say the ball was going a lot faster than the one he chipped in on 17th hole at Winged Foot at the 2006 national championship.
At the end, that grinding noise you heard on Golf Channel was not the sound of all those U.S. Open champions coming down the stretch at Doral or Tiger Woods' yacht scraping against the dock as he pulled out of Miami harbor. It's the sharpening of golf's games, preparing for the most important week in April. In fact, the only important week in April, unless you count the first professional pitch, the last collegiate basket and the IRS.