News
Full Scale Aussie Assault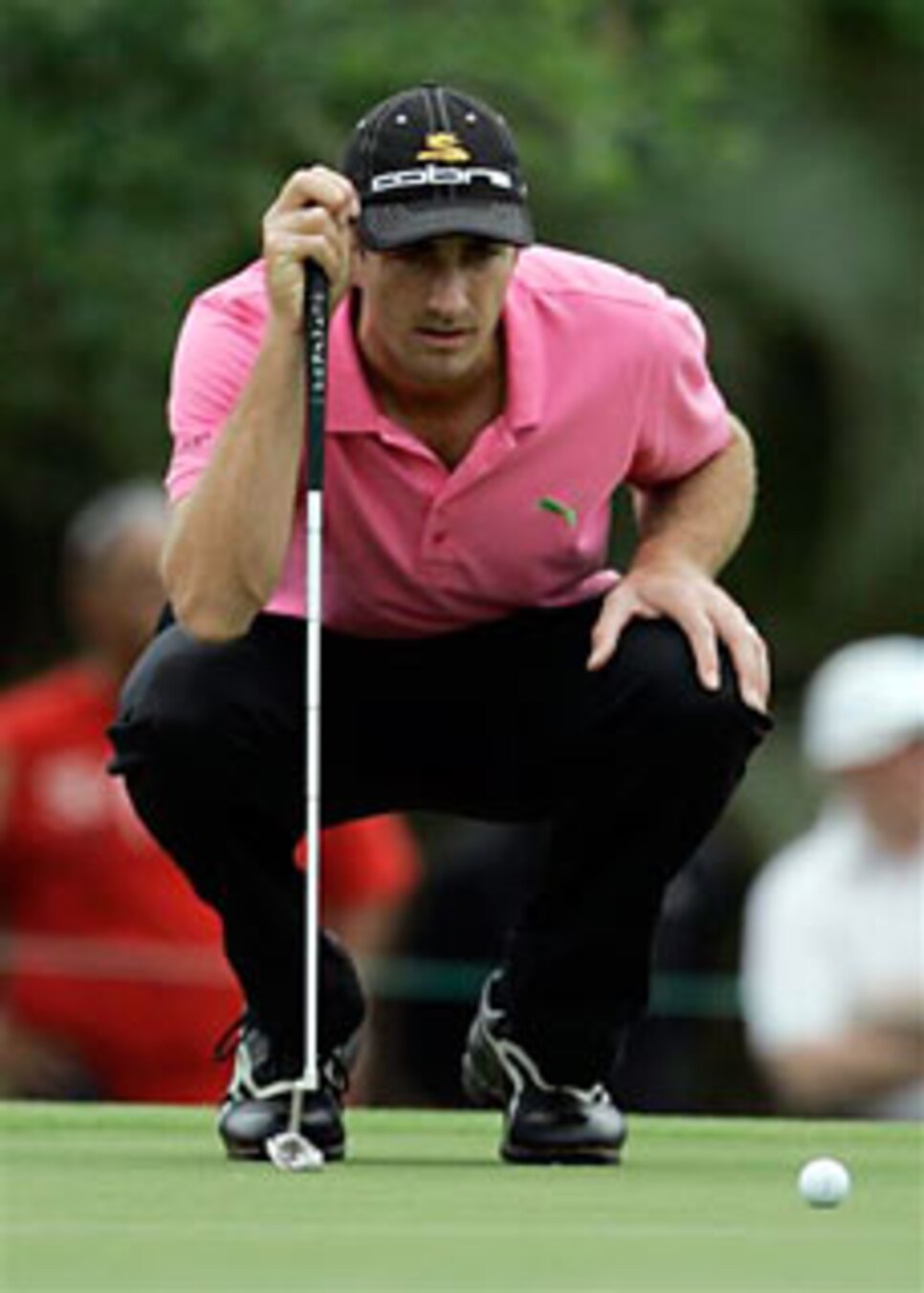 One bogey in 72 holes got Ogilvy his first win in nearly two years.
DORAL, Fla. (AP) -- So much for that perfect-season talk. Not only has Tiger Woods been beaten, Geoff Ogilvy did it on a course where the world's No. 1 player looked unstoppable in recent years.
Ogilvy won the CA Championship on Monday, saving a round that seemed in peril with a chip-in for par at the 13th hole and going on to claim his second victory in a World Golf Championship event.
A final-round of 1-under 71 was good enough for him to finish at 17 under, one shot better than Retief Goosen, Jim Furyk and Vijay Singh, all closing with 68s in the rain-delayed tournament. Woods was alone in fifth at 15 under.
With the win, Ogilvy joined select company -- only Woods and Darren Clarke have more than one WGC title. But this week won't be remembered for that accomplishment: It'll be known as the week someone finally took down Tiger.
"As players, it's nice to see somebody else lift a trophy for a change," Goosen said.
It was Woods' first defeat in eight events worldwide since Sept. 3, and his perfect start to 2008 -- 3-for-3 on the PGA Tour, 4-for-4 overall -- begged the ridiculous-sounding question: Could he go unbeaten for an entire year?
No one ever has, and it's not really a huge surprise that Woods won't this year, either.
"I had a shot at it and just came up short," said Woods, who had won 16 of his previous 26 events on the PGA Tour.
He struggled to a third-round 72 while every other contender piled up birdies with alarming regularity, and simply dug such a deep hole that even he couldn't escape.
"I think it's a great sign, what happened this week, to make that many mistakes and only be two back," Woods said.
In typical fashion, Woods made a huge charge Monday at Doral, where he'd won each of the last three years.
Woods birdied three of the seven holes he played in the morning, getting to 15 under but never making up the entire gap between himself and Ogilvy, whose last win was the 2006 U.S. Open at Winged Foot.
"You want to always win every one you play in," Woods said. "So you've just got to get ready for the next one."
His next official tournament: the Masters, where Woods' annual Grand Slam quest will begin.
Woods started the morning five shots back with seven holes remaining and made his typical charge, closing within two strokes after making a 4-footer at the 17th. He birdied the 12th to start his day, then hit his tee shot within a foot at the par-3 15th for a tap-in.
At that moment, Ogilvy seemed in trouble.
His tee shot at the par-3 13th missed way left, and his chip from thick, wet grass didn't even reach the green -- making bogey seem probable, until a most improbable shot followed.
Ogilvy's second chip hopped twice, hit the pin and dropped straight in, giving the Australian a break he desperately needed. If it went past the cup, he surely could have been looking at double-bogey -- since the ball clearly would have kept rolling for a while.
"That was moving," Ogilvy said. "That's why you have to hit it on line. Flag gets in the way."
And with the way Woods wasn't capitalizing on all his chances, Ogilvy didn't have to be perfect, either.
Woods gave himself birdie putts on every hole he played Monday, missing four of them, including a 15-footer at the par-4 14th hole that left his face pained in disbelief.
He wasn't the only one misfiring on some chances in the tournament's deciding holes.
Singh was the first one to make a run at Ogilvy, getting with a stroke early Monday before back-to-back bogeys essentially doomed his chances. Furyk got within one after making birdie at the 17th, then missed the fairway at the finishing hole. Adam Scott started the morning four shots off the pace, then inexplicably missed a 2-foot tap-in for a bogey that took away any hope of making a run.
"People don't really understand, you need to have something happen, a positive thing happen to you out there in order to win tournaments," Woods said. "I heard Geoff bladed one in the hole for par. That's what you need to have happen. Those are the things that have happened to me, and things weren't going that way this week."
It has come to this: When Woods doesn't win, it counts as stunning news.
He was less than an even-money favorite before the tournament began, and at least one British bookmaker had Woods at the preposterous odds of 1-to-3 after the second round -- when he wasn't even in the lead.
But since Woods' surge of late was amazing even by his own standards, why would those oddsmakers expect anything less?
Woods had won nine of his last 10 starts worldwide, a run that doesn't even include helping the United States win the Presidents Cup.
In the first 2½ months of 2008, Woods seemed unbeatable as ever.
He won the Buick Invitational, the Dubai Desert Classic, the Accenture Match Play and the Arnold Palmer Invitational at Bay Hill. Going back to September, when this streak began, he'd pocketed $7.2 million in prize money alone -- more than Palmer, Seve Ballesteros and Lee Trevino made in their PGA Tour careers combined.
Woods' winnings of $285,000 this week pushed his official career earnings to nearly $80.2 million.
He won't have to wait long for the chance to begin a new winning streak, either. Woods was leaving Doral quickly Monday to begin play at the Tavistock Cup, the annual two-day, Ryder Cup-style match between tour pros from the Lake Nona and Isleworth clubs in Orlando.
"Going to be a long day," Woods said.