News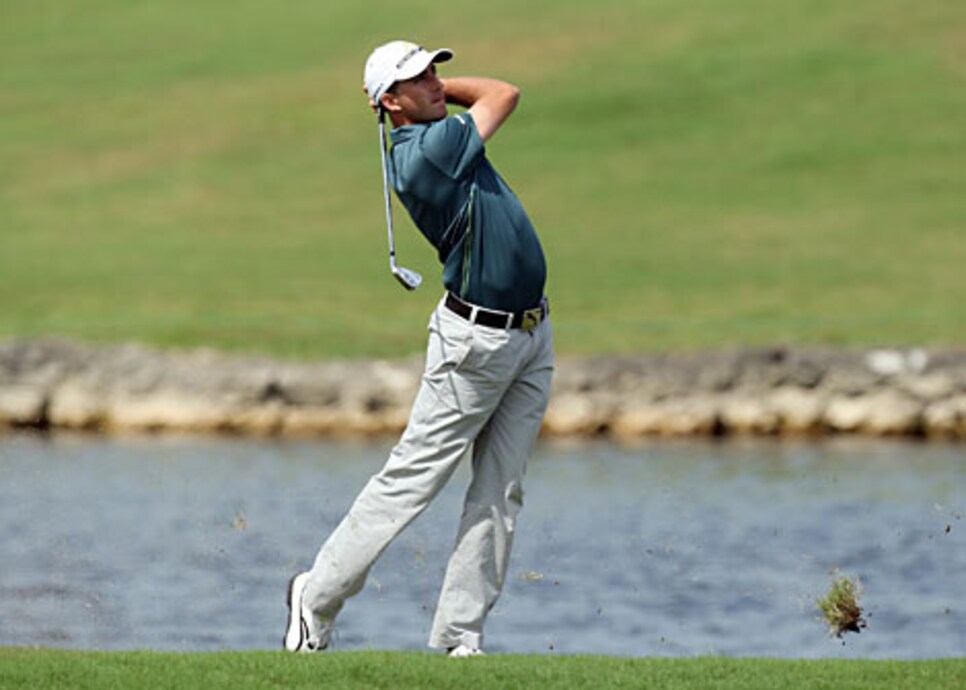 Ogilvy's second bogey-free round kept him on top of the leaderboard.
DORAL, Fla. (AP) -- Even with a one-shot lead, Geoff Ogilvy realizes the odds are against him.
And that was before someone told him the odds.
Tiger Woods has brought the Blue Monster to its knees the last three years. He has won the CA Championship the last three years. And perhaps the most daunting of all is that Woods has not lost any tournament anywhere over the last six months.
Ogilvy saved par four times from a bunker to remain bogey-free over the first two rounds at Doral, and he finished with a 5-under 67 on Friday for a one-shot lead over Woods (67) going into the weekend of this World Golf Championship.
It wasn't too long after he finished that someone mentioned that one bookmaker had Woods as a 1-to-2 favorite, with Ogilvy -- the leader -- next at 5-to-1. Ogilvy wanted to know what the odds were for Adam Scott, his best friend who bogeyed the last two holes for a 68 that put him only three shots out of the lead but in the final group Saturday.
"So it doesn't matter who it is playing against Tiger," Ogilvy said. "That's reality. He's won these last however many golf tournaments. He hasn't lost too many when in contention after two rounds. He hasn't lost too many at Doral. There's a lot of things in his favor."
That's not to say Ogilvy is raising a white flag. As much as he conceded that Woods has a lot going for him at the moment, Ogilvy is a former U.S. Open champion who has been around long enough to know that each week brings a surprise.
"Five to one," he said to himself, repeating the odds. "If I wasn't playing, maybe I'd have a go."
Instead, his focus will be on a dream threesome Saturday morning. Ogilvy marvels at the theater of playing with Woods, and Scott is such a close friend that he drove back to Winged Foot two years ago when Ogilvy got into contention, and ultimately won the U.S. Open.
"How can you not enjoy playing with the guy who's on his way to being the best golfer of all time?" Ogilvy said. "It's a thrill."
Woods delivered a few thrills on a blustery afternoon at Doral.
He birdied his final hole holes, the last one on the par-3 ninth that was just inside 25 feet and had about 4 feet of break. It was so true that Woods lifted the putter in his left hand when it still had 8 feet to travel before reaching the cup.
The roar was loud enough to make Masters champion Zach Johnson step away from his putt across the lake on the 18th hole, but not quite loud enough to shake Ogilvy, who was still on the Blue Monster and patching together another solid round to finish at 12-under 132.
Woods made two eagles in one round for the first time since the Buick Invitational last year on the North Course at Torrey Pines, and he didn't seem overly impressed with the feat.
The par 5s usually are the most vulnerable aspect of the Blue Monster, and three of them can be reached with an iron.
It wasn't that simple for Woods. From a bunker left of the 12th green, he blasted out beautifully and raised his sand wedge then ball was a few feet from dropping in the heart of the cup for eagle that gave him a share of the lead. And on the downwind first hole, he hit a 7-iron from about 190 yards to 6 feet left of the cup for his second eagle, moving him to the top of the leaderboard.
What happened in between was equally important.
Woods made four par-saving putts outside 6 feet in his round, and the most significant came on the 17th and 18th.
He left a 70-foot birdie putt some 8 feet short, then made that to keep his momentum. His approach into the wind on the 18th went just long, and while his chip was as good as he could hit it, the ball rolled 8 feet by the hole. He made that coming back.
"I didn't want to lose any momentum," he said. "It was nice to make that putt at 17 and not three-putt. I hit two good shots on 18 and then left myself that putt. Stevie (Williams) was saying, 'Geez, you've had three quality shots and you've got an 8-footer for par.' Might as well make it four quality shots."
More quality came from Scott, at least until the end of the round.
Despite hitting into the water and taking bogey on the par-5 eighth, Scott climbed steadily up the leaderboard and was tied with Woods until hitting his tee shot on the 17th into bushes, forcing him to play left-handed. It was a beautiful swing from the other side, the club reaching parallel on his swing, and he advanced it 50 yards. But he missed a 10-foot par putt, then hit his next tee shot in the water.
"Disappointing finish with two bogeys," said Scott, who was at 9-under 135. "I'll get focused for tomorrow and try and make up a few shots on the leaders."
Halfway through the tournament, it could be a three-man race, for no one else was closer than six shots to Ogilvy. And having Woods among the leaders makes it even more deflating for someone to catch them.
Steve Stricker holed a pitch shot for eagle and had several good chances to move closer to the leaders, but he had to settle for a 68 and was seven shots behind. Phil Mickelson missed several short putts that rode around the lip and had a 74, leaving him nine shots behind.
And with Woods in the final group, that lowers the odds of too many players coming from behind.
"Seven in a row? Six in a row? It's pretty impressive," Ogilvy said. "That's a good career. But I mean, so many things can go wrong in a week, even if you're going well. That he just seems to even ride those out, it's pretty good."