News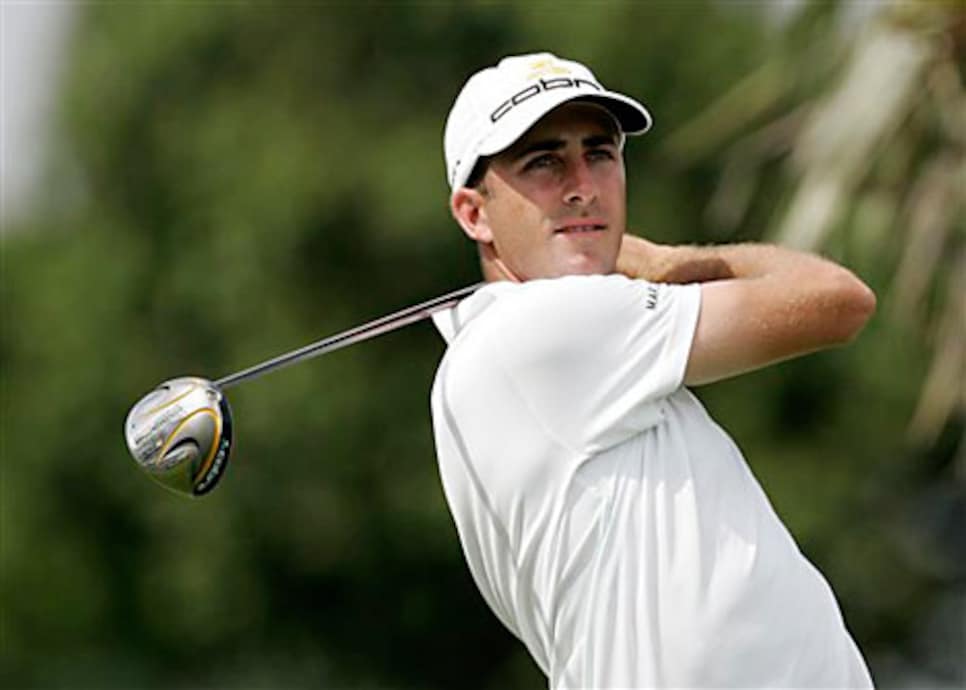 Seven birdies and no bogeys were enough to give Geoff Ogilvy a share of the lead.
DORAL, Fla. (AP) -- Tiger Woods kept his head down as the rain fell harder and never broke stride as he followed a series of winding stairs and back doors, each step taking him farther from the Blue Monster. A security guard politely asked for an autograph, and Woods reached for a pen and forced a smile.
A tough day at the office.
He shot 67 and was two shots off the lead Thursday at the CA Championship.
Woods hasn't lost a tournament since September, a streak that includes six official victories around the world, the last title coming four days ago with a 25-foot birdie putt on the final hole at Bay Hill.
Apparently, he's working on another streak -- the endless pursuit of perfection.
Woods was poised to catch Geoff Ogilvy and Miguel Angel Jimenez, each of whom opened at 7-under 65, until he missed a 7-foot birdie putt on the 16th and three-putted the 18th hole from 70 feet, missing the last one from 5 feet.
Someone asked if the three-putt bothered him.
"Yeah, I'm (ticked)," Woods said with a cold glare. "You three-putt 18, you're not going to be happy."
Strange, because it was Ogilvy who referred to the Blue Monster at Doral as a "happy place," for Woods, and that's ordinarily the case. He has won here the last two years, and won this World Golf Championship six times in eight years.
For most, it was a shift in the wind that brought joy.
After practice rounds in ferocious wind, so severe that Ogilvy didn't even bother playing on Wednesday, it made a slow shift to favorable conditions, allowing for all but two dozen players in the 79-man field to break par.
Ogilvy got off to a strong start in one respect. He's ahead of Woods.
The former U.S. Open champion is savvy enough to know that golf is about beating the course better than anyone else, but these times call for slight adjustments. Woods has become the most dominant player this side of World War II.
"You know starting the week if you want to win the tournament, you're going to have to beat him because you know he's going to be in contention come the last nine holes here on Sunday," Ogilvy said. "It's just one of his happy places, obviously. If I can just be one in front after every round, that will be pretty good."
One shot out of the lead was Stewart Cink, who has played in the final group at three tournaments this year and is playing more consistently than anyone but Woods.
Woods wasn't all that bad, he just sounded that way.
"I didn't really do anything all that special today," Woods said. "I just kind of hung in there and took care of the par 5s, and made a couple of other birdies here and there. But all in all, just kind of ground it out."
If it wasn't anything spectacular and he still was only two shots bad, that would seem to bode ominously for the rest of the 78 players gathered at Doral for this World Golf Championship.
But there was a sense after one day that no one was going to lay down.
Phil Mickelson rallied from a double bogey in the water with four birdies over his final six holes to match Woods at 67, and they were joined by Adam Scott, who is No. 5 in the world and won the Qatar Masters earlier this year with a 61 on the last day.
Four days after slamming his cap to the ground to celebrate a 25-foot birdie putt to win at Bay Hill, he rarely broke a smile. Woods started strongly, with an easy two-putt birdie on the par-5 opening hole and a 20-foot birdie down the fast green at No. 3. He made birdie on two other par 5s, one by missing an eagle putt from 20 feet, the other with a wedge inside a foot.
His longest putt was a mere 18 feet on the par-3 15th, and Woods had a chance to join the leaders when he blasted a tee shot into the front bunker on the 366-yard 16th hole, only to miss from 7 feet.
"I've got to trust what I see," Woods said, referring to the grain in these Bermuda greens. "I didn't do that enough times today."
Ogilvy felt much better as he continues a slow rise back to form. He has not won since his U.S. Open victory at Winged Foot in 2006, and he took a month off around the holidays when his second child was born.
But he played in the final group at Innisbrook two weeks ago, closed with a 66 at Bay Hill to leave on a positive note, then kept the ball in the short grass for most of a cloudy day in south Florida to tie Jimenez, a Spaniard making his debut at Doral.
"It's definitely been building," Ogilvy said. "I came here feeling better than I did going to Bay Hill, and I went to Bay Hill feeling better than I did when I went to Tampa."
He was back in his room after Bay Hill in time watch Woods birdie the last hole from 25 feet for the win.
"It's never surprising when he holes it, but it's always impressive," Ogilvy said. "We're all impressed. Hopefully, none of us are scared. I just want to win tournaments, and he's very impressive. But I don't go to bed thinking about it."
Cink, meanwhile, is trying to bury memories of a few close calls. Woods manhandled him in the Accenture Match Play Championship, winning by a record margin (8 and 7) in the final round. Two weeks later, Cink had an early four-shot lead in Tampa until a late collapse paved the way for Sean O'Hair.
"The memories linger from that," Cink said. "I gave it away, but I learned from it. It's part of the process. Let me just say that not everybody out here is Tiger Woods, OK? He's making it look easy. And it's not easy."