News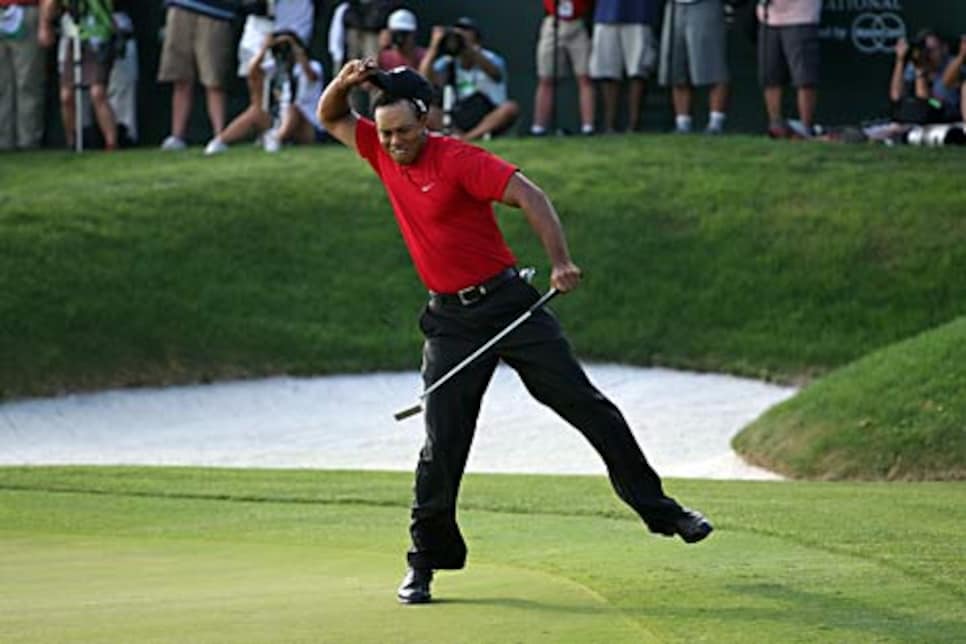 Virtually unstoppable with a piece of the lead after 54 holes, Tiger was true to form at Bay Hill.
ORLANDO, Fla. (AP) -- Tiger Woods made a 25-foot birdie putt on the final hole Sunday to win the Arnold Palmer Invitational by one shot, extending his PGA Tour winning streak to five and keeping intact a perfect season in golf.
In his biggest challenge since this streak began seven months ago, Woods outlasted 45-year-old Bart Bryant and won with a birdie putt on the final hole for the first time in seven years. He turned and slammed his cap to the ground, letting out a roar to celebrate his 64th career victory, tying Ben Hogan at No. 3 on the PGA Tour list.
"I turned a mediocre tournament into a good one," Woods said.
Palmer stood behind the 18th green with thousands of sun-baked fans who have come to expect nothing less from Woods. The King smiled and nodded his head, a royal approval of a captivating conclusion at Bay Hill.
Woods closed with a 4-under 66 and won Bay Hill for the fifth time in his career, becoming the first player in PGA Tour history to win four tournaments at least five times. The others are the Buick Invitational, Bridgestone Invitational and the CA Championship, where he plays next week at Doral as the three-time defending champion.
No wonder some are starting to question whether he will lose again.
Bryant felt hopeless, no different from so many other victims of Woods. He hit all the right shots on the back nine to keep pressure on the world's No. 1 player, and was sitting in the scoring trailer when he heard the loudest cheer of the afternoon.
"That's why he's Tiger Woods," Bryant said. "He has an incredible way of pulling off the shot or the putt when he needs to. He's done it before. He'll do it again."
Not since Bay Hill in 2001 against Phil Mickelson has Woods won a PGA Tour event with a birdie on the 72nd hole to win by a shot, and this was so meaningful that Woods ripped off his cap and slung it to the ground, something he has never done.
Woods said he was so caught up in the moment that when his caddie handed him his cap, he didn't know how it got there.
"I kept telling myself, 'I've done this before. I did it against Phil, and this time it's a little bit deeper into the green and the putt has a little bit more break and it has a little more grain. I've done it before, and I can do it again.'"
The last time he played, he surpassed Palmer on the career list. This one allowed him to join Hogan, who won 64 times over 21 years, the last victory coming at the 1959 Colonial National Invitational.
Next up is Jack Nicklaus at 73, with Sam Snead's record of 82 victories looking closer each time Woods plays.
"It's pretty amazing to be in that kind of company," Woods said. "I've had an amazing run in my career, and hopefully, it continues."
No one can say these guys are laying down for Woods. He had to fight to the finish under a sweltering sun, and Bryant was visibly disappointed when he heard the roar and saw the putt. A victory would have sent him to the World Golf Championship next week, and earned him a spot in the Masters.
Bryant closed with a 67 and was the only player to break par all four rounds at Bay Hill. All that earned him was second place, joining a long list of players to be runner-up to the world's No. 1 player.
"I was pretty hopeless sitting there in the trailer, but I did what I thought I was supposed to do, which was put the pressure back on Tiger to make the play," Bryant said. "And he has a habit of making it when he needs to."
Woods has won six straight times worldwide, which includes a thrilling rally in Dubai last month. The winning streak does not include his seven-shot victory at the Target World Challenge in December, an unofficial event with 16 players.
His average score during the PGA Tour streak is 66.13, and his dominance is such that he now has more career victories than Mickelson and Vijay Singh combined.
Woods finished at 10-under 270 and earned $1,044,000, putting him on the cusp of going over $80 million for his career.
Sean O'Hair, playing in the final group with Woods, overcame a sluggish start with three birdies on the back nine to keep alive slim hopes, but he could only manage a 69 to tie for third with Singh (69) and Cliff Kresge (67).
It was the largest crowd in golf this year, and fans who stood four-deep around Woods expected an early knockout. He delivered early with a 15-foot birdie putt on the second hole to break out of a five-way tie for the lead, and he didn't trail again the rest of the day.
But in the stifling heat, it was never easy.
The greatest challenge came from Bryant, who played bogey-free for the first 10 holes to stay one shot behind Woods, and then both players squandered great chances to set the stage for a gritty back nine.
Woods hit yet another flawless approach to 6 feet left of the flag on No. 10 and was on the verge of going two shots ahead. But he gunned it 30 inches by the hole, quickly settled over the par putt and missed it for his first three-putt bogey of the week. That dropped him into a tie with Bryant, who had a 25-foot birdie on the 11th for the outright lead. He also three-putted for bogey, missing a 2½-foot putt to again fall one shot behind.
Bryant caught him with a wedge to 3 feet on the par-5 12th for birdie, and Woods answered with a 10-foot birdie on the 13th. Bryant then handled the downwind 15th with an approach to 3 feet for birdie, leaving it up to the final hole to determined a winner.
It was the best show this year. The final scene looked more like a rerun.
Divots:@ Marc Turnesa made a hole-in-one at No. 7, only the 12th ace in the 30-year history at Bay Hill and the first one at No. 7. ... Among those in the gallery at Bay Hill was Se Ri Pak, who last year was inducted into the World Golf Hall of Fame. She was the second LPGA major champion at Bay Hill this week. Suzann Pettersen, a member at Bay Hill, was in Tiger Woods' gallery on Friday.