News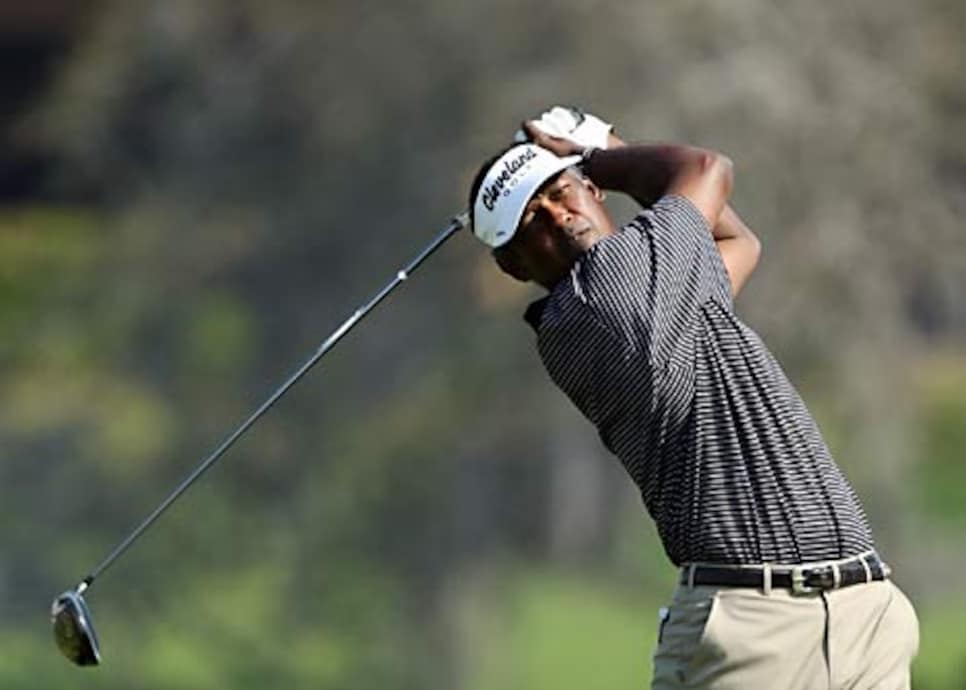 After squandering the lead at Pebble Beach last month, Vijay looks to get his first win in a year at Bay Hill.
ORLANDO, Fla. (AP) -- Vijay Singh was forced to take four days off from practicing, which was unprecedented. He found himself atop the leaderboard one week later at the Arnold Palmer Invitational, which is not surprising in the least.
Weakened by a stomach virus that caused him to lose 18 pounds in five days, Singh recovered in time to make a strong defense of his Bay Hill title by chipping in twice Friday on his way to a 5-under 65 and a two-shot lead over Carl Pettersson.
The 45-year-old Fijian looked like the model of athleticism on a day of gray clouds and occasional rain, not even remotely resembling someone afraid to stray too far from the bathroom for four days.
"I've got a very heavy shirt on. I can see my ribs," said Singh, who was at 9-under 131. "I thought I was going to pull out of this tournament, but on Friday, I just started to hit a few (balls). And that was it."
What he couldn't see on the leaderboard was Tiger Woods, who hasn't been this far out of the lead since the British Open.
The world's No. 1 player also looked sick, but only after watching putts come up short on shoddy greens. Woods, trying to continue a winning streak that stretches all the way back to September, had to settle for nine straight pars to close out a 2-under 68. He was seven shots behind going into the weekend.
"I'll have to play better and make a lot more putts that I have been," Woods said. "I just wasn't swing the club very well today. And when I did put myself in position to make a putt, I didn't make them."
After hitting a tee shot on the 16th that stopped next to a grandstand on the 17th, Woods still had a 15-foot birdie putt that rolled and wiggled and bumped and eventually slid by the hole. By this point, he only smiled.
"Runs like a fairway," he said under a breath.
But they are the same for everybody, and scoring has been reasonable.
Pettersson opened with three straight birdies on his way to a 65. Former U.S. Open champion Jim Furyk, coming off an unproductive West Coast Swing, birdied the last hole for 67, leaving him in the group at 134 that included Lee Westwood (68) and Ken Duke (67).
Singh finally exorcised his demons at Bay Hill last year with a comfortable two-shot victory, giving him 31 career victories to tie Harry "Lighthorse" Cooper for most by a foreign-born player.
Singh has gone more than a year without winning, and it was only a month ago that he squandered a three-shot lead with five holes to play at Pebble Beach, losing to Steve Lowery in a playoff.
That didn't make him nearly as sick as a trip to India two weeks ago for the Johnnie Walker Classic.
"Tried to eat clean and drink bottled water, and it didn't work," Singh said. "I got the flu and a stomach virus, so both things were not very good. I came back on Monday and just never left the bathroom for four days. It was almost a forced rest."
Singh says his fitness regimen from the offseason helped him recover quickly, and he has felt himself getting stronger with each day. It helps, of course, to chip in twice, including an eagle on the sixth hole that gave him the outright lead.
He also chipped in from 40 feet short of the par-3 14th green, and that's one way to cope with greens that are not in the best shape. Then again, Singh knows Bay Hill perhaps better than any other course on the PGA Tour.
Palmer gave him an exemption before he ever won on the PGA Tour, in 1993, and he has never missed a tournament or a cut. He has played 62 rounds, and this was his 14th consecutive round at par or better.
"Sometimes I don't need a yardage from the caddie," he said. "I just know where to hit it."
Fred Couples, who shared the first-round lead, made four bogeys before finally making a birdie on the 14th and shot 73, leaving him in the group with Woods at 2-under 138.
Another shot behind was Phil Mickelson, who has had a quiet week thus far, although he rallied late to make sure he was around for the weekend. The cut was at 142, and that included amateur Webb Simpson.
Singh is regarded a good front runner, although his PGA Tour record with a 36-hole lead is only 12-10. And there are memories of Pebble Beach, when Singh felt out of sync and looked even worse over the closing holes.
"A lot can happen on this golf course," Furyk said. "A lot of water, a lot of lakes, a lot of catastrophes it seems like. And I've avoided them for two days. Hopefully on the weekend, I can make a few more birdies and a few more putts."
That seems to be a script for Woods' manual at Bay Hill, a tournament he won four straight times, but has not fared better than 20th in the four years since that streak.
He finished his rough with a 3-wood into the rough on the right of the 18th hole, forcing him to hit a 6-iron over the water and the rocks guarding the green, hoping it came out the right way. It landed near the flag, leaving him a 15-foot birdie putt.
"Sums up the whole day right there," Woods said.
Divots:@ Among those in Woods' gallery was LPGA Championship winner Suzann Pettersen, a member at Bay Hill. ... Pat Perez made a hole-in-one on the second hole with a 5-iron. He wound up with a 65 and was tied for 20th. ... John Senden made the cut on the number after a 72, giving him a chance to crack the top 50 in the world ranking and qualify for the World Golf Championship next week at Doral. ... U.S. Amateur champion Colt Knost birdied his last hole for an 80.