News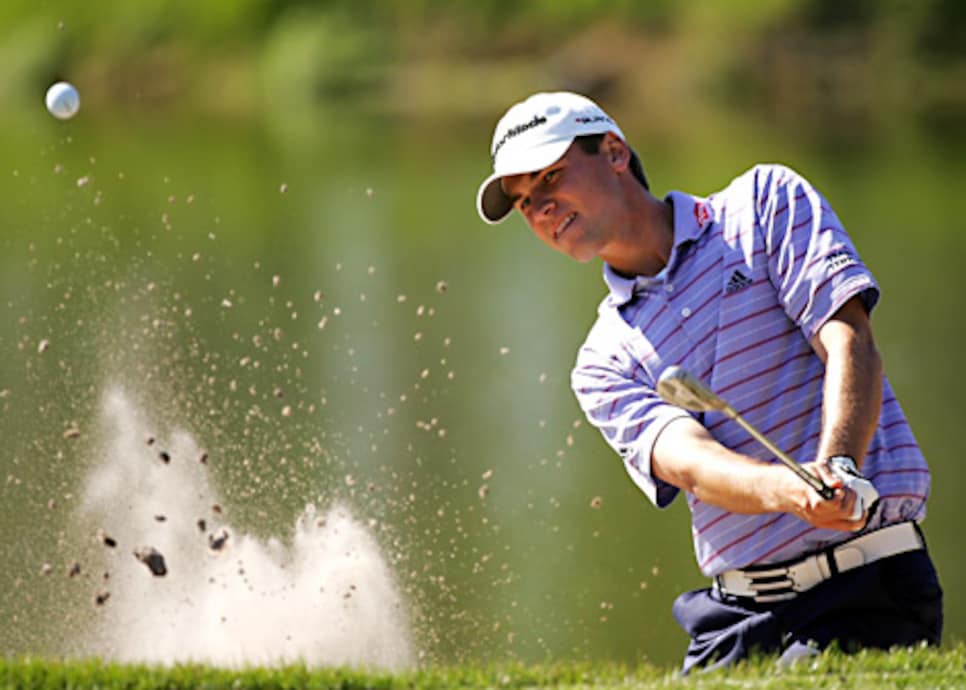 With his win at the PODS Championship, O'Hair earned a trip to the Masters.
PALM HARBOR, Fla. (AP) -- Sean O'Hair took advantage of a stunning collapse by Stewart Cink to win the PODS Championship, closing with a 2-under 69 on Sunday to energize his young career and earn a trip to the Masters.
O'Hair hadn't won since his rookie season in 2005 and felt as if he had been going nowhere over the last couple of seasons. But he turned it around on the back nine of Innisbrook with a 30-foot birdie and two par putts that were equally important, building such a margin that he could afford bogey on the last hole for a two-shot victory.
It was his first victory since the John Deere Classic as a 22-year-old rookie in 2005, which got him into the British Open at St. Andrews. This victory sends him to Augusta National next month, and he will move into the top 40 in the world to qualify for the World Golf Championship at Doral in two weeks.
Cink suffered a loss perhaps even more devastating than the Accenture Match Play Championship blowout against Tiger Woods. Cink had a four-shot lead after two holes Sunday, still had control on the back nine, then dropped four shots in a four-hole stretch along the back nine of the Copperhead Course at Innisbrook.
Cink lost the outright lead when his tee shot rolled up against a tree on the par-5 14th, leading to bogey. The only consolation was making a 50-foot birdie on the 17th hole and that allowed him to join a six-way tie for second.
John Senden closed with a 67 and was a runner-up for the second straight year, both times finishing about an hour before the leaders. He tied for second with Cink, Ryuji Imada (68), George McNeill (69), Troy Matteson (69) and Billy Mayfair (72).
Cink closed with a 74 and remains winless since the 2004 Bridgestone Invitational. This was the third time in five tournaments he has played in the final group.
O'Hair finished at 4-under 280, the highest score to win at Innisbrook after a week of whipping wind. But he was the only play to shoot par or better all four rounds, and he saved his best golf for Sunday.
He saved par with putts of 5 and 4 feet on consecutive holes, then buried Cink with a 30-foot putt on the 15th hole and stayed out of trouble the rest of the way.
O'Hair is among only seven players in their 20s with multiple PGA Tour victories, and this was far different from his first, when he closed with a 65 to win the John Deere Classic.
"When I won (the first time), it just kind of happened," O'Hair said, wiping tears from his eyes. "I didn't really appreciate it. I thought I was good enough to do this every year. But it's been such a struggle to get to this point again. This is awesome, and I'm going to enjoy it."
He no longer uses his father-in-law as a caddie, but said Steve Lucas gave me a pep talk after O'Hair missed the cut last week in the Honda Classic. O'Hair played the first two rounds under close scrutiny of his coach, Steve Dahlby.
Finally, he has something to show for the work.
Cink left the course in darkness Saturday with a two-shot lead, and he kept that margin when Brandt Snedeker and Billy Mayfair made three pars Sunday morning to complete the third round. Regardless, Cink knew the final round would be wide open. And he had a plan.
"I've got to keep pushing," he said. "My goal is to give no one a chance tomorrow."
He executed that to perfection with birdies on the first two holes. Combined with bogeys by Snedeker and Geoff Ogilvy on the par-5 opening hole, Cink quickly stretched his lead to four shots.
Then, he slowly gave it back.
He made bogeys on the third and eighth holes, but it was a par at the par-5 11th that revealed signs of a struggle.
O'Hair got within one shot with a chip from behind the green to tap-in range for birdie to reach 4 under. Cink chipped 7 feet beyond the hole and missed, settling for a par.
It was getting tight, and so was Cink. His next two approach shots were 40 and 70 feet from the hole, and he three-putted the latter to fall into a tie for the lead. Then came a bad shot and bad luck when he pulled his drive on the par-5 14th, and the ball settled against a tree. Cink tried a left-handed inverted wedge to escape, but shanked it and did well to make bogey.
Even more jarring was the cheer ahead of him as O'Hair holed a 30-foot birdie for a two-shot lead. Cink sunk even deeper, missing a birdie putt from 4 feet on the 15th, then driving into the water on the 16th.
DIVOTS:@ Ryuji Imada's tie for second was enough for him to move into the top 10 in the FedEx Cup standings and qualify for Doral. D.J. Trahan, Daniel Chopra and J.B. Holmes also qualified for the $8 million WGC through the FedEx Cup points. Players can still qualify through the top 50 in the world and top 10 in the FedEx Cup standings after the Arnold Palmer Invitational next week.