News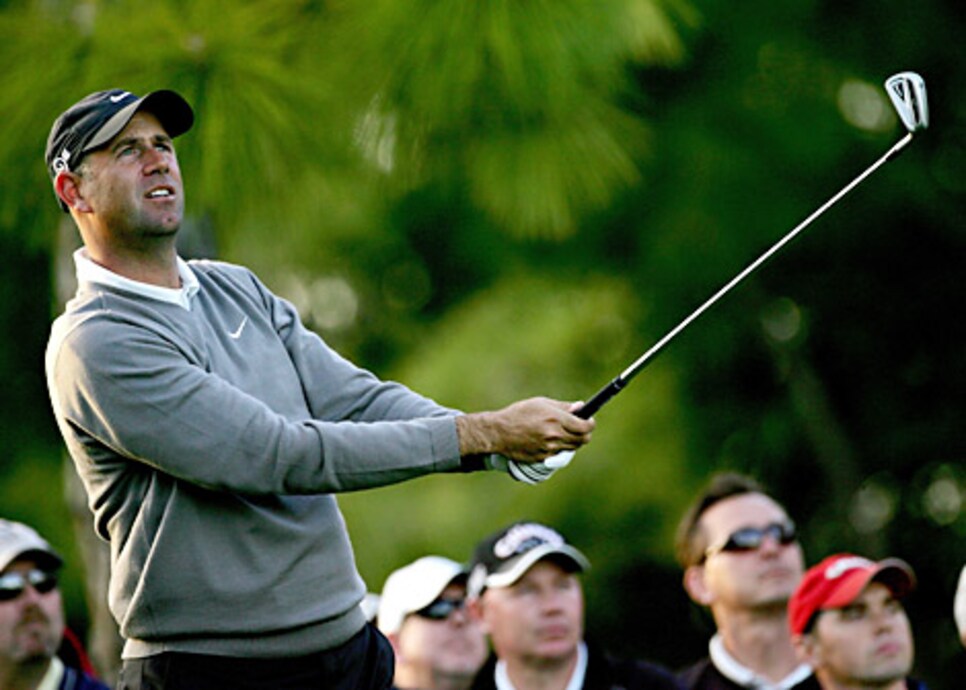 28 holes on Saturday, 30 MPH winds and Cink came out on top by two.
PALM HARBOR, Fla. (AP) -- Stewart Cink played the last of his 28 holes Saturday in near darkness, eager to finish a long day in the toughest conditions the PGA Tour has seen this year.
Even after his lone bogey in the third round for a 2-under 69, he couldn't wait to get started Sunday.
Playing in 30 mph wind at the PODS Championship for the better part of 12 hours, Cink's fortunes turned quickly when he ran of three straight birdies and went from four shots down to a two-shot lead that likely puts him in the final group for the third time this year.
He was at 5-under 208, two shots ahead of former U.S. Open champion Geoff Ogilvy.
Brandt Snedeker, who had a four-shot lead until his momentum changed on a three-putt from 12 feet, was at 3 under and had three holes to play. Billy Mayfair also was at 3 under playing the 16th hole when darkness suspended the third round.
Only nine players remained under par. The tournament is still up for grabs.
"I've got to keep pushing," Cink said. "My goal is to give no one a chance tomorrow."
That sounds like the M.O. from Tiger Woods, and Cink knows that all too well. He was in the last group at Torrey Pines with Woods, albeit eight shots behind. And Cink was in the final at the Accenture Match Play Championship, which Woods won by a record margin for the final match, 8 and 7.
"I've seen him do that," Cink said, "and it looks like it's a lot of fun."
Even better? Woods has the week off.
"When the cat's away ..." Cink said.
He rarely sets goals for himself, but decided this year to aim for getting into contention more often. This will be his second good chance at winning in five events, so he's off to a good start.
"That's a step in the right direction," said Cink, who hasn't won since Firestone in 2004.
Cink had no problem with fatigue. He played 32 holes on Saturday of the Match Play (winning twice), and played 29 holes in the final match against Woods. But neither of those days featured such a vicious wind on an Innisbrook course that requires so much thought.
He had to think twice about his wedge from pampas grass on the 10th, playing left of the flag because it presented the best opening. It came out perfectly to 30 feet, and he holed the putt for the first of three straight birdies.
The next leaderboard he saw was on the 14th hole, and he wasn't surprised.
"One gust can mean two shots. It's as simple as that," Cink said.
In Snedeker's case, three putts meant a total loss of momentum.
He was at 7 under, leading by four, and had a 12-foot birdie putt on the par-3 eighth. But he three-putted for bogey, hit into the trees on the right at No. 9 for another bogey, three-putted the 13th, and suddenly was two shots behind.
"I'm disappointed with two three-putts on the par 3s. They were both stupid, boneheaded mistakes, but those are going to happen," Snedeker said. "You've got to be patient. I'm still right there."
Sean O'Hair and Tom Pernice Jr. each shot 71 and were at 2-under 211. The nine players under par included defending champion Mark Calcavecchia, who was 1 under with two holes to play.
Cink had to play 28 holes Saturday, none of them easy.
The wind was raging at dawn and never let until the final minutes of daylight, so strong that players who were hitting a 9-iron into the 18th green in the opening round were pulling 3-iron or more on Saturday. The average score for the second round was 74.5. Once the cut was made -- the first cut, anyway -- the field average for the third round was headed for about 74.
Seventy-nine players made the cut, activating the week-old amendment to the PGA Tour's cut policy. Because more than 78 players made the cut, a second cut to the top 70 and ties was to be made after third round.
That knocked out eight players, who will receive official, last-place money. And some might be glad to be leaving. Kevin Streelman made only seven pars in his round of 84. Jason Gore and Charles Warren each shot 81.
"It played hard -- I played hard," Kevin Sutherland said after a hard-earned 70 left him in a tie for seventh, only four shots behind.
The cut was at 3-over 145, the highest ever at Innisbrook.
The highest 54-hole lead until this week was 9-under 204, a mark that will be shattered.
Ogilvy was asked to go over his birdies, bogeys and any good par saves he made. That brought a wry smile to the Australian.
"Every hole you make par is a great save," he said.
Wind this strong exposes the slightest mistake, and it was hard to find anything wrong with Snedeker. When he returned Saturday morning to complete the second round, he hit six straight greens to move up the leaderboard, and when he finally missed the ninth green to the left, he chipped in for birdie and a 68 to take the lead.
Then, he was even better in the afternoon.
As just about everyone else was dropping shots around him, Snedeker birdied the par-5 fifth from 6 feet, then holed a 12-foot birdie putt on the seventh to build a four-shot lead. The margin looked as though it might get even larger on the next hole, the par-3 eighth, when he hit his tee shot into 12 feet.
Three putts later, everything changed.
"Two bad bogeys in a row, and I started to lose momentum," he said.
Ogilvy took a while to shake off rust from staying home after the Jan. 7 birth of his son, but he is finding his groove. He birdie putts inside 10 feet on four straight holes, making two of them, and wound up with a great chance Sunday.
"You know the rust is coming off when it's tough and you play," he said.