News
Tour Insider: Food For The Soul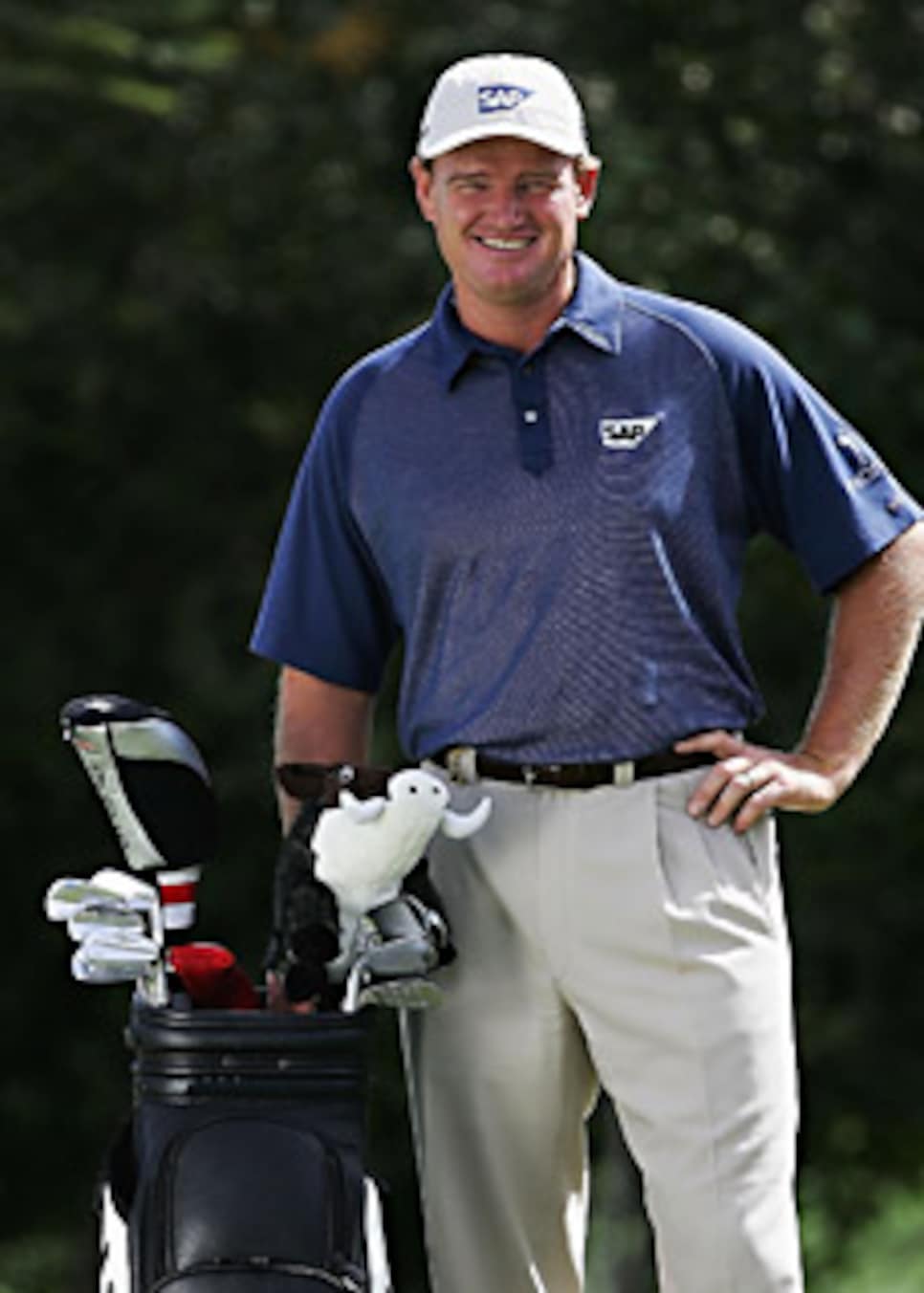 The Big Easy admitted he had become the Big Grumpy.
JUPITER, Fla. -- There was a little outing this week at a golf course along the Atlantic Ocean and look who showed up for no money to play: Ernie Els, Freddie Couples, Greg Norman, Raymond Floyd, Nick Price, Lanny Wadkins, Steve Elkington, Davis Love III, Justin Rose, Brandt Snedeker and Camilo Villegas, not to mention The King himself, Arnold Palmer. It's their one day to play Seminole Golf Club en masse for the club's annual Pro-Member, and it has become the invitation to get during the Florida Swing.
Els wanted so badly to play in the event in 2005 he flew overnight after winning in Dubai, stopping at his home in London along the way -- and still made his afternoon starting time with good buddy Johann Rupert, the South African billionaire. This time he only had to commute across the bridge at Donald Ross Road from The Ritz Carlton GC, where he stayed last week while winning the Honda Classic. Els-Rupert shot 67 in the better-ball format, to finish three shots from getting their names on the locker room wall in the gross division. That distinction went to Jerry Nelson and Sean Farren, the head pro at The Creek Club on Long Island. Nelson and Farren won a match of cards.
Players like Couples and Nick Watney came in a day early for practice rounds. The wind was blowing nearly three clubs from the south, making the finish, the par-3 17th along the ocean that Ben Hogan used to master, and the closing par-4 18th play exceptionally tough. As has always been the case with the Donald Ross showcase, it's all in the greens -- and it's safe to say, these guys don't play any like Seminole's on the PGA Tour.
But they do play PGA National, Innisbrook, Bay Hill and Doral, which back-to-back-to-back-to-back comprise the best stretch of golf courses on tour all season, with scores like a major and major players turning up -- and winning, as was the case with Els, in a wild drama that played out Sunday in Palm Beach Gardens.
As if Ernie didn't have enough issues before last December, water has become his biggest nightmare. There was South Africa in December, in a loss to John Bickerton. There was Dubai in February, in a loss to Tiger Woods. And last week there was the Bear Trap, with water, water everywhere, and Ernie dealing with some ghosts. Observing this from just outside the ropes was Dr. Bob Rotella, the sport psychologist. Antother interested spectator from his home in Hobe Sound was Nick Price, who Saturday night had Rotella and Els over for dinner. What little golf the trio talked, the message to Els was simple. Lighten up. Relax. Be patient. Let the talent take over. Be Ernie Els again.
So Ernie listened. And Sunday he learned the old Ernie Els is still in there. He kept the ball dry, didn't beat himself, and let the others get tight and beat themselves -- the way he usually stumbles against Tiger. It was Nicklaus-type golf, nothing flashy after going four under in the first seven holes of the round. At that point, he didn't need to be flashy. He just needed to shoot 67 -- one stroke higher than his target number, but a number that on this day would hold up.
Afterward, Els gathered his team in the members' locker room at PGA National. Joining Rotella, manager Chubby Chandler, caddie J.P. Fitzgerald and strength coach Josh Saltzman was tournament director Ken Kennerly, who was celebrating a great week for his tournament as well. Els asked Kennerly to bring back the trophy, which had been boxed. They stayed until just after 9 p.m., about three hours after Luke Donald's 72nd-hole chip expired a foot short of the hole, giving Els, who was waiting on the range in anticipation of a possible playoff, the victory.
The Big Easy has been in that position before, on the putting green at Augusta National in 2004 with a different caddie and a different sport psychologist when Phil Mickelson made his Masters-winning putt and went airborne. You can trace his struggles to the tubing accident later that year that tore his ACL, but Ernie's shoulders slumped that day and they haven't been up since.
Maybe that chest he stuck out last Sunday, that smile he smiled, will be around for a while. The Big Easy admitted he had become the Big Grumpy, but winning cures all. He's playing every stop on the Florida Swing.
"You sure got a feel for how much it meant to him; he was enjoying the hell out of it," Rotella said Monday. "He said, 'I haven't seen one of those [trophies] in a while, I want to see that thing.' He really, really liked how he felt on the golf course. He felt like he really, really let himself trust himself; to go out and play the way he can play. The fact the golf course was so hard and so difficult was really good for his soul."
The good news for the Honda: Ernie will be back.
But he probably would have been back anyway -- for another Saturday night dinner at Price's, and for another try at the Seminole Pro-Member. "He was feeling a lot of pressure," Rotella laughed, "to carry Johann Rupert."