News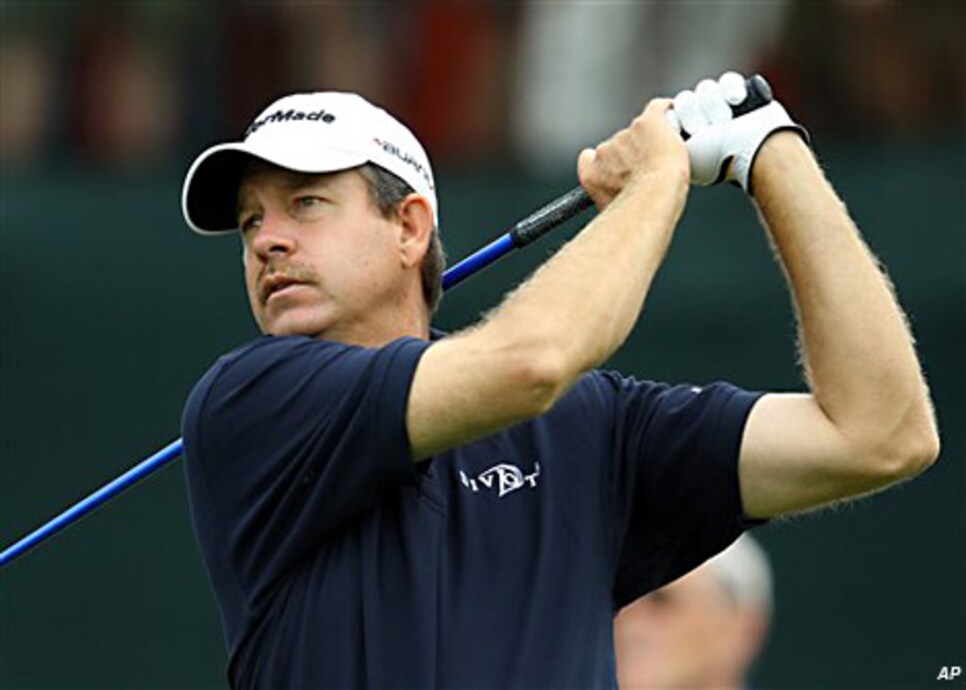 Birdies on Innisbrook's two toughest holes helped propel Bryant into the lead.
PALM HARBOR, Fla. (AP) -- Bart Bryant got his bad shots out of the way early and birdied his last two holes Thursday for a 6-under 65, giving him a one-shot lead among early starters who were lucky to beat the rain in the PODS Championship.
Bryant was thrilled to twice escape with pars through six holes, and he wasn't paying that much attention to his card until he realized he was 4 under. Then came birdies on two of the toughest holes at Innisbrook, including a 15-foot putt on the 18th, and he found himself atop the leaderboard.
"I felt like I got my bad stuff out of the way and I was still even par," Bryant said. "I think that gave me a little confidence."
Ernie Els, coming off a victory in the Honda Classic that ended an 0-for-47 drought on the PGA Tour, was part of the afternoon wave that did not finish the first round because of a 2½-hour storm delay.
Els made two straight bogeys when he returned to the course, and finished his day with a birdie at No. 11 to return to even par.
Two-time U.S. Open champion Lee Janzen, who has not had full status on the PGA Tour since 2006, made good use of his sponsor's exemption with five birdies that left him one stroke behind with three holes remaining.
John Daly, another player without a card but no shortage of exemptions, was 3 over through 10 holes and still got the biggest buzz. After ducking into a Hooters hospitality tent during the rain delay, he emerged with Tampa Bay Buccaneers coach Jon Gruden as his caddie for the rest of the afternoon. It didn't help much, as Daly three-putted from the front of the 18th green for another bogey.
The first round was scheduled to resume at 7:30 a.m. Friday. It was the first time rain has halted play on the PGA Tour this year.
Rain earlier in the week took some of the bite out of the Copperhead Course at Innisbrook, regarded as one of the toughest tour tracks in Florida, and rarely has it played this easy.
Kenny Perry hobbled around on a hip that felt like it was shooting volts down his leg, but he managed seven birdies in a round of 66, tied with Jeff Maggert and Stewart Cink.
Cink was playing for the first time since losing to Tiger Woods at the Accenture Match Play Championship, and while he suffered the worst beating in the 10-year history of the final match (8 and 7), he figured this was a continuation of good play.
"I had a lot of confidence after Match Play," Cink said. "Even losing the last match, I was happy to be in the last match."
Carl Pettersson, who won at Innisbrook in 2005, and Jonathan Byrd were among those at 67. Jerry Kelly was 4 under through four holes when play was stopped by the storms. When play resumed he missed a good chance at a fifth straight birdie, then dropped a shot on the 16th.
Kelly was 3 under through 11 holes.
Perhaps it is not surprising that so many guys in their 40s — Bryant, Maggert, Perry, Tom Pernice Jr. — were atop the leaderboard. This is a course that requires more brain than brawn, and experience tends to come in handy.
Even the guys with power find themselves throttling back.
"You can't hit too many shots without putting thought into them," Byrd said.
The good news for Bryant is that he's hitting shots without feeling too much pain. It seems every time he recovers from one surgery, another body part starts hurting, which was the case last year.
Bryant said his right hip was in such bad shape that he took two months off during the summer. When he returned, his right elbow was acting up again, and he couldn't practice the last three months of the season.
"No practice, just playing," the 45-year-old said. "This year, I've been able to start hitting balls. My health has been good."
The results are slowly coming along. It was only three years ago that Bryant's career turned the corner with victories in the Memorial and the Tour Championship, the latter a six-shot victory over Woods.
Last week at the Honda Classic, he was among the leaders on Friday until taking a quadruple-bogey on the sixth hole that sent him back to the pack. Those big numbers can happen at PGA National, and Bryant wasn't too bothered.
"It showed my game is in the kind of shape that I can get up there at the top," he said.
Perry, meanwhile, started feeling a sting down his leg only two days ago, which doesn't affect his swing, only getting around. He is 47 and desperate to win, figuring that will get the attention of Ryder Cup captain Paul Azinger.
The Ryder Cup will be held at Valhalla in Perry's home state of Kentucky.
"I just haven't had that consistency for four rounds," Perry said. "I need a win badly."
No one needs to win more than Janzen, whose last victory was his second U.S. Open title at The Olympic Club in 1998, has not finished inside the top 125 on the money list the last three years.
He has been playing well enough at home that he felt overly confident going to Mexico two weeks ago. Then he missed the cut.
"The good news is I didn't leave there totally dejected," Janzen said.
Divots:@ Dudley Hart withdrew because of soreness in his neck. Kevin Na withdrew after a 76 because of food poisoning. ... Sean O'Hair, who has missed his last two cuts, was followed around by swing coach Steve Dahlby. O'Hair was one shot out of the lead until bogeys on his last two holes for a 69. ... Azinger four-putted the last hole for double bogey in a round of 79. He had not played since Phoenix.