News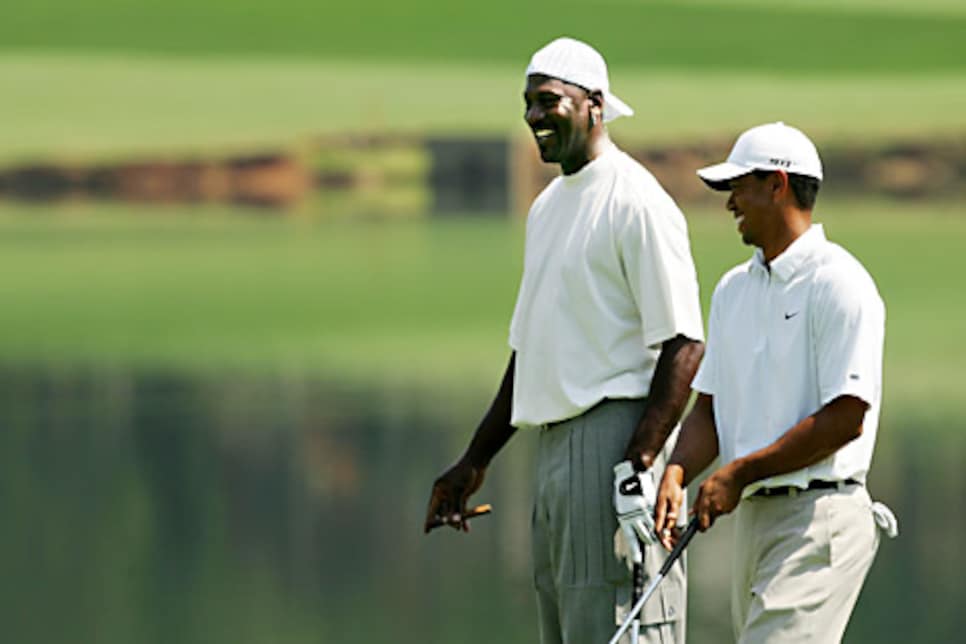 Tiger and MJ make a formidable combination in any sport, but then add Mrs. Doubtfire to mix...
Before too long, you can expect Fred Couples to announce additional members for his staff on the 2009 United States Presidents Cup team.
When he was unveiled as captain last week, Couples volunteered a couple names as sidekicks -- Michael Jordan and Robin Williams -- but the next wave of appointments should be more conventional. Not that Jordan is so much of a stretch, if you think about it. "He's the greatest winner you'll ever know," said Couples. "Don't you think our guys would like having him around as a special assistant? Knowing Michael, he'd probably be there to watch anyway. Why not put him to work?"
Jordan attended the 1997 Ryder Cup matches in Spain and because the Americans lost, U.S. captain Tom Kite naturally was flogged for spending too much time with Jordan. Having Jordan as a cart passenger, you understand, had a huge influence on Kite's ability to affect the outcome.
Still, Couples is willing to incur critics' wrath. The real problem, if Jordan accepts, could be his habit of smoking cigars. The 2009 Presidents Cup will be in San Francisco, and it's easier to bring firearms into California than tobacco. Jordan surely will want to bond with players at meetings and card games, etc. Who's going to tell (Michael Jordan) he can't light up? (When the U.S. Open is staged at Torrey Pines near San Diego this June, we might get a preview. The course is on city property, and smoking is prohibited outdoors.)
Meanwhile, Williams presumably would be brought on board to keep the lads loose with his humor. "He lives three blocks from Harding Park," said Couples. "I think he'd be great."
Couples also pondered having former hockey legend Wayne Gretzky on his staff. Freddie recently made a road trip with the Phoenix Coyotes, the team Gretzky now coaches, and the two men have become quite friendly. Couples and The Great One have played some golf at Whisper Rock, a high-end course in suburban Phoenix to which they both belong. Couples has since moved back to Palm Springs, but they stay in touch.
"I'd like to hang out with Freddie, but I plan to be coaching the Coyotes next year at the time of the Presidents Cup," said Gretzky, who was asked to speak to the International team before last fall's matches in Montreal. (He had to decline because of his hockey schedule.) "Of course, the other thing about being around the U.S. team," concluded Gretzky, "is that I'm Canadian."
But wait. Greg Norman, Couples' opposing captain, said he might lean on fiancée Chris Evert as a co-captain of sorts. She's not Australian or Canadian. She's American. Williams was born in Chicago, but he played Mrs. Doubtfire in the movies, so that could create a controversy. Depending on what he wears to the 2009 Presidents Cup, the Internationals could lodge a protest. Colin Montgomerie is from Scotland. What's he doing on Fred Couples' cart?