News
Lorena Pulls A Tiger In Singapore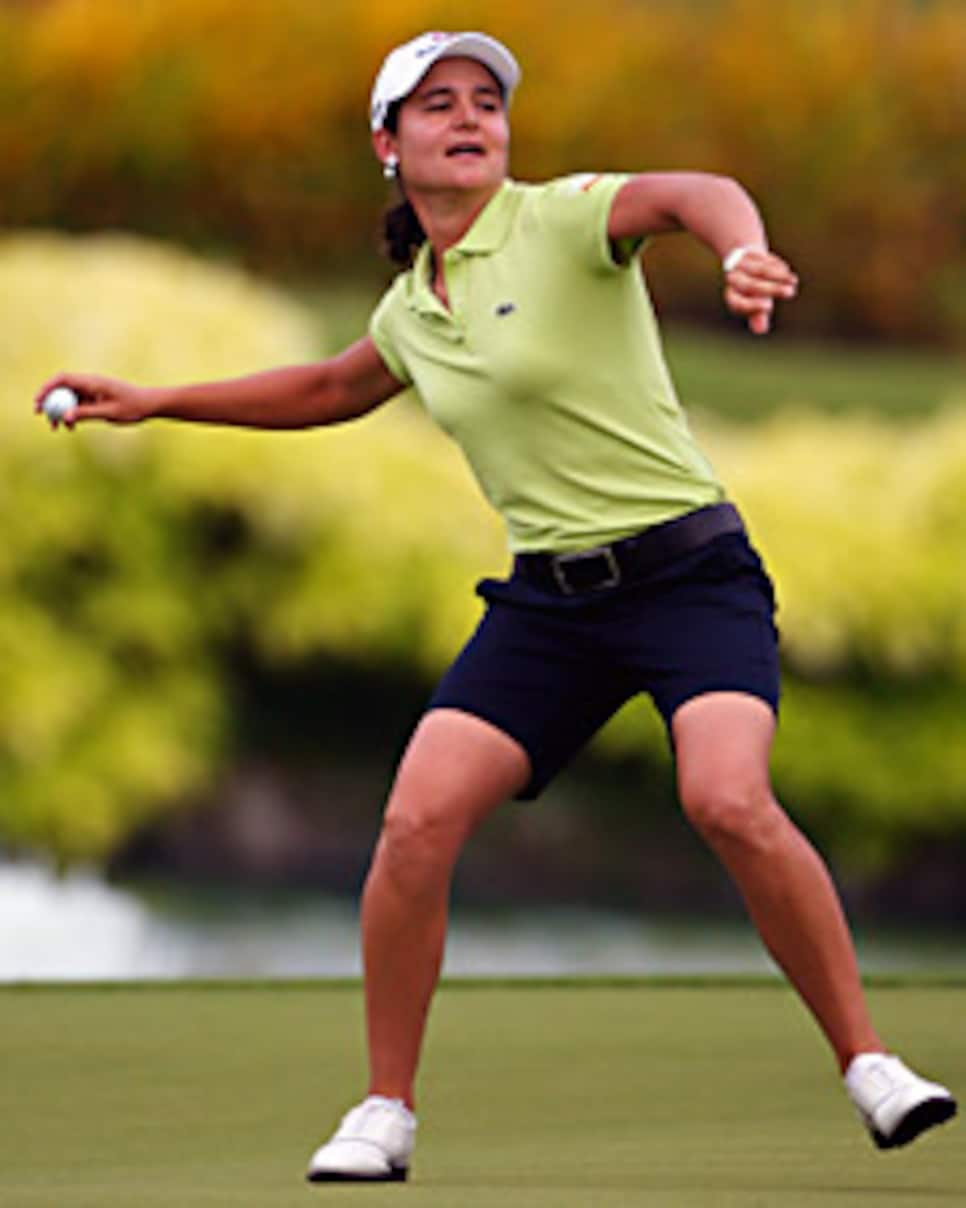 Women's golf best player made it clear she intends to stay No. 1.
There are two lessons learned from the inaugural HSBC Champions tournament in Singapore: First, Lorena Ochoa is by no means going to coast on the success she's had over the last two years. If anyone wants to knock the new No. 1 in women's golf off her pedestal, they have to go get her because she is not coming back to the pack anytime soon.
Secondly, LPGA commissioner Carolyn Bivens has to have a smile that stretches from Singapore to Daytona Beach after a start to the 2008 season that has produced as its first three winners Ochoa, Annika Sorenstam and Paula Creamer. Unlike the "Tiger and the 143 Dwarfs" story going on over at the PGA Tour, the LPGA has not only a no-questions-asked No. 1, but also a gaggle of gals ready, willing and able to beat her -- albeit that task grew more daunting after Ochoa's startling return to competition in Singapore.
Here's a scary thought: If you took the best score shot by someone not named Ochoa in each round of the HSBC Champions and put it on the leader board, Lorena would have still won. The top player in the Rolex Rankings cruised to an 11-stroke victory Sunday, despite three weather delays, and started the season by sending a strong message that she is ready to add to the gaudy numbers she posted in 2006 and 2007 when she won 14 times and finished in the top 10 in 41 of 50 events.
What Ochoa did this past week on the Garden Course at Tanah Merah Country Club in Singapore was downright Tiger-like. Her 20-under-par score of 268 was a single stroke shy of dusting Sorenstam by a dozen and she was 13 better than Creamer, the third-place finisher. In leading wire-to-wire, Ochoa had the best score of the first round by a stroke, the best of the second by two strokes, tied for best in the third and was bettered in the final round by two strokes only by Lindsey Wright, who teed off two hours before Ochoa and escaped a lot of the bad weather.
So the best round each day by the 77 non-Ochoas in the field at the HSBC shot 19-under-par 269 -- still a stroke behind Ochoa. Beginning with her victory in the Ricoh Women's British Open last August, her first major championship, Ochoa has won six of her last 10 LPGA starts and has been in the top-three 16 times in her last 23 events. No wonder even Ochoa is starting to think of herself in a Tiger-like way.
"I admire him a lot and I respect him a lot," Ochoa said after her victory about Woods, who last year at the Masters she had autograph a photo of the two of them together when Woods was 17 and Ochoa 11. "We're in two different worlds, but when he won the first time by 10 (actually it was by eight at Torrey Pines in his 2008 debut), I had that in mind. You know, it can be done and why not go and win my first tournament by 10. I guess in a way that's something that motivates me."
Those words express the kind of mindset that earned Jack Nicklaus 18 professional majors, Sorenstam 70 LPGA victories and Woods 63 PGA Tour wins and 13 majors at the age of 32. Those three players have been able to maintain success because it was never about the money, and it was never about winning just once. Nicklaus, Sorenstam and Woods mastered the art of creating their own carrot to dangle in front of themselves and run after. Ochoa has that same passion.
You hear it in the words of Woods this year. He talks about sweeping all four Grand Slam events in the same season. He talks about building on the four consecutive PGA Tour victories he has and creeping toward Byron Nelson's record of 11 in a row. Woods has the Nicklaus 18-majors record to motivate him, but he's also found other goals to use as fuel to keep the competitive fire burning within him.
Sorenstam has Ochoa to motivate her. After an injury-riddled 2007 season, the former No. 1 is healthy and while acknowledging that catching Ochoa in the Rolex Rankings this year may be a mathematical impossibility, the Swede believes she can win the money title and be Player of the Year. With a first, a second and a fourth in her three starts this year and having played all 10 of her rounds under par, Sorenstam has sent a message of her own that she will be a force to reckon with.
Both Sorenstam and Creamer were honest in acknowledging the level of play to which Ochoa has raised her game. "Sometimes you play for second place," Sorenstam said after holding off Creamer to secure the runner-up position. "I can't remember the last time I had to do that, but it was just the way it happened to be this week."
In fact, the HSBC Champions was effectively over after Ochoa played the first 36 holes in 131 strokes and took a seven-stroke lead into the weekend. It was certainly mere formality when she went into the final round paired with Sorenstam and Creamer leading both by eight strokes.
Despite three weather delays, Ochoa made no bogeys in closing with a 68, three better than Sorenstam and five clear of Creamer. "We have no idea what course she was playing out here," Creamer said about Ochoa, "but she played great, and it's [hers] hands down."
Even with all the victories Ochoa piled up in 2006 and 2007 there lingered doubts about her ability to close out tournaments when pressured. When Cristie Kerr made every putts she looked at on Sunday to win the U.S. Women's Open last year, Ochoa responded to the pressure by missing the fairway the last five times she used her driver.
But those doubts began to dissipate when she won at the Women's British Open, and while protecting an eight-stroke lead is not the same as protecting a one-stroke lead, she did go head-to-head with Sorenstam and Creamer over the weekend in Singapore and added to her advantage
In its first year on the LPGA schedule, the 78-player HSBC Champions emerged as a talent-rich event in which four of the top-five players in the Rolex Rankings finished in the top five -- Karrie Webb joining Ochoa, Sorenstam and Creamer. An impressive debut, and a fine teaser for what lay ahead this season.
After a week off the tour resumes in Mexico, but the next time all the top players are in the same field will be the Safeway International near Phoenix starting March 27, followed the next week by the Kraft Nabisco Championship, the first major of the year. A lot more will be known about this LPGA season after those two weeks in the desert. They could add to the smiles of both Ochoa and Bivens, and they could reveal how tall the tour's other players will stand against the new top gal.