News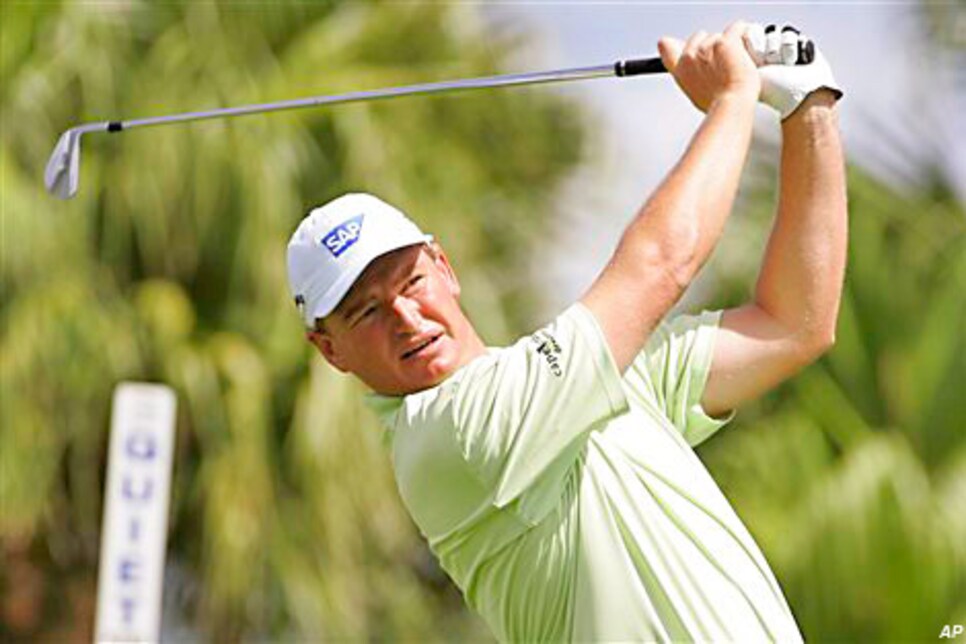 Ernie sat in the clubhouse waiting to see if Luke or Calc could catch him. They couldn't.
PALM BEACH GARDENS, Fla. (AP) -- This time, Ernie Els could enjoy someone else's final-round misfortune.
Ending nearly a four-year drought between PGA Tour victories, Els shot a 3-under 67 Sunday to win The Honda Classic. He finished at 6 under, one shot better than Luke Donald (71) and two ahead of Nathan Green (67).
"It's been a long time coming," Els said.
Els and Mark Calcavecchia were tied for the lead as the sun began setting on PGA National. But Calcavecchia hit into a greenside bunker at the par-3 15th, and his shot from the sand looked fine when it hit the green.
Somehow, it never stopped rolling.
The ball came to rest on a rock ledge across the green. Calcavecchia walked over, tossed the ball into the water and made a double bogey to give Els the outright lead. Els made a cool par on the par-5 finishing hole, then waited to see if anyone would match his score.
No one did, although Donald had a chance on the last. His birdie chip from just off the green stopped a couple feet shy of the cup, sealing Els' win.
And with that, Els got the huge shot of confidence that he's sought for so long, along with his first PGA Tour win since the 2004 American Express Championship in Ireland. Plus, he'll jump a spot to third in the world rankings, passing Steve Stricker.
"I really played pretty well today," Els said.
Calcavecchia (73) Robert Allenby (70) and Matt Jones (73) tied for fourth, three shots back. Brian Davis, who was at 10 under earlier in the week and led at the midway mark, shot his second straight 73 and finished in a five-way tie for seventh, four shots off the winning score.
Els hadn't won any of his last 47 appearances on the PGA Tour and wasted a four-shot, final-round lead in a European tour event in Dubai earlier this year, when Tiger Woods roared past him for a victory. Els made a colossal mistake on the 18th hole that day, splashing his approach into the water after trying to pull off a spectacular finish.
But this time, a smooth, steady finish got it done.
"On a golf course this tough, anything can happen," Els said.
There were 14 changes atop the leaderboard Sunday, and the winning score couldn't have been much of a surprise; Mark Wilson won a four-man playoff at PGA National last year after finishing four rounds at 5 under, and this year's Honda provided a similar cluster.
Donald got within one with a birdie at the par-4 16th, then took aim at the par-3 17th flagstick, getting the ball to stop in the fringe after a daring shot over water. But the birdie try missed, and he wound up one shot short of winning his second Honda in three years.
He was the last contender standing.
Calcavecchia never seemed to recover from the disaster at 15, and Jones hit his tee ball into the water at the par-3 17th to essentially end whatever chance the rookie had of snaring his first tour win.
When the final round began, 25 players were within five shots of the lead, which Donald, Jones and Calcavecchia all shared after three rounds. But no one made a Sunday charge from that massive pack, except for Els, who only started the day three back.
Calcavecchia and Jones both reached 8 under early in their rounds, and Els started quickly with four birdies in his first seven holes. Then, by making nine straight pars, Els not only did enough to catch the leaders, he actually got into the outright lead.
Els was the only player to have a bogey-free round, until he got to the 17th, the end of the famed "Bear Trap" at PGA National. He knocked his tee shot into a bunker, and his shot from there ran nearly 10 feet past the cup. The par putt missed, moving Calcavecchia and Jones both back into a share of the lead at 6 under.
The difference was, they couldn't stay there, and Els did.
Jones was tied for the lead entering the final round once last year on the Nationwide Tour. But the South Georgia Classic, this is not.
Still, the Australian rookie hardly embarrassed himself and further enhancing his status as one of the biggest surprises so far this season. His finish at PGA National was the fifth top-30 in six starts, and the $227,333 check from the Honda vaulted him to 38th on the money list.
"I can take from the week that I can compete with guys out here, which is good," Jones said.
Oddly enough, Els left the Honda thinking the same thing.
Notes:@ Els' last win on U.S. soil was the Memorial in June 2004. ... Boo Weekley, who missed a 3-footer on the final hole of regulation play last year to cost himself the Honda title, shot an 80 Sunday and finished 12 over. He did, however, finish with a putt from nearly the same spot where he missed last year, and thrust his arms in the air in mock celebration. ... South Korea's Y.E. Yang, best known for beating Tiger Woods to win the 2006 HSBC Championship, played his final round in 1 hour, 53 minutes and shot 71.