News
A Quad And A Whiff... So What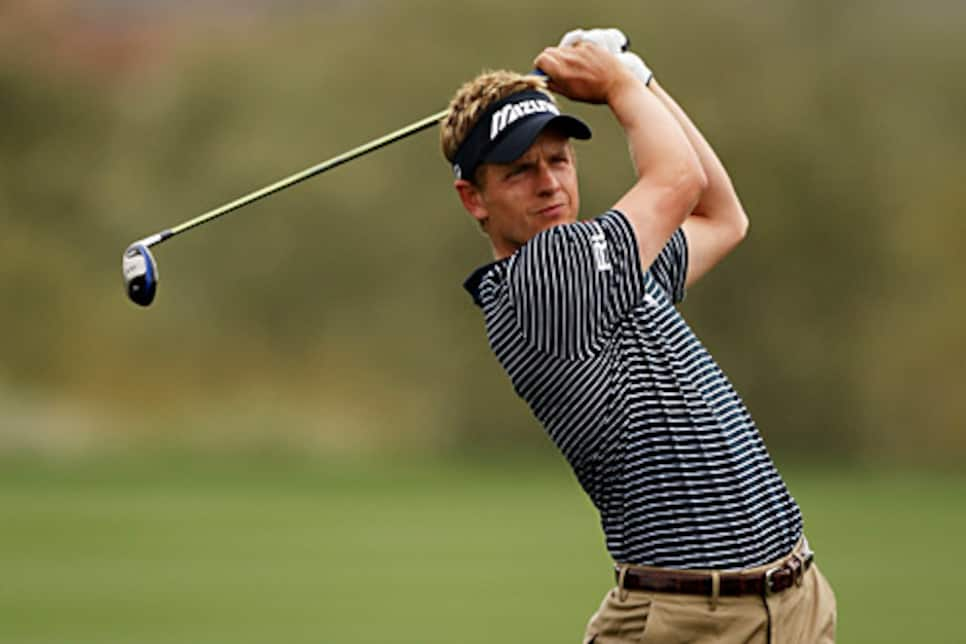 After following up his round one lead with an eight on Friday, Luke Donald is back on top with a share of the third-round lead.
PALM BEACH GARDENS, Fla. (AP) -- Luke Donald made a quadruple bogey earlier this week. Mark Calcavecchia whiffed on a chip Saturday.
Bad mistakes? Absolutely.
But to win at PGA National, one must overcome blunders, which Donald and Calcavecchia have done with ease.
Donald shot a 4-under 66 on Saturday, Calcavecchia finished with 67, and the two former Honda Classic champions wound up tied with Matt Jones (71) atop the leaderboard at PGA National. All three were at 6 under, one shot better than Brian Davis (73) and Jose Coceres (68), who lost a four-way playoff at PGA National a year ago.
"There's a lot of danger out there," Donald said. "There's some very daunting shots, a lot of scary shots with a lot of water around. So you have to really stand up there and hit good, solid shots."
He's hit plenty of those.
A bogey-free 64 on Thursday started him on his way, but the quadruple -- an 8 on the 14th hole Friday -- knocked him well off the pace. He has been flawless from there, with five birdies and no bogeys in the 22 holes since.
"Obviously, other than that, I've played very solid this week," said Donald, who won the 2006 Honda at Mirasol.
Calcavecchia's game has been just as good.
He made a bogey on the second hole Saturday when his drive nestled against a palm tree, and he decided to take a left-handed whack to advance the ball a few yards. But he missed everything, and eventually made what had to be described as a good bogey.
The two-time Honda winner (1987, 1998) birdied the next two holes, connected again at the par-4 12th, and made nothing but pars the rest of the day.
"It'd be pretty special to win a tour event three miles from your driveway," said Calcavecchia, who'll defend his title next week at the PODS Championship and who splits his time between homes in South Florida and Arizona. "I've done it in Phoenix, winning three different decades. So that'd be pretty neat too. I'm sure I'll be nervous tomorrow."
Chances are, so will Jones.
The tour rookie is 6-for-6 in cuts this season, with four finishes in the top 30 so far. The Nationwide Tour graduate has never had a chance like this, but showed he might be ready for the big time by making birdie on his final hole Saturday to pull into the three-way tie.
Those three are hardly the only ones with an opportunity Sunday.
Ben Crane (71), Dudley Hart (72) and Cliff Kresge (66) were two shots back, Ernie Els and Robert Allenby were in a group of five players sitting three shots off the lead, and in all, a whopping 25 players were within five strokes of first place.
Among those five shots back: Arron Oberholser, bad shoulder and all.
Oberholser, who will head to Minnesota for further examination of his long-injured shoulder after the final round, shot Saturday's low round, a 65. He could have matched Donald's low round of the tournament, but missed a 2½-foot birdie try after his approach hit the pin on the final hole.
"A 65, for the way I feel, feels like a 60," said Oberholser, who has tried for months to get the shoulder problem correctly diagnosed and doesn't plan to play again until the CA Championship at Doral. "I feel like about half of what I normally am right now."