News
Tour Insider: Norman and Finchem Mend Fences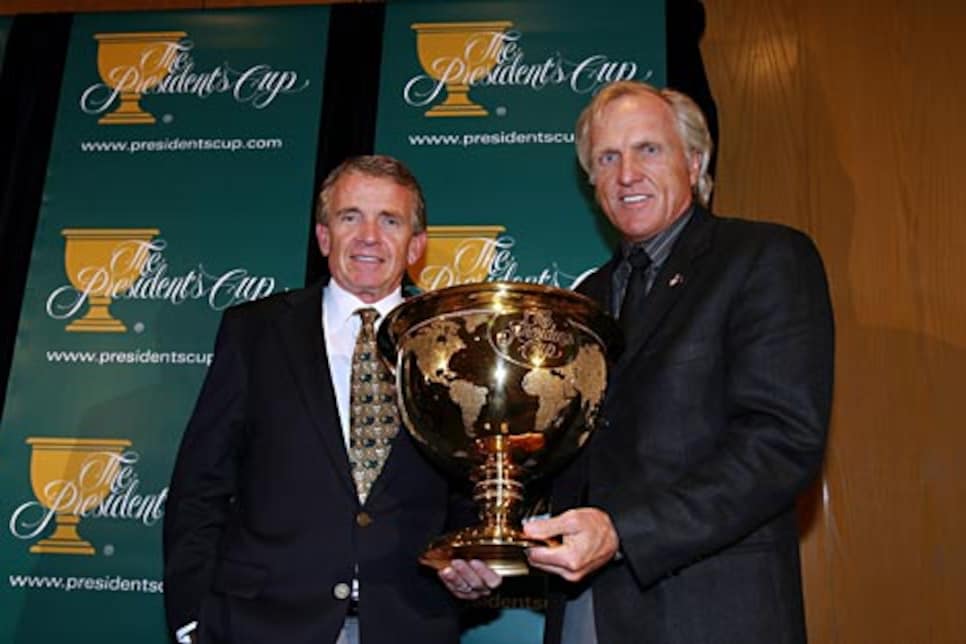 The bigger story at the news conference was the olive branch extended by Commissioner Finchem.
PALM BEACH GARDENS, Fla. -- There they were, like two old friends, Greg Norman and Tim Finchem, sitting on a stage at PGA National GC Tuesday, letting bygones be bygones. The occasion was to introduce Norman and Fred Couples as the new Presidents Cup captains -- and what a proper move that was after three memorable terms for icons Jack Nicklaus and Gary Player. Norman and Couples were the two most dashing figures of an era, as Finchem added later, the link between Nicklaus and Tiger Woods in terms of popularity, or using one of Finchem's favorite phrases, "bringing eyeballs to the sport."
But the big news here, at least politically, was that the tour commissoner had extended Norman an olive branch and the Shark, with fiancée Chris Evert in the front row beaming, had accepted. (The way Greg was talking, he will be married to one of his co-captains when the Presidents Cup comes to San Francisco's Harding Park in 2009.) With Freddie up on dual plasma screens in a suit, talking about bringing in Michael Jordan and Robin Williams for the week, along with "41" of course (George H.W. Bush), it was all very glamorous, all very beautiful, all very home-runish for the guy next to Norman in the blue blazer.
The back-story to this scene is the lingering and one-sided feud that Norman has addressed in print -- including his autobiography -- and electronic interviews over the course of the last 13 years: Finchem's stonewalling of Norman's grand idea to become more than just golf's Great White Shark, to become owner and operator, along with revolutionist, of a new golf league that spanned the globe and only included the stars.
Problem was, the commissioner had plans of his own for a World Tour, none of which included Norman becoming power king. Finchem won and the proud Australian hasn't been able to get over it.
For over a decade it was personal. Now it's being positioned as a healthy disagreement between two board members. While he still admits, "You know, the issues are always going to be there. Those issues have got nothing to do with the Presidents Cup," at least now Norman has been given his dignity back by the commissioner.
How did the Shark's captaincy come about? Finchem asked for an audience at Pebble Beach in early February as Norman participated in the AT&T National Pro-Am with son Gregory, while Evert followed along outside the ropes. With the Presidents Cup returning to Australia in 2011, it was assumed Norman would get the call for that event. But emailing with him the week of the Presidents Cup at Royal Montreal, Norman still had his reservations. As he wrote at the time, "Four years is a long way out."
What Finchem brought to Pebble Beach was an even better deal -- one that would give Greg a run-up match to Royal Melbourne in '11, if all went according to plan. The decision to say yes, along with his impending nuptials to one of tennis' all-time greats, represented this new Greg Norman -- or at least his new mindset.
Norman is popping up more in the competitive environment again. He's even going back to Augusta this year, to accept the Golf Writers Association of America Bartlett Award for his contributions to society; it will be his first visit back during tournament week since 2002.
"I think what's happened is in the past, Norman said.
Interesting that this would come two days after Woods won his 15th World Golf Championship event to begin the second decade of this concept. Also interesting is that when Shark had the idea, one of the players he thought was by his side was Couples.
Greg always felt that Freddie, feeling the heat of the tour, flipped on him—but that's in the past, too. Because in high definition being beamed to Palm Beach Gardens was a guy who like Norman has always questioned the tour's way of doing business and politics. Freddie hasn't exactly been a company man, either. Some of the decisions made by the tour's front office often bewilder him.
For now, that's history. Couples and Norman, there for the first Presidents Cup in 1994, back together again. It was at the'96 Presidents Cup that Norman criticized Finchem behind the scenes and later in print at Robert Trent Jones GC -- the same year Freddie made the putt to clinch the Cup and started high-fiving everybody around the 17th green at RTJ.
If there was one quote that summed up why everybody takes the high road at times like these, it was from Couples, when asked if there was one moment that made him want to be a captain of a Presidents Cup team:
"You always want to be on these teams," Couples said. "I think for me way back in '96 and being a part of that team and then making that putt with Greg sitting on the hill, I'll never forget it, acting kind of a little crazy. Those things don't happen very often."
Time is moving on, to the point where it's not worth worrying about the small stuff like who invented the World Golf Championships. In the follow-up interview afterward, Finchem tried to downplay the Norman feud, listing the golf course and business deals they've done since, the fact that Norman, with his Merrill Lynch Shootout, is host of a tour-sanctioned event, and that Greg chairs golf's environmental board.
Both men had planes to catch. Greg was flying to the northeast, Finchem on the tour's jet back to Ponte Vedra Beach, mission accomplished.
Freddie, meanwhile, went out to practice -- yes, practice -- at his Palm Springs hangout.
He'd like to make Paul Azinger's Ryder Cup team first.