News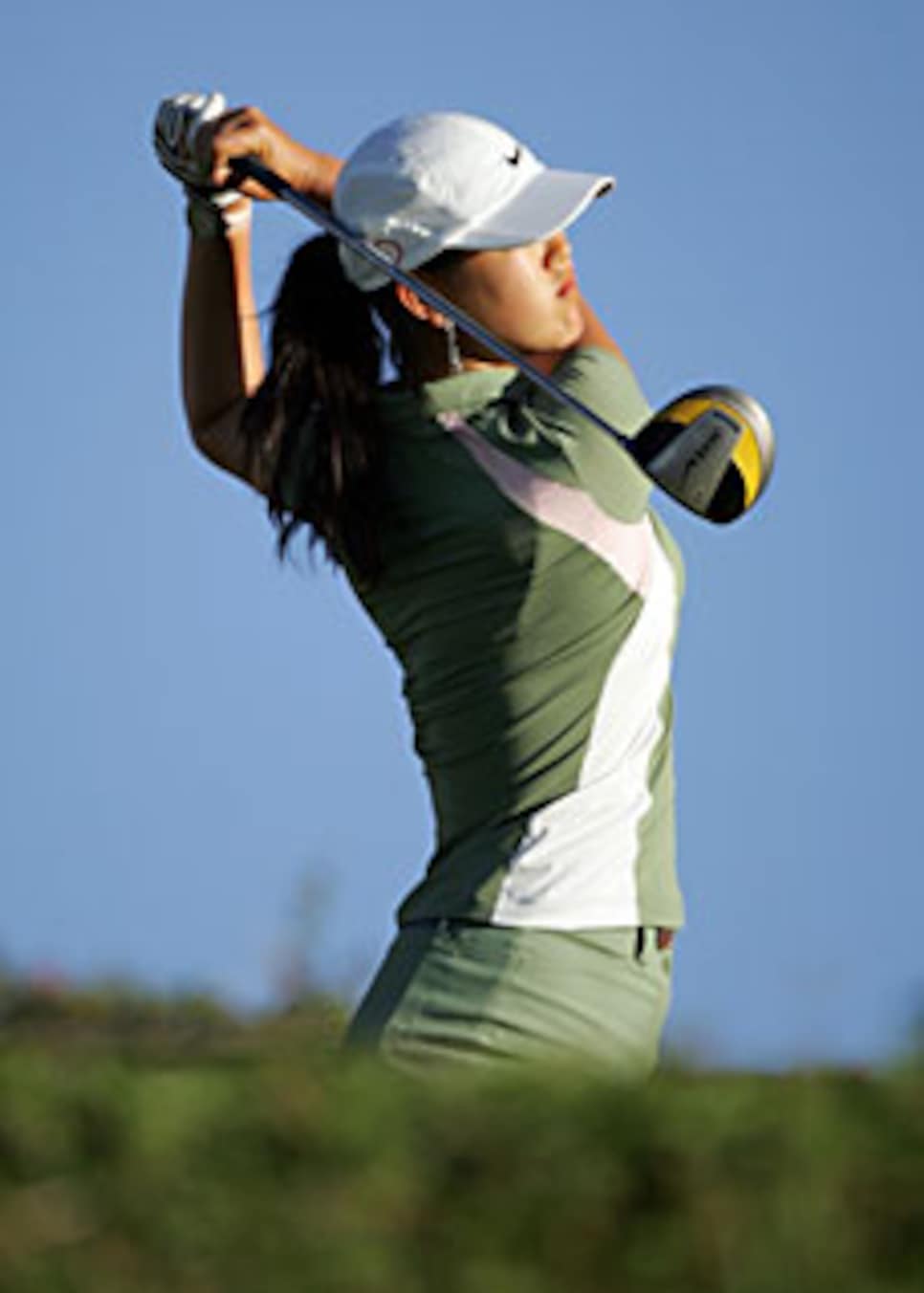 Wie's three-under 69 at the Fields Open was a giant step in the right direction.
The good thing and the bad thing about current sports culture is the same thing. The memory of the average fan is about 18 minutes. So in this what-have-you-done-for-me-lately world, yesterday's hero is today's chicken feed for the boo birds. On the other hand, one good effort right now can make folks forget a lost season. Just ask Michelle Wie.
Returning to competition for the first time at the Fields Open since the Samsung World Championship last October -- where she was one stroke out of last place and a whopping 13 strokes from the person directly above her on the leader board -- Wie displayed the form that set the bar of expectation so high, and made the struggles of last year so painful both for Wie and for her many fans.
Even though Wie was playing a home game at Ko Olina Golf Club near Honolulu, it was still very impressive to return to tournament play after such a long absence and lugging so much emotional baggage with a three-under-par 69, within shouting distance of the lead. Wie's lowest round last year was a 71, which she posted in the second round of the Evian Masters and in the final round of the Samung -- the only times in 19 LPGA rounds she broke par.
But on Thursday at Ko Olina she was the birdie machine who produced six consecutive top-five finishes in LPGA events in 2006 before her game suddenly went south after a T-2 at the Evian Masters that year. She went another 16 rounds before she broke par again with that 71 at Evian in 2007. But after a slow start in the Fields Open -- even par at the turn after playing the back nine first -- she unleashed five birdies while shooting a back-nine 33 for the 69. Of mild concern is that she made bogeys on two of the closing four holes, including the last.
True, it is only one round of golf. And, true it was played on a golf course she probably knows a lot better than the Stanford University campus, where she is finishing up the winter quarter. And true, questions lingered about Wie's ability to close out tournaments even before injury, lack of interest and technical problems conspired to sabotage her game in 2007. But it is also true that she is only 18 years old, and she has plenty of time to live up to a potential that as yet has not been approached.
Call this Chapter Three of the Michelle Wie story. The first chapter began in 2002 when the she played in the LPGA Takefuji Classic at the age of 12 and popped onto the radar screen of everyone who cares about golf. The next year, she became the youngest winner of a USGA event when she captured the Women's Amateur Public Links. At that point the sky was the limit.
The next two years were flirtations with greatest in which she threatened to win many times but never was able to close the door. That got a lot of people wondering if avoiding junior golf in favor of playing against the professionals -- especially against male professionals -- might have slowed the development of her game, especially the mental side. That WAPL victory in 2003 remains the only tournament she has ever won off the island of Hawaii and, nearly five years in the past, is her last win.
Chapter Two began actually began right before that impressive T-2 effort in the 2006 Evian Masters when she had to withdraw in the second round of the John Deere Classic because of heat exhaustion after shooting a first round 77. In her next four events against the men, Wie missed the cut every time and finished in front of a total of three players.
The right wrist was already sore when Wie's slide began in 2006 and she injured the left while running in February 2007, soon after she missed the cut in the Sony Open, the last men's event in which she has played. The sad scene that was the 2007 season for Wie included 88-Gate, when she quit at the Ginn Tribute, citing injury but raising suspicions it was a ploy to avoid being disqualified from LPGA events for the entire year for not breaking 88 as a non-tour member.
There is no need recount all that followed, but to summarize she played 367 LPGA holes in 2007 a total of 109 over par for a stroke average of 76.68 -- not what we had grown to expect. On the heels of that it was probably a relief for her to start her freshman year at Stanford year in September.
Apparently refreshed, Wie picked a perfect place to return to competition. Where better than on your virtual home course? And next month she will leave Stanford to focus on golf, with the plan to return for the fall quarter in September.
While there were a lot of positive signs in Wie's first round back, she still has a rather large hole from which to extricate herself. First off, she alienated a lot of LPGA players last year, especially when she withdrew at the Ginn Tribute and popped up two days later to practice at Bulle Rock, where the McDonald's LPGA Championship is played. She has to show her fellow professionals she has grown up -- maybe by apologizing.
Secondly, she has put herself between a rock and a hard place in terms of the LPGA Tour. Unless they change the rules, she cannot get into either the Kraft Nabisco Championship or the McDonald's LPGA Championship, the first two majors of the year. And unless the USGA gives her a third special exemption, she will have to qualify to get into the U.S Women's Open. She is also not likely to get an invite into the Ricoh Women's British Open, the final major, unless she plays a lot better than last year.
The other thing that has happened since Wie was Wie is that she in no longer the wonder kid. Michelle is now 18 years old. Paula Creamer won on the LPGA -- twice -- when she was 18. Morgan Pressel won a major championship when she was 18. The LPGA is ankle-deep in teenagers. No longer does Wie have the novelty of youth on her side. Now she has to perform.
And the way things stand right now, Wie will have to go to LPGA Q school if she wants a full playing card for 2009. The only way she can avoid that is to either win a lot of money or win a tournament this year. That's a tough task, but the good news for Wie is that she gave every indication in the first round of the Fields Open she is capable of achieving those goals.
Which, in Chapter Three, brings us back to where we were at the end of Chapter One. We know Wie can compete, what we don't known if is she can close the deal. But it is way too early in this season to pass judgment on that. No matter what happens in the next two rounds of the Fields Open -- barring another WD or a number that is silly big -- we know this much already: Michelle Wie's return to competition in 2008 has been a success.