News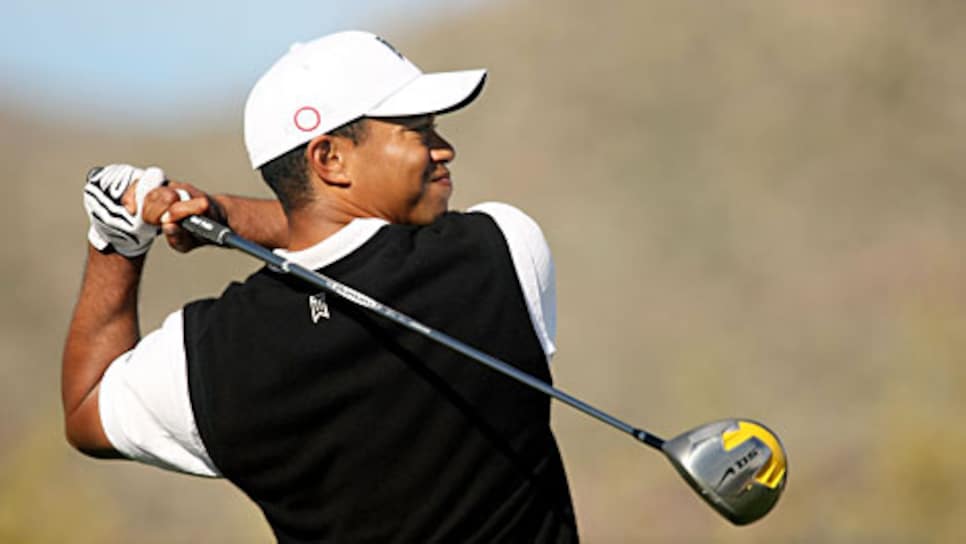 Until Tiger got to the 14th hole it seemed like he spent more time in the desert than on the golf course.
MARANA, Ariz. (AP) -- Tiger Woods produced another incredible comeback in the desert Wednesday, playing the final five holes in 5-under par to turn what looked like certain defeat into an unlikely victory in the Accenture Match Play Championship.
Woods fell behind J.B. Holmes on the first hole when his tee shot sailed into the desert and out of play, and he was three holes down with five to play after taking another penalty shot from the desert.
But he turned it around quickly, winning the next four holes, capped by a 35-foot eagle putt on the 17th. He escaped with a 1-up victory on the 18th when Holmes missed an 8-foot birdie putt.
"I just kept telling myself, even when I was 3 down, there's still a chance to win in regulation," Woods said. "I was just going to have to start playing a hell of a lot better. Then all of a sudden, putts started falling in from everywhere."
It started with a 15-foot birdie on the 14th, followed by a meaningless 18-foot birdie on the 15th, when he only needed two putts to win the hole. The first overhand fist pump came at the 16th when he made a third straight birdie from just over 20 feet to square it for the first time since they shook hands on the tee to start the match.
The loudest roar came on the par-5 17th, which Woods reached in two with a 3-wood from the rough. He holed his long eagle putt for his first lead of the match, then held on to avoid what would have been a shocking departure.
Holmes, whose big drives kept pressure on Woods the entire match, was helpless at the end.
"I got beat," Holmes said. "Playing the best player in the world, 3 up with five to play, I just said, 'Don't do anything stupid. Make him beat you.' And he did."
None of the top four seeds had an easy time at Dove Mountain.
Ernie Els, the No. 4 seed who changed his mind last week and decided to enter a tournament that has been so vexing, shot 40 on his opening nine and was soundly beaten, 6 and 5, by Jonathan Byrd. It was fourth straight time Els has lost in the first round.
Second-seeded Phil Mickelson, the winner Sunday at Riviera, held off Pat Perez 1 up. Third-seeded Steve Stricker needed 20 holes to beat Daniel Chopra, a small measure of revenge. Chopra beat him in a four-hole playoff at the Mercedes-Benz Championship last month.