News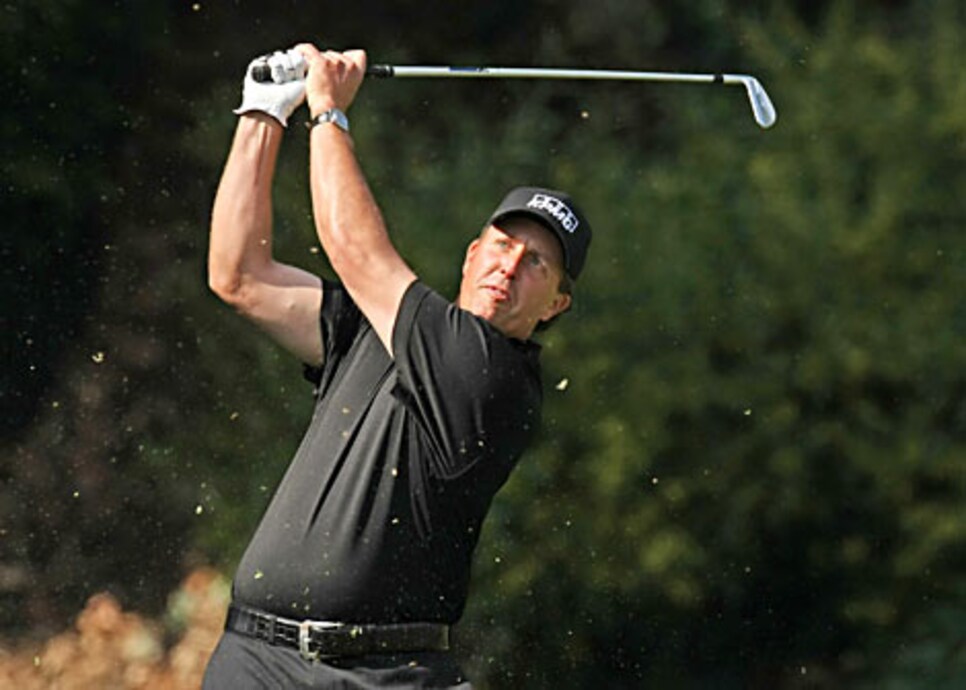 This year, unlike last, it wasn't Phil who made the mistakes coming down the stretch at Riviera.
LOS ANGELES, Calif. -- Phil Mickelson now has left his mark all over the Left Coast.
Mickelson held on long enough for Jeff Quinney to self-destruct on the back nine Sunday at Riviera, closing with a 1-under 70 to win the Northern Trust Open and complete an impressive collection of trophies in California and Arizona.
A year ago, Lefty was poised to win in L.A. until he bogeyed the 18th hole and lost in a playoff against Charles Howell III. This time, he was steady down the stretch as Quinney faltered, and won by two shots for his 33rd career victory, 16 of those on the West Coast.
"It's pretty cool," Mickelson said. "I've wanted to win this tournament for a long time."
Quinney's time will have to wait.
He holed four straight putts outside 10 feet around the turn and briefly held the lead. But his streak of 214 holes without a three-putt ended on the 13th to fall out of the lead, and Quinney soon fell apart.
He bogeyed three straight holes, and three-putted again from about 20 feet on the 17th for another bogey that allowed Mickelson a relaxing stroll up the fairway and toward the storied clubhouse atop Riviera.
Quinney made a 25-foot birdie putt on the final hole that only mattered on his card, an even-par 71.
British Open champion Padraig Harrington and Luke Donald each shot 68 and tied for third, although this was a two-man race from the start, and a one-man celebration over the final two holes.
Mickelson might never catch Tiger Woods in the world ranking, PGA Tour victories or in the majors, but for now he has something the world's No. 1 player has never done -- win at Riviera.
Jack Nicklaus never won here, either.
[+] Enlarge Phil Mickelson
Stephen Dunn/Getty Images
Phil Mickelson owns three top-10 results in four starts this season.
Mickelson made sure that didn't happen to him. He first played the fabled course 20 years ago as a 17-year-old amateur, and returned only sparingly throughout his career. But he reworked his schedule to make room for Riviera, and has fallen in love with the place.
His work on the West Coast is now over.
Mickelson has now won at Torrey Pines and La Costa, Pebble Beach and Los Angeles, and in the deserts of Phoenix, Palm Springs and Tucson. The only tournament he has failed to win on the West Coast is the Accenture Match Play Championship, which starts Wednesday just north of Tucson. He will be the No. 2 seed and takes momentum with him.
The victory came one week after taking an 11 on the 14th hole at Pebble Beach to miss the cut, and two weeks after he lost a playoff to J.B. Holmes in the FBR Open. Mickelson now has won at least once since 2004, and his 33rd victory moved past Horton Smith and into 13th place alone on the career list.
It only looked easy on the scoreboard.
Mickelson, who had a one-shot lead going into the final round, quickly stretched it to three shots when he opened with a two-putt birdie and Quinney missed a 7-foot par putt on the third. And it looked as though Mickelson would make short work of Quinney, a former U.S. Amateur champion who was No. 146 in the world ranking.
Quinney, who made an ace on the sixth hole Saturday, this time settled for a 3½-foot birdie putt to stay in the game, then he poured it on around the turn with a series of putts that must have made Mickelson feel like he was playing Retief Goosen at Shinnecock Hills.
The lead was down to one when Quinney holed from 15 feet for birdie on the eighth and took the outright lead with a two-shot swing on the ninth. From the slope above a fairway bunker, Mickelson's approach went so far right that it cleared the gallery and landed in the middle of the 10th fairway. He hit a flop shot just short of the green and took bogey, while Quinney made his 12-footer for birdie.
By then, no one was within six shots of them.
It was a two-man race, with Quinney showing more moxie than he has in previous final rounds when trying to win.
Quinney hit wedge into a bunker on the 10th and had to make a 10-foot par putt with Mickelson in birdie range, keeping him in at least a share of the lead. And after Mickelson chipped to a foot for a tap-in birdie on the 11th, Quinney holed from 20 feet to match him.
But his magic touch with the putter lasted only so long.
He ran a 55-foot birdie putt some 7 feet past the hole, and moments after CBS Sports posted a graphic showing Quinney had gone 214 holes without a three-putt, the streak ended with a bogey at the worst time.
That was the start of his undoing.
Quinney bogeyed the next two holes, chipping long from behind the 14th green and missing another 7-footer, then hitting a hybrid well left of the 15th green and missing from 18 feet. All hope was gone by the 17th hole, and Quinney had to settle for second place, his best finish ever on tour.
Divots: Ryuji Imada finished second at Torrey Pines and tied for fifth at Riviera by a combined 18 shots. He is still trying to win on the PGA Tour for the first time. "There's a far distance in between second place and winning," he said. ... Anthony Kim is the first alternate at the Accenture Match Play Championship but said Friday he would not go to Tucson. Alternates can replace anyone who withdraws up until the time of the opening match Wednesday.