News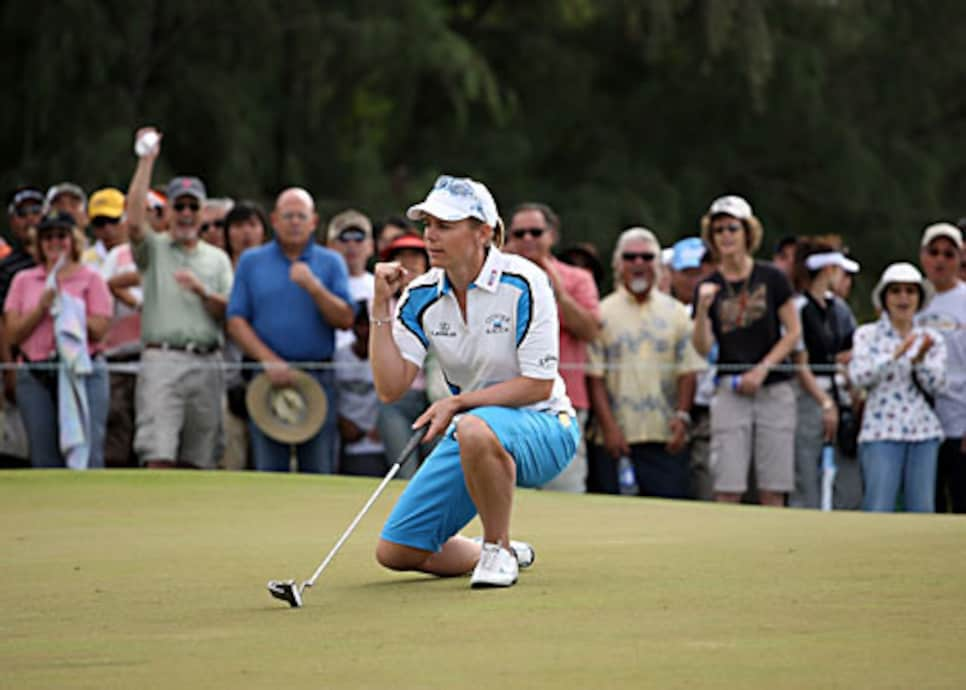 Injury shortened, winless 2007 is now a distant memory for Annika.
KAHUKU, Hawaii (AP) -- Annika Sorenstam waited 17 months to collect a T-shirt from her sister and a bottle of wine from a friend with No. 70 proudly displayed on them.
"It's probably dusty," she said. "I'm ready to collect it now."
Sorenstam won the season-opening SBS Open for her 70th LPGA Tour title and first since September 2006, birdieing two of the last three holes Saturday for a 3-under 69 and two-stroke victory.
"It's great to win tournaments and there's some tournaments that mean a little bit more and they come in a special time, and I would say this is one of them," she said.
The 37-year-old Swedish star, coming off an injury-shortened season where she failed to win last year for the first time since her rookie season in 1994, finished with a 10-under 206 total. It also was her second straight win in Hawaii.
"We've talked so much about '07, it's time to talk about '08," she said. "My clubs did the talking this particular week."
Rookie Russy Gulyanamitta (68), Laura Diaz (70) and Jane Park (70) tied for second. Angela Park (69), the 2007 rookie of the year who was assessed a two-stroke penalty, and Japanese rookie Momoko Ueda (71) tied for fifth, three strokes back.
Sorenstam dropped to a knee and shook her fist as she calmly sank a 24-foot downhill putt on the par-4 17th that ended any suspense.
"That was huge," said Sorenstam, who has won 47 times when holding the lead going into the final round. "That's one of those putts I'm going to remember for a long time."
She then waved both arms in the air and hugged her caddie after putting for par on the 18th hole.
"It's been a while," caddie Terry McNamara said as they hugged.
Sorenstam was limited to 13 events last year because of neck and back injuries and had six top-10s finishes, but couldn't add to her trophy collection.
In the first event of 2008, the world's former No. 1 looked like her old self -- relaxed, focused and dominant. She hit all the fairways and 17 greens in regulation.
"This means so much to me," she said. "Last year was not a year I wanted to remember inside the ropes. I was determined to come back."
Sorenstam smiled as she walked the fairway on the par-4 16th after hitting a wedge to 4 feet, which she dropped for the outright lead that she wouldn't lose.
Sorenstam said she was a little hesitant and trying to protect her lead until she reached the turn when she told McNamara, "Let's play some golf."
She first went up by two strokes on the par-4 10th by sinking a 14-foot birdie putt, but quickly lost a stroke when her long birdie putt whizzed 8 feet passed the cup on the next hole. She three-putted for her only bogey of the day.
Ueda and Jane Park each birdied to tie Sorenstam for the lead at 8 under. Jane Park made a long putt on No. 15. Seconds later, Ueda rolled in a 12-foot birdie putt on No. 14, drawing a roar from the sizable Japanese gallery.
However, no one could keep pace with Sorenstam.
Sorenstam was playing at Turtle Bay for the first time and beginning her season a month earlier than usual. It was her first appearance in Hawaii since winning the 2002 LPGA Takefuji Classic at Waikoloa.
Gulyanamitta, who earned just $4,411 in her previous 17 events, jumped around the 18th green after sinking a long birdie putt. She made $75,867 Saturday.
It was also the best finish in Jane Park's young career. The 21-year-old Park was the low amateur at the 2006 U.S. Women's Open, where she tied for 10th.
Park was steady most of the day, except a double bogey on No. 7.
"I just wanted to have a good, solid showing," said Park, who birdied three of the last 10 holes.
Like Sorenstam, Diaz also was hungry for a win. She hasn't hoisted a trophy since she won twice in 2002. Diaz shared the lead with Sorenstam until she also double-bogeyed No. 7. Diaz made a 20-foot birdie putt on 18.
"I'm not chasing Annika or any other players, just battling it in my head more than anything," Diaz said.
Angela Park (69) was assessed a two-stroke penalty for slow play on the par-4 10th that gave her a triple bogey and cost her a shot at the lead and about $60,000. Park then birdied three of the next four holes to get back within a stroke of the lead before Sorenstam's late birdies.
Park, who had eight birdies in her round, said she wasn't holding up play. "I really don't think it's fair especially because I was in contention. I don't think it's fair at all."
Rules officials said Park's second, third and fourth shots on the hole all exceeded the time limit. Park disagreed and was visibly upset, in tears after her round.
"I was so mad out there," she said. "I was flying through the course on the back nine. I was so frustrated."
Without the penalty, Park would have finished 9 under, alone in second place for $100,458. Instead she earned $40,872.
Conditions were unusually calm on Oahu's North Shore. Even the normally roaring Pacific Ocean was peaceful. It was also balmy, forcing the players to find shade anywhere they could.
Ueda used an umbrella. Sorenstam hid under the ironwood trees.
Sorenstam and Erica Blasberg (74) were co-leaders heading into the final round at 7 under. Blasberg was playing in the final group for the first time in her career.
Her troubles started when she pulled her drive near the water hazard and had to pitch out on No. 7 for bogey. Blasberg tied for eighth with Cristie Kerr (73), In-Kyung Kim (71) and rookie Yani Tseng (69) at 5-under 211.
Defending champion Paula Creamer closed with a 69 to finish at 4 under. She hit 18 greens in regulation but putted 34 times.