News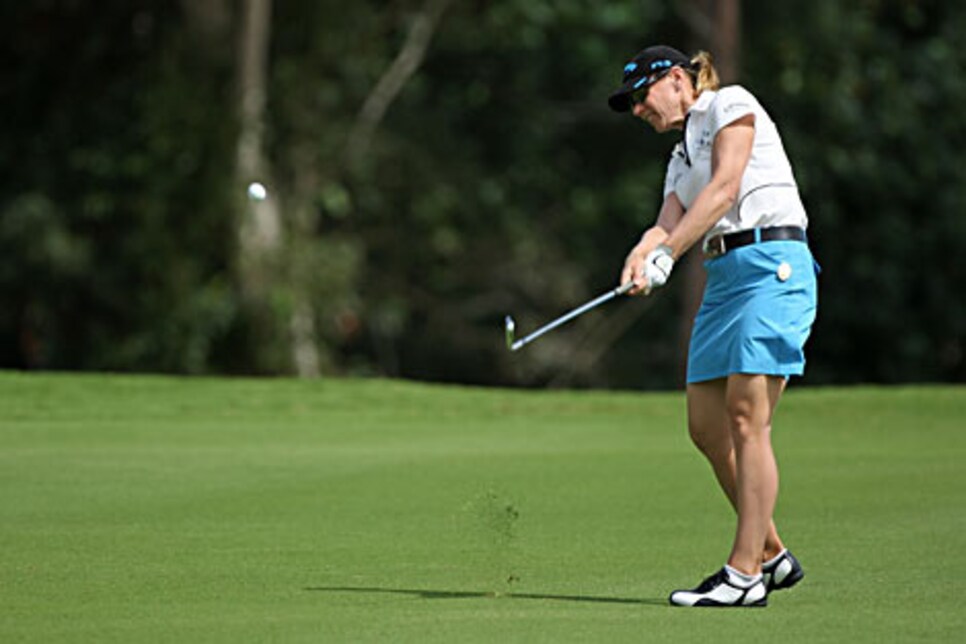 Five birdies in her last seven holes gave Annika a piece of the lead.
KAHUKU, Hawaii (AP) -- Annika Sorenstam was back in charge Friday.
Down to No. 4 in the world after years in the top spot, Sorenstam birdied five of the final seven holes for a 5-under 67 and a share of the early second-round lead in the LPGA Tour's season-opening SBS Open.
"Today, I'm in control of my game. I feel I'm the boss out there," said Sorenstam, coming off an injury-shortened season where she failed to win for the first time since her rookie season in 1994. "I'm hitting where I want to hit it and that's been awhile."
Sorenstam pumped her fist, flashed a smile and waved to the roaring gallery after sinking an uphill 11-foot birdie putt on the par-5 18th to match 23-year-old Erica Blasberg (68) at 7-under 137.
They were a stroke ahead of Japanese rookie Momoko Ueda (67), Jane Park (68), Laura Diaz (68) and Cristie Kerr (69).
Sorenstam, overcame a double bogey on the 180-yard fourth hole and surged up the leaderboard with six birdies in the final 10 holes.
"I'm very pleased with the strong finish. That's always fun to see and fun to do," she said.
The 11-footer on the final hole was the longest of her birdie putts on the back nine. She also chipped in for birdie from 22 feet on the par-5 third and tapped in for birdie on the par-5 ninth.
Her only flaw of the day was a poor tee shot on the 180-yard fourth hole. Using a 7-iron, Sorenstam sailed her tee shot left into the marsh. She took a drop and two- putted for double bogey.
"I was just determined to hit fairways, hit greens and roll in some putts, which I did on the back nine," she said.
The 37-year-old Swede is healthy, focused and driven to reclaim the No. 1 ranking after being limited to 13 events last year because of neck and back injuries.
She had six top-10s finishes in 2007, but wasn't able to add to her trophy collection, which made her reflect on winning.
"I appreciated the wins that's for sure," she said. "When you step away a little bit, you realize, 'Wow. It's not easy.' And you appreciate when it does happen."
Sorenstam is playing at Turtle Bay for the first time and beginning her season a month earlier than usual. She's making her first appearance in Hawaii since winning the 2002 LPGA Takefuji Classic at Waikoloa.
While Sorenstam caught her groove on the back side, Blasberg made her move on the front. Seeking her first win in 57 career starts, Blasberg opened with a three-putt bogey and made three birdies in a seven-hole span to reach 6 under at the turn.
The Californian holed a 15-foot birdie putt on the par-4 14th for the outright lead before Sorenstam's birdie on 18.
Lindsey Wright (70) was at 5 under after a 70.
First-round leader Kelli Kuehne began the day at 5 under with a one-stroke lead over Jacquiline Yang and couldn't get anything going. Kuehne double bogeyed No. 7, and followed with a bogey to fall back to 2 under with five holes remaining.