News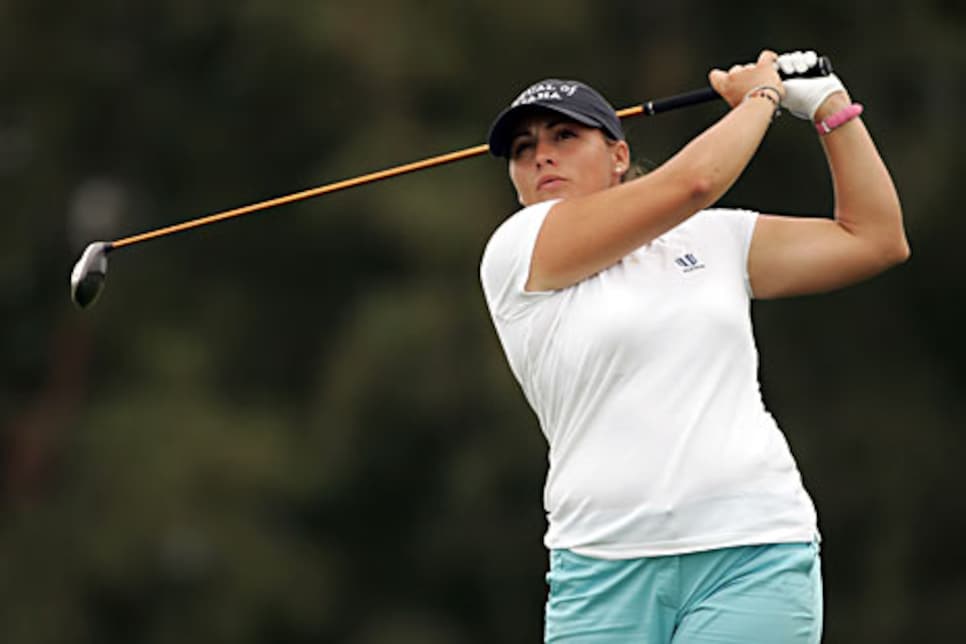 Kuehne's trip to LPGA Q-School a few months back may soon be a distant memory.
KAHUKU, Hawaii (AP) -- Annika Sorenstam is finally healthy, confident and having fun.
The 37-year-old star opened a 2-under 70 and trailed leader Kelli Kuehne by three strokes heading into Friday's second round of the LPGA Tour's season-opening SBS Open.
"I love it," Sorenstam said. "I had a good time. I'm finally hitting some shots. It's fun to know where they're going. I'm hitting greens and that's what I'm loving."
The 69-time winner is coming off an injury-shortened season where she failed to win for the first time since her rookie season in 1994.
Sorenstam was playing at Turtle Bay for the first time and beginning her season a month earlier than usual. She is making her first appearance in Hawaii since winning the 2002 LPGA Takefuji Classic at Waikoloa.
"This is an important year for me," she said. "I want to come back and of course you want to start well."
She's determined to reclaim the No. 1 ranking after being limited to 13 events last year because of neck and back injuries. She had six top-10s finishes in 2007.
"Last year, I was not swinging together," she said. "My shoulders were and hips were not together. ... Now I'm coming in all together and that's why I'm getting the distance back."
Sorenstam was tied with playing partner and defending champion Paula Creamer.
The Swede opened her round with a birdie and three-putted the next hole for bogey. She also missed several makable birdie putts, including a 4-footer on the par-5 14th that lipped out.
Sorenstam and Creamer dropped long birdie putts on No. 16 to reach 3 under and pull within two strokes of the lead. They both double-bogeyed the par-4 17th. Sorenstam's drive sailed right into the bunker and she cringed as her short chip shot rolled back to near where she was standing.
"I played excellent all day," she said. "Just missed one shot."
Kuehne was thrilled after her bogey-free round.
"I love the start I got off to, but it's the first round," she said. "I've got a couple more to go. I don't want to get ahead of myself."
South Korea's Jacqueline Yang had a 68, and 10-time winner Cristie Kerr was another stroke back along with Meena Lee, Lindsey Wright, Wendy Ward, Erica Blasberg, Ji-Young Oh and 45-year-old Sherri Steinhauer.
Kuehne's best finish last year was a tie for 24th at the MasterCard Classic. She tied for 25th a year ago at Turtle Bay.
The former University of Texas standout was considered a rising star after she won U.S. Women's Amateur titles in 1995 and '96 before turning pro.
She won 1999 LPGA Corning Classic but has struggled in the past three years with only one top-10 finish. She finished fourth at Q-school to earn exempt status this season.
"Some bumps and bruises along the way. You get knocked down, you've got to get back up," Kuehne said. "I've certainly struggled. I think the struggle definitely taught me to be humble to say the least."
Creamer won the SBS last year for her first victory since 2005, holing a long birdie putt on the 17th hole to beat Julieta Granada by a stroke. Creamer also won the Tournament of Champions in November and finished third on the money list.